Merkel to Attend Despite Covid Cases, U.K. Says: G-7 Update
(Bloomberg) -- Prime Minister Boris Johnson met with U.S. President Joe Biden for the first time ahead of the Group of Seven summit that the U.K. is hosting from Friday. Leaders gathering on the Cornish coast in southern England will discuss Covid, China and climate change, including a proposal to do away with polluting cars.
The U.K. is seeking to project an image of rejuvenated status after leaving the European Union, though there are plenty of tensions over its post-Brexit trading arrangements for Northern Ireland that could bubble over.
Draft communique sets climate finance goals, asks for new study on original of virus
One proposal is to ensure most cars on the road no longer run on diesel or gas
Airlines push for faster reopening of travel between U.K. and U.S.
All times are local (BST).
Merkel attending despite Covid outbreak, U.K. says (7:38 p.m.)
German Chancellor Angela Merkel is still planning to attend the G-7 summit despite a Covid outbreak at a hotel in St. Ives, according to the British government.
Johnson's spokesman Max Blain told reporters that Merkel was still due to arrive. Merkel has received her first Covid vaccine shot, but is awaiting her second to be fully vaccinated.
According to local media, one of the hotels in the town where reporters and delegates are staying has been shut due to staff contracting Covid-19. -- Tim Ross
Johnson hails Biden chat as 'breath of fresh air' (6:44 p.m.)
Speaking to broadcasters after their meeting, Johnson insisted Biden hadn't pushed him to fix relations with the EU, which have soured since Brexit.
Instead, the pair had "great" talks that went on "for a long time," the British leader said.
The conversations with with Biden's team were "fantastic" and "a breath of fresh air" because they want to do a lot of work together, he added. -- Tim Ross
Biden talks warmly of his first meeting with Johnson (6:36 p.m)
Biden in turn said he and Johnson had a "very productive meeting" where they revitalized their commitment to work on challenges such as cybersecurity, health and climate.
"We discussed our common goals for driving ambitious global action" on the climate crisis, Biden said in remarks at Tregenna Castle in St. Ives. He said they also discussed their efforts to coordinate a withdrawal from Afghanistan. -- Jennifer Jacobs
Macron hopes to meet his Turkish counterpart soon (6:26 p.m.)
In a press conference in Paris ahead of his trip to Cornwall, French President Emmanuel Macron said he will meet with Turkish leader Recep Tayyip Erdogan before the NATO summit in Brussels on Monday to discuss the role of NATO members, issues including Syria, Libya and Nagorno-Karabakh, and to explain his recent statements regarding Islam in France. The point, Macron also said, will be to review potential cooperation on new topics. The meeting follows months of tensions between the two leaders. -- Ania Nussbaum
Macron takes a swipe at Biden on vaccines (4:55 p.m.)
Macron separately took a veiled jab at the U.S. for buying and keeping more vaccine doses than it needs, and said the G-7 must come up with clearer targets on vaccine donations. The French leader, who made a point to remind his audience that Europe has been at the forefront of tackling climate and health issues, called for countries to raise their targets for vaccine donations.
Macron also said transparency is needed on the price of vaccines bought for poorer countries via initiatives like Covax, but cautioned that full pricing transparency would hurt pharmaceutical businesses.
He praised the agreement of G-7 finance ministers on a global corporate tax rate, suggesting the accord could be implemented concretely around 2025 and could bring 5 to 10 billion euros to France. -- Ania Nussbaum
Johnson weighs lockdown measures extension (4:41 p.m.)
Although his focus this weekend is on foreign affairs, Johnson will also be mulling a crucial decision on whether to lift the U.K.'s remaining pandemic restrictions.
According to people familiar with the matter, the surge in cases of the delta variant makes an extension to the curbs on social gatherings more likely than not.
Delaying the end of lockdown beyond Johnson's target date of June 21 would be a blow for the British leader. With 78% of adults having received at least one vaccine shot, he faces demands from his own party to reopen the economy in full. -- Alex Morales
Johnson and Biden hold their first meeting (3:41 p.m.)
Johnson greeted Biden at the Carbis Bay Hotel overlooking the Cornish seafront as the leaders seek to re-launch the U.K.-U.S. relationship at a time of friction over the fallout from Brexit.
"Everybody's absolutely thrilled to see you," Johnson said as the pair posed for photos before heading into a private meeting.
"I told the prime minister we have something in common. We both married way above our station," Biden said. To which Johnson replied: "I'm not going to dissent from that one. I'm not going to disagree with you on that. Or indeed on anything else."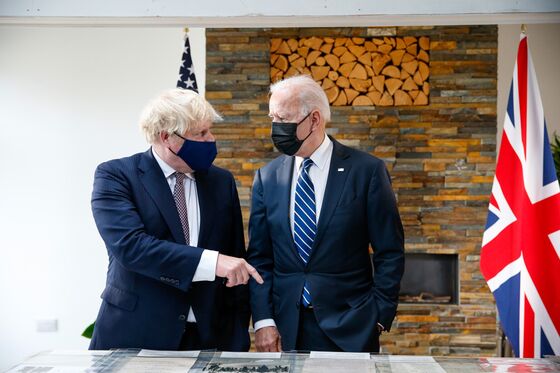 Airlines want faster reopening of U.K.-U.S. travel (3:05 p.m.)
Airlines hit hard by Covid sought swifter moves to loosen restrictions on travel following pledges from the U.S. and the U.K. to reopen lucrative trans-Atlantic links. Carriers welcomed an agreement to create a joint task force to explore options for resuming travel, but are pushing for more than the tentative gesture.
Vaccinated people ought to be able to travel, Luis Gallego, chief executive officer of British Airways parent IAG SA, said in a Bloomberg TV interview. Given progress with rolling out inoculations in both countries, "we don't see why they have to have restrictions between the U.S. and the U.K." -- Christopher Jasper
Biden and Erdogan set for tricky meeting next week (2:22 p.m.)
Years of policy grievances and some personal history will hang over Monday's first meeting between Biden and Erdogan in Brussels on the sidelines of the NATO summit, where their talks will focus on military matters.
Erdogan plans to present Turkish deals to sell armed drones to Ukraine and Poland, and possibly Latvia, as aiding efforts to deter Russia, according to people familiar with the matter. He'll offer to deepen collaboration on Syria and Libya, and stress Turkey's role halting refugees heading to Europe. -- Selcan Hacaoglu and Firat Kozok
G-7 to send message of unity on Russia and China (1:05 p.m.)
The G-7 draft communique reflects a narrative of better collaboration to control Covid-19 and fight climate change, but also to tackle some trickier issues together, including Russia and China.
As today's Balance of Power newsletter lays out, the language shows G-7 countries are keen to re-plant a global flag in the face of the rise of China and the meddling of Russia — to present a united front after the Trump era. Whether it changes the behavior of either state, though, is another question entirely. -- Rosalind Mathieson
U.S. to pay not-for-profit price for extra shots (1:02 p.m.)
The U.S. will pay about $3.5 billion -- a not-for-profit price -- for the 500 million vaccine doses it is purchasing to distribute to other countries, a senior Biden administration official said. The U.S. will use money already appropriated by Congress in the American Rescue Plan, including $2 billion that had been committed to Covax, and plans to begin shipping the doses in August, the official said. -- Joshua Gallu
Plan for doing away with gas, diesel cars (12:20 p.m.)
Under one proposal contained in a document seen by Bloomberg, G-7 governments would "strive" to ensure that the majority of all new passenger car sales are not petrol or diesel-powered "by 2030 or sooner." But countries are divided on how specific the measures should be.
The commitments have not yet been agreed to by G-7 officials who are drafting the conclusions of this weekend's summit. But setting the goal for moving away from gasoline could represent a turning point in efforts to reduce global oil consumption and reduce greenhouse gas emissions. -- Tim Ross
Timing of Merkel and Biden sitdown is fluid (12:10 p.m.)
It's unclear if Merkel and Biden will meet one-on-one in Cornwall or have a bilateral sitdown in Brussels. A German official said the discussion on timing was fluid. But it could mean a brief chat at the G-7 and tackling trickier issues like the Nord Stream 2 gas pipeline later.
While the U.S. has called the pipeline project from Russia to Germany a fait accompli, and waived sanctions against both the operator and its chief executive officer, Biden could push Merkel to make sure Russian President Vladimir Putin sticks to understandings on the role of Ukraine as a transit country for gas.
Merkel will also want to chat with Biden ahead of his summit with Putin later next week, to press the case for a common U.S.-Europe approach on Russia. -- Arne Delfs
Environmentalists worry about "just words" (11:50 a.m.)
Environmental campaigners have said they need to see more than just warm words from leaders this weekend when it comes to climate finance. So far, only Canada appears to be planning to announce any fresh funding at the summit, with Prime Minister Justin Trudeau expected to announce an increase in climate finance, according to a person familiar with the matter. The draft communique also seeks a commitment from countries to "each" increase their climate finance. -- Jess Shankleman
Germany, EU welcome back 'multilateral' U.S. (11 a.m.)
Germany and its European partners welcome the renewed commitment by the U.S. to international alliances and multilateral cooperation, and are ready to work with Biden in the current "unusually challenging times," according to a senior government official in Berlin.
Merkel's main message to her fellow leaders at her final G-7 summit will be that multilateralism is back and international partnerships are vital to successfully tackle problems like climate change and the pandemic, said the official, who asked not to be identified by name in line with briefing rules.
Merkel had a famously difficult relationship with Donald Trump, who singled out Germany for all sorts of wrongs from not paying enough into NATO to attacking its car industry and announcing a pullout of troops stationed there. A famous G-7 picture in Canada, when Trump ripped up the communique officials had agreed on, shows Merkel standing over Trump. Even with the former president out of office, Merkel has said the post-war order is over.
Bad English weather derails the perfect photo op (10:20 a.m.)
The first meeting for Biden and Johnson, which was scheduled to be held in a picturesque castle on an island off the southern British coast, has been moved to the mainland after dreary weather forced a change in plans.
Britain had been hoping to showcase St. Michael's Mount and its ancient castle that houses a piece of Napoleon's coat that he wore at the Battle of Waterloo. Instead, the meeting will be held at Carbis Bay, the site of the G-7 summit, according to White House officials. -- Jennifer Jacobs
Leaders back tax agreement, eye public finances (10:07 a.m.)
The G-7 meeting will endorse the recent landmark deal to impose a 15% minimum global corporate tax rate, with the clear understanding there are more hoops to go through before it becomes a reality. The draft communique is expected to say that "we have taken a significant step forward in creating a fairer tax system fit for the 21st century, and reversed a 40-year race to the bottom." Read our story on how this will impact the world's richest.
Ursula von der Leyen, head of the European Commission, said plans for a levy on the largest online companies and on "the 100 most wealthy, most successful companies" don't conflict, and that "they are more complementary because in the development of our digital levy we are making sure that this is non-discriminatory and that there will be no double taxation."
The draft also touches on the issue of countries getting their deficits and debt in order down the line, be it with tax increases or spending cuts: "Once the recovery is firmly established, we need to ensure the long-term sustainability of public finances." -- Flavia Krause-Jackson
EU is not backing down in its face-off with U.K. (10:03 a.m.)
Charles Michel, head of the European Council, told reporters the EU will use all tools available to defend the bloc's interests in the clash over trade with Northern Ireland. "It is fundamental, it is paramount to implement what we have decided. This is a question of rule of law which is an important value that we share in common," Michel told reporters in Brussels, when asked what his message will be for Johnson at the G-7.
"We will use all the tools we have in order to make sure we defend our interests, and we protect the integrity of the single market and that we guarantee the level playing field," Michel said. -- John Follain
With assistance from Bloomberg