Jill Biden Pitches Shots for Reluctant Arms in Trump Country
Jill Biden Pitches Shots for Reluctant Arms in Trump Country
(Bloomberg) -- First lady Jill Biden traveled to the U.S. Deep South on Tuesday to encourage Covid-19 vaccinations, as the White House seeks to combat widespread hesitance to get shots in areas that are politically hostile to the president.
Mississippi and Tennessee, where Biden is traveling, have some of the lowest vaccination rates in the country. Unvaccinated adults who say they definitely won't get inoculated are more likely to be Republicans and live in rural areas, according to a Kaiser Family Foundation survey released last month.
The first lady visited a vaccination site at Jackson State University, a historically Black college in the Mississippi capital, together with the state's only Democratic U.S. House member, Bennie Thompson. She told people waiting in line for shots, "Can I ask you to go home and make a phone call and say, 'Hey, I did it. It was easy, it was free, takes 10 seconds.'"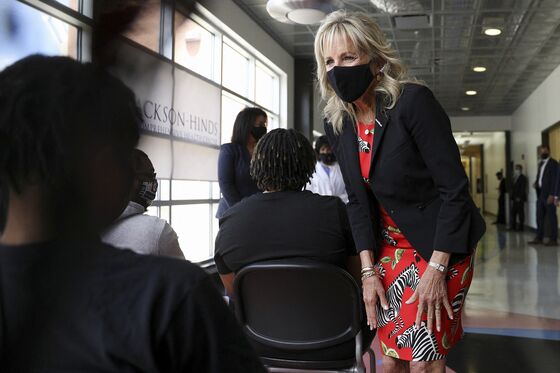 In Nashville, the first lady was joined by country music star Brad Paisley at a distillery that hosts a pop-up vaccination site.
"The vaccines are the only way to get back to the open mics, and the music festivals and the concerts that make this town so very special," she said.
Members of the audience booed when she pointed out that Tennessee's vaccination rate is low compared to the rest of the nation.
"Well, you're booing yourselves," Biden responded.
Paisley performed several songs, including a riff on the Dolly Parton song "Jolene" urging people to get their shots. "Vaccine, vaccine, vaccine, vaccine, don't say no just because you can," he sang.
The first lady's trip is part of an administration-wide effort to urge more Americans to get vaccinated, especially in places with lower vaccination rates in the South and Midwest. It's a particular challenge because many of those places didn't support Joe Biden's election, and some Republican leaders continue to encourage a pair of damaging falsehoods: that his presidency is illegitimate and that coronavirus vaccines may be dangerous.
The vaccines "are the result of decades of rigorous scientific research and discoveries. And they are held to the very same safety standards as every single other vaccine that we have here in America," Jill Biden said. "And here in Mississippi, only 35% of eligible people have been vaccinated, and that's just not enough."
She held the hand of a middle schooler who said he was afraid of needles as he received an injection.
While former President Donald Trump has demanded credit for development of the vaccines, he declined to get his shots in public -- unlike other officials including Joe Biden, who sought to increase confidence in the procedure.
The president will travel to North Carolina on Thursday to encourage people to get shots and Jill Biden plans to be in Tampa and Kissimmee, Florida, to tour vaccination sites.
Vice President Kamala Harris last week visited Atlanta and second gentleman Douglas Emhoff on Wednesday is traveling to Chicago.
The push comes ahead of the July 4 holiday, by which Biden wanted 70% of adults to have at least one dose of vaccine. The president will fall short of his goal, White House Covid-19 response coordinator Jeff Zients acknowledged Tuesday.
Zients said younger adults ages 18-26 have been slower to get vaccinated and it will take a few extra weeks for the White House to hit its target. Just over 65% of Americans age 18 and older have had at least one dose, according to the Centers for Disease Control and Prevention.
In Mississippi, just 36% of residents have had at least one shot, according to state health department data. The pace of shots has shown no sign of increasing; the 24,737 doses given last week is slightly less than the previous week and down more than 80% from the peak in February.
Tennessee has not fared much better. The state reported as of Monday just over 41% of people with at least one dose. Rates are even lower in rural areas with large White populations. In Cannon County, for example, only 22% of people have had at least one dose, according to state health department data.
Mississippi has made some strides in ensuring equitable access to the vaccines. Earlier this year, the vaccination rate among Black residents lagged behind their share of the population but now it is nearly equal, with 36% of doses administered going to Black residents.
Public health officials have ramped up their pleas for Americans to get vaccinated amid the rise of the Delta variant, which is believed to be more transmissible and to cause more dangerous illness. The variant, first observed in India, is now the dominant strain in the U.K.