Japan-South Korea Island Spat Sinks Planned U.S. News Conference
U.S. Effort to Show Unity Backfires as Japan, South Korea Officials Walk Out
(Bloomberg) -- A U.S. plan to host a joint news conference with a pair of its closest allies backfired after Japanese and South Korean officials opted out of the event with the No. 2 American diplomat because of a dispute between their governments.
As a result, Deputy Secretary of State Wendy Sherman gave a solo news conference Wednesday in Washington following three-way talks with her Japanese and South Korean counterparts. Sherman described the discussions on issues including Chinese pressure on Taiwan and North Korea's nuclear weapons program as "very constructive."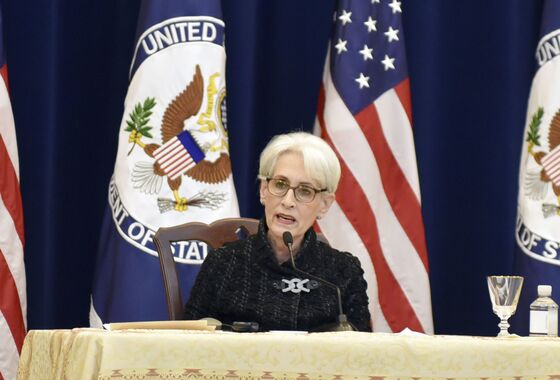 "There are some bilateral differences between Japan and the Republic of Korea that are continuing to be resolved, and one of those differences, which is unrelated to today's meeting, has led to the change in format for today's press availability," she told reporters. 
Japan Chief Cabinet Secretary Hirokazu Matsuno said the government decided it was inappropriate to hold a joint press conference amid a dispute over an islet that both neighbors claim. Tokyo had earlier lodged a complaint over National Police Agency Commissioner-General Kim Chang-yong's trip Tuesday to Dokdo. 
South Korean First Vice Foreign Minister Choi Jong-kun said he decided not to take part in the briefing out of concern the dispute would overshadow other issues. "If we held a joint press conference, Japanese media would have asked questions related to the visit, and the two sides would have to rebut one another's position on Dokdo. We were worried about that," Choi told reporters in Washington.
China's state-run media seized on the moment, with the Global Times newspaper saying the "abandoned press conference" was a sign of waning U.S. influence in the region, including in mediating between its allies. The tabloid cited local analysts as saying South Korea and Japan differed on how closely to follow the U.S. in attempting to contain China.
Long-simmering tensions between Japan and South Korea have worsened in recent years, with disputes dating back to Japan's 1910-45 colonization of the Korean Peninsula hurting trade and security ties between the two U.S. allies. The rights to Dokdo and its surrounding resources, which are controlled by South Korea, are viewed as symbolically significant by both countries. 
The Japanese Ministry of Foreign Affairs said the talks in Washington had been held on the basis that bilateral problems would be set aside. The three countries agreed to cooperate closely on North Korean nuclear weapons and missiles, the ministry said in an emailed statement, which didn't touch on the reasons for Vice Foreign Minister Takeo Mori's absence.
In her news conference, Sherman minimized the impact of the disagreement on the trilateral talks. She said there was broad agreement between the allies on the need to press for North Korea's denuclearization, support the Asean bloc and maintain a "free and open" Indo-Pacific. 
"What I think is very important is that the United States, Korea and Japan are of one mind in our work together to ensure global prosperity, peace and security for citizens in every country," she said. 
Get Your
Daily Newsletter
Get market moving news, top news & compelling perspectives
---