Japan's Suga Firms Up Key Re-Election Support Despite Low Polls
Japan's Suga Firms Up Key Re-Election Support Despite Low Polls
(Bloomberg) -- Japan's Yoshihide Suga moved closer to being re-elected ruling party leader and remaining prime minister after a powerful faction backed him, even as a record wave of Covid-19 infections pushed his public support rate to new lows. 
The Liberal Democratic Party will hold its leadership election Sept. 29, public broadcaster NHK reported. Backroom power broker and leader of a top faction, Toshihiro Nikai, told reporters Tuesday his group would support Suga.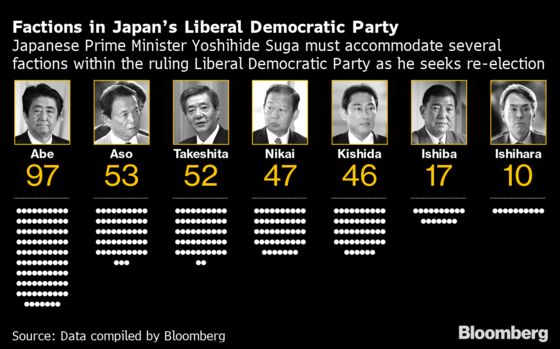 That's good news for the prime minister whose support rate has dropped in recent weeks below the 30% that's regarded in local politics as a make-or-break level for a leader. 
In the LDP election last year, support for Suga snowballed as the other major groups rapidly fell in line behind Nikai. But all is far from assured this time around, which could add an element of political uncertainty into the predictions of market players. 
The LDP factions -- each with its own leader and agenda -- typically vote as a bloc and have enormous sway in the formation of a government. However, they will have less weight this year than last, because the party is set to hold a full election, dividing votes equally between the parliamentary party and the rank-and-file membership. 
Whoever wins the party vote becomes premier thanks to the LDP's majority in parliament. While the leader must hold a general election by the end of November, the main opposition Constitutional Democratic Party looks unlikely to muster enough support to topple the long-ruling LDP.
Factions are often the gatekeepers for nominees, who need at least 20 of the LDP's 385 lawmakers to run for party leader. The groups are mostly headed by men in their 70s and 80s, which is among the reasons why only one woman has ever been able to clear the nomination threshold -- current Tokyo Governor Yuriko Koike. 
Former Foreign Minister Fumio Kishida announced his bid at a news conference Thursday. Ex-Internal Affairs Minister Sanae Takaichi has also said she wants to run this time, while LDP policy chief Hakubun Shimomura is keen to throw his hat in the ring, the Asahi newspaper said.  
Here's a closer look at the groups that will help determine Suga's fate:
1. Abe-Hosoda (97 lawmakers)
Shinzo Abe, who was prime minister before Suga, belongs to the largest faction. It's a conservative group founded in 1979 and officially led by ex-Chief Cabinet Secretary Hiroyuki Hosoda, 77. For the moment, the group appears loyal to Suga, who served as Abe's right-hand man during his record run of nearly eight years as prime minister. 
Deputy Prime Minister and Finance Minister Taro Aso, 80, controls the second-biggest faction. His group supported Suga in last year's party leadership election, and so far has shown no sign of changing course this time, despite what some reports say are shaky ties between the two. Aso, a former premier, is the wealthy scion of a political dynasty, while Suga is the son of a strawberry farmer.  
3. Takeshita (52 lawmakers)
Wataru Takeshita's faction dominated the LDP in the late 1980s and early 1990s under his elder brother, but its strength has since faded. The group supported Suga for leader last year, and the Yomiuri newspaper reported that one of its influential members is seeking to secure votes for the premier again this time. If the top three factions join Nikai's group to back Suga, the chances of his re-election are exceptionally high. 
Headed by the LDP's longest-serving secretary general, the party's fourth-largest faction was founded in 1999. Once a home for the party's right wing, its image has changed considerably under Nikai, 82, who is known for his friendly ties with China. Nikai was the first faction leader to come out in favor of Suga last year and on Tuesday said it was a matter of course that he and his group would support the premier again. 
5. Kishida (46 lawmakers)
Kishida, 64, once lauded by Abe as a potential future leader, heads the party's oldest faction, which was formed in 1957. The former foreign minister has also served in a senior party role, often seen as a path toward party leadership, and the Sankei newspaper said Wednesday he would run in the election. 
Shigeru Ishiba, 64, a former defense minister, is often picked as the most popular choice for next prime minister in media polls. He hasn't expressed interest in running this time, and has criticized others who have done so. It is so far unclear who his group is likely to back. 
7. Ishihara (10 lawmakers) 
Nobuteru Ishihara -- the 64-year-old son of controversial former Tokyo Governor Shintaro Ishihara -- supported Suga last year. 
8. Independents/Others (61 lawmakers)
A number of smaller groups and informal alliances exist among other lawmakers, including Suga himself. While none of the groups are particularly strong, their votes may be crucial in a close leadership race.