Japan Expedites Virus Boosters for Some as Omicron Looms
(Bloomberg) -- Japanese will accelerate the rollout of booster shots for health workers and the elderly, Prime Minister Fumio Kishida said, as the country braces for the spread of the omicron variant already causing surges elsewhere.  
Medical workers and elderly at particularly high risk of suffering severe symptoms would be eligible for booster shots six months after receiving their second immunization, two months faster than planned, Kishida told reporters Friday. Starting next February, other elderly people would be able to receive shots after a seven-month gap. 
"The omicron variant is extremely contagious and experts at home and overseas say it will inevitably spread around the world," he said. "Our strict border controls are intended to give us time to find out more about omicron and make the necessary preparations."
In an echo of its slow start to the vaccine rollout, Japan has so far administered few booster doses, saying the bulk of the population will have to wait eight months after their second dose before they are eligible for a third. That means most people's shots are several months away, raising the risk of a further virus surge before the boosters are widely distributed.
Kishida declined to comment on whether he had pressed Pfizer Inc. CEO Albert Bourla to speed up vaccine supplies in a call Friday morning, saying only that they had agreed on a supply of two million doses of the company's Covid pill.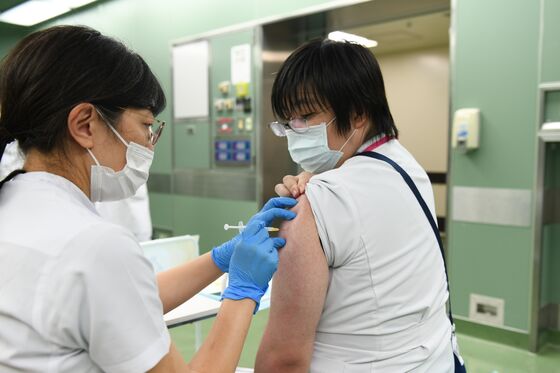 Japan will also roll out free testing by the end of the year for those who cannot be vaccinated, to coincide with the expected increase in gatherings and events, Kishida added.
Japan currently continues to enjoy a respite from the worst of the infection, with nationwide daily deaths in single figures for a month. Neighboring South Korea, which had also been relatively successful in controlling the infection, is experiencing a record surge in cases. Parts of the U.S. and Europe are also seeing severe resurgences of the disease. 
But dissatisfaction with the government's response to the pandemic undermined support for Kishida's two predecessors, meaning the issue is likely to be key to maintaining approval ahead of an upper house election next year. 
Japan has recorded several cases of omicron in people returning from overseas, but so far hasn't confirmed any widespread community infection. 
Nearly 78% of the population have received two vaccine shots, according to government data. Booster shots have so far reached 0.1%, with medical workers being prioritized. The weekly average of new cases was at 127 on Thursday, compared with 109 the previous week.