Japan's Ruling Party Leadership Contenders Vow to Defeat Deflation
(Bloomberg) -- Two lawmakers battling to become Japan's next prime minister both pledged to launch stimulus packages over the short term and to defeat deflation over the longer term, as they laid out their platforms Wednesday. 
Former Foreign Minister Fumio Kishida said he would inject tens of trillions of yen (hundreds of billions of dollars) to help a Covid-battered economy, as he set out his policies in the race for leadership of the ruling Liberal Democratic Party.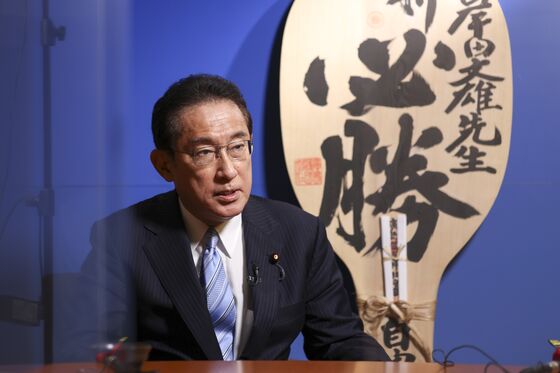 Rival Sanae Takaichi, who is seeking to become the country's first female prime minister, also said she would swiftly consider an extra budget to aid the economy, though she refrained from putting a figure on the size of the package. The amount would depend on how much was really needed and required careful consideration, she added.
Takaichi, a former economics professor, said she would prioritize the country's 2% inflation target over achieving a primary budget balance. She said the government's preoccupation with trying to balance the books had contributed to the failure to reach the target so far.
The winner of the Sept. 29 LDP election is virtually guaranteed to become the next prime minister and replace outgoing premier Yoshihide Suga, thanks to the ruling coalition's dominance in parliament. A general election must be held by the end of November.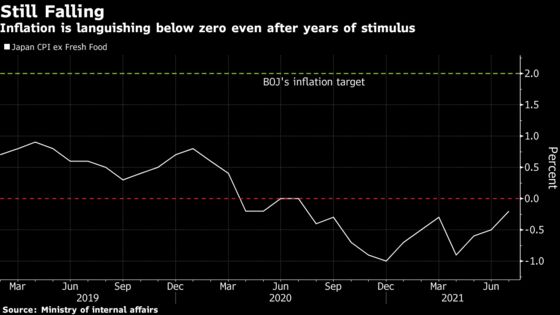 Promising to try to revive the country's middle class, Kishida said he would rethink the taxation of investment income, including a "100 million yen ($907,000) barrier," under which income of more than that amount is taxed at a lower rate. 
The two are likely to contend with vaccine czar Taro Kono for the top job. While Kono is the most popular option in public opinion polls, the vote is often swayed by internal horse trading among party factions. 
The race was thrown open last week when Suga announced he was abandoning plans to seek another term as leader of the LDP after about a year on the job as his support rate plummeted and criticism mounted over his pandemic management. The Topix gauge jumped to its highest levels in three decades on hopes the next prime minister would favor expanding economic stimulus.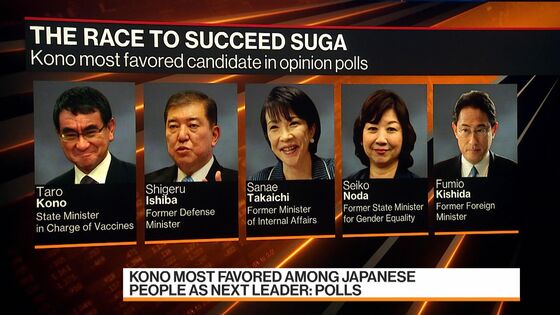 Here are some highlights from Kishida's plans:
Would spend 15 trillion yen ($136 billion) over five years on disaster prevention
Plans to press ahead with digitalization of finance
To set up a panel on "new Japanese-style capitalism; would change "neo-liberal" economic policies he said have been in place since the premiership of Junichiro Koizumi
Nuclear power should be considered as a clean energy option; nuclear technology and personnel should be maintained
Not planning to change consumption tax rate for time being
The following are some highlights from Takaichi's policies:
Would swiftly consider a law to enable virus lockdowns
Expecting an explosive increase in consumption after the pandemic
If inflation seems to be going too far, will adjust annual investment amount flexibly
Cutting consumption tax rate not an option; considering refundable tax credits
Considering another flat-rate cash handout
Peaceful use of nuclear power is necessary; will make small modular reactors a national project
Japan needs the capability to disable enemy bases
Visits to Yasukuni shrine are based on religious freedom; regrettable if they are criticized