Japan Plans Tokyo Virus Emergency During Olympics, NHK Says
Japan Plans Tokyo Virus Emergency During Olympics, NHK Says
(Bloomberg) -- Japan is planning to declare a new state of emergency in Tokyo throughout the Olympics as virus cases increase, NHK reported, raising the possibility that most of the events will be held without spectators.
A state of emergency is unlikely to trigger the cancellation of the Olympics, set to start on July 23, with officials from the organizing committee having said previously they're prepared to hold events without spectators if the Japanese government puts emergency measures in place during the Games.
The Japanese government is planning to make the declaration for Tokyo as well as continue an existing emergency in Okinawa, NHK said on Wednesday evening without citing where it got the information. A panel of experts is expected to meet tomorrow to make the final decision.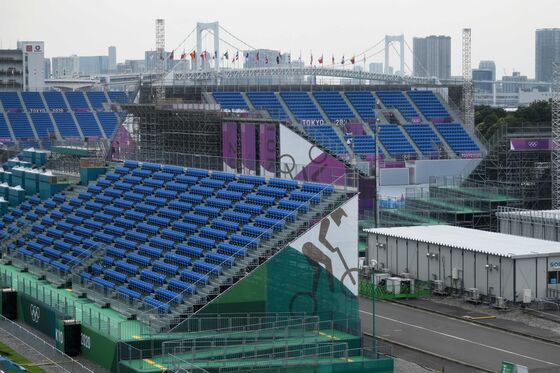 While an emergency declaration would raise the likelihood that the Olympic events in the capital would be held without spectators, an official decision is yet to be made at a five-party meeting including the International Olympic Committee, the organizing committee and the Japanese government. The talks may happen as early as Thursday, according to media reports.
The report comes as the capital confirmed 920 new coronavirus cases on Wednesday, the highest since May 13. Daily infections have been on the rise since the city ended its third state of emergency on June 20.
"Looking at the number of cases and the situation in hospitals, we want to take every possible means to suppress infection," Prime Minister Yoshihide Suga told reporters earlier Wednesday. Suga said he would put the question of states of emergency or other measures to the expert panel, and based on those findings the five parties would then make decisions on the Olympics.
In light of the ongoing pandemic, Olympic organizers had decided late last month to cap spectators at 10,000 per venue or 50% of venue capacity, whichever is smaller. The government had recently been considering shrinking that further, to 5,000 spectators per venue, according to local media reports. The government's top Covid-19 adviser has repeatedly said it would be preferable to hold the Games without spectators.
Tokyo is currently subject to quasi-state of emergency measures, scheduled to end July 11. Reports had indicated that authorities planned to extend those measures rather than declare a new state of emergency.
Although Japan has fared better than other rich nations in keeping infection numbers low, the nation's vaccination drive initially had a delayed and slow start, and after accelerating rapidly it's now facing localized distribution issues. The Suga administration's handling of both the virus and the Olympics has drawn flak in opinion polling, although his public approval has crept up as the vaccine rollout sped up. Suga faces both a general election and a party leadership election in the fall.