Jan. 6 Panel Recommends Holding Ex-Justice Official in Contempt
Jan. 6 Panel Recommends Holding Ex-Justice Official in Contempt
(Bloomberg) -- The House committee investigating the Jan. 6 riot at the U.S. Capitol voted Wednesday to recommend that a second ally of former President Donald Trump be found in criminal contempt of Congress for refusing to provide documents and testimony sought under subpoena.
Jeffrey Clark, an ex-Justice Department official, is accused of pressuring colleagues at the agency to assist in Trump's failed efforts to overturn the 2020 presidential election.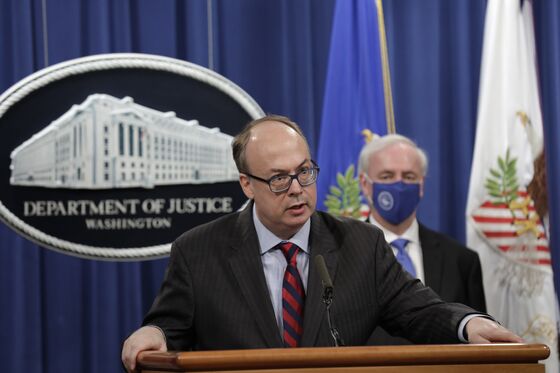 The committee advanced the resolution on a 9-0 vote even as it granted him a last chance to appear, by Saturday. 
Representative Bennie Thompson, the chair of the investigatory panel of seven Democrats and two Republicans, pointed out that Clark had taken an oath "to support and defend the Constitution." 
"A year ago right now, while Mr. Clark was bound by that oath, an all-out attack on the Constitution was underway," Thompson said. "The former president was waging a campaign to overturn the result of the election. His allies were looking for ways to get around the Constitution and keep him in power. It appears Mr. Clark was central to that effort."
Thompson said that Clark's lawyer had told the committee that his client "now intends to claim Fifth Amendment protection. He offers no specific basis for that assertion. He offers no facts that would allow the committee to consider it."
Thompson rejected the claim, but said that Clark had agreed to a deposition session. "We will not allow anyone to run out the clock and we will insist that he must appear," he said.
The committee's top Republican, Representative Liz Cheney of Wyoming, remarked that if "Mr. Clark believes that answering questions about his discussions with President Trump and others in November and December of 2020 and January of 2021 could incriminate him and he therefore wishes to invoke privilege on that basis, the committee would certainly consider that." 
Contempt action was taken by the House in October against sometime Trump adviser Steve Bannon, as the committee seeks to counter the former president's efforts to thwart its inquiry into the Capitol attack on Jan 6 that injured dozens of law enforcement officers and interrupted Congress's certification of the 2020 Electoral College results.
Trump has invoked executive privilege in a court battle to keep records and witnesses out of the committee's reach.
Bannon, who helped run Trump's 2016 campaign and worked for him in the White House, also had defied subpoenas to appear for a deposition and produce documents. He pleaded not guilty last month after a federal grand jury indicted him on two counts of contempt of Congress and he was released. Each count against Bannon could result in a penalty ranging from 30 days to a year in prison, plus a fine. 
No trial date has been set.
The resolution against Clark Wednesday night cites documents and testimony to assert that he participated in the weeks before the Capitol attack in efforts "to delegitimize the results of the 2020 presidential election and delay or interrupt the peaceful transfer of power." 
Clark was assistant attorney general for the environment division and then became acting assistant attorney general for civil division on top of his environment role.
Some of the committee's information on Clark's activities is drawn from what the Senate Judiciary Committee found to be Trump's "relentless, direct pressure on the Justice Department."
"To further these efforts, President Trump considered installing Mr. Clark as the acting attorney general, a plan that was abandoned only after much of the DOJ leadership team and the White House Counsel threatened to resign if Mr. Clark was appointed," the House committee said in its report.
The report points out that Clark did appear on Nov. 5 for his scheduled deposition, as instructed under subpoena. But it explains that he refused to produce any documents and that "his lawyer objected to nearly every question the Select Committee members and staff put to Mr. Clark."
"Mr. Clark's refusal to comply with the Select Committee's subpoena represents willful default under the law and warrants referral to the United States attorney for the District of Columbia for prosecution under the contempt of Congress statute as prescribed by law," according to the report.
Thompson added that Trump's last chief of staff, Mark Meadows, had agreed to cooperate with the panel, and "there's nothing extraordinary about Congress seeking the testimony of a former executive branch official." 
Whether insistence by Clark and others that they are obliging Trump's executive privilege claims is itself an issue that likely will take some time itself to wind through the courts.
The Senate Judiciary Committee has already asked the District of Columbia Bar to open an investigation into Clark's compliance with applicable rules of professional conduct, based on its earlier investigation into his actions.