Italy Imposes Mandatory Virus Testing for All EU Travelers
Italy to Require Covid Testing for EU Travelers From Dec. 15
(Bloomberg) -- Italy tightened restrictions for travelers entering from other European Union countries just ahead of the busy Christmas travel season, as Covid-19 cases surge across the continent.
The new rules mean that even vaccinated visitors must show proof of a negative test, and the non-vaccinated must self isolate for five days on arrival. The policy, announced by the health ministry on Tuesday, starts Thursday and lasts until Jan. 31. The plan was earlier reported by Bloomberg.
The measure is the latest in a series of restrictions countries across Europe have imposed to deal with the latest wave of coronavirus infections. The pressure to act has been compounded by concern about the omicron variant and its potential impact on the trajectory of the pandemic on the continent.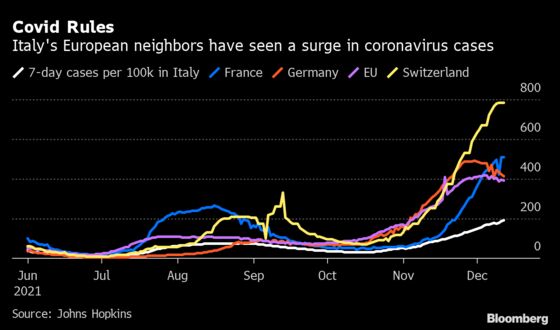 EU leaders are meeting this week in Brussels, where they will discuss ways to fight the new virus strain. But they are split on plans to change travel rules and ensure measures are harmonized across the bloc.
A senior EU official acknowledged that Italy's actions undercut the objectives of the digital Covid certificate introduced to facilitate travel inside the bloc.
"These individual decisions of the states will decrease the trust of the people that there will be equal conditions everywhere in Europe," EU vice president for values, Vera Jourova, told reporters on Tuesday evening, adding the move will be discussed when EU leaders meet on Thursday. 
She said that member states insisted on a "back door" to impose additional unilateral restrictions on travel as long as they're based on the epidemiological situation.
In Italy, Prime Minister Mario Draghi will also extend until March 31 the government's emergency powers. They streamline the enactment of new legislation in response to Covid and were due to expire at the end of this month.
The government already requires proof of vaccination, recovery or a negative test for work, travel or to use public transport. Only those who have been inoculated or have overcome the infection can enter restaurants, cinemas and other indoor venues.
While vaccines appear to prevent severe cases of omicron, the shots may not be as effective in preventing actual infection, according to initial studies. Italy will also begin vaccinating children aged 5 to 12 starting Wednesday.
The prime minister is banking on an inoculation rate that is close to 90% for people aged over 12 to avoid introducing a blanket vaccination mandate.