Italy Sticks With New Travel Rules Despite Pushback From EU
(Bloomberg) -- Italian Prime Minister Mario Draghi is under pressure to explain to Italians and the rest of Europe his snap decision to impose significant new travel rules just ahead of the Christmas holiday season.
At a European Union summit Thursday, Draghi will face questions from the bloc's executive arm and member states on why Italy gave no advance notice before unveiling new restrictions on travel that risk undermining the digital Covid certificate used to facilitate travel inside the bloc.
The Italian government announced Tuesday a new Covid test mandate for people traveling from other EU countries, and Draghi is expected to defend the new rules and not change them, according to people familiar with the matter. Under the new law, which becomes effective on Thursday, non-vaccinated people will have to self-isolate for five days.
Greece followed Italy's lead on Wednesday, imposing a similar requirement for all travelers, including those from the EU, to take effect on Dec. 19. 
Italy's new curbs were announced less than 48 hours before becoming effective and mark a change in tack by the government, which up to now had been confident that the country's near-90% level of vaccination for eligible residents 12 years or older was sufficient to avoid introducing further restrictions.
"It's a Covid test, I don't think we need to over-think this," Draghi said Wednesday, in response to lawmakers' questions on the matter. He added that the new rules are due to the spread of the omicron variant, which is much more transmissible than the other ones.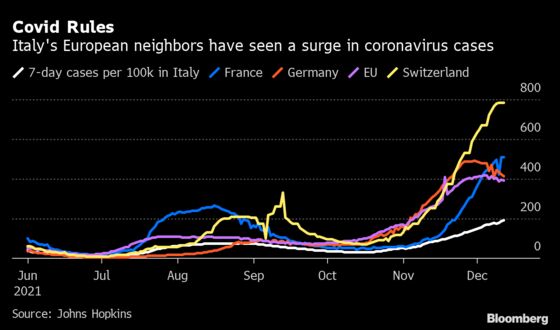 As cases in other European countries, including Germany and the U.K., soared in recent weeks, Italy reported 23,195 cases on Wednesday the highest number in eight months. 
On the same day, the U.K. reported more than 78,000 new cases, setting a record for the entire pandemic.
The EU official said Italy failed to notify the European Commission in advance about the new rules and renewed calls to maintain a coordinated approach.
"Rome's decision clearly took other EU countries off guard, and this could make for a 'hot' EU summit this coming Thursday," said Francesco Galietti, co-founder of the political consultancy Policy Sonar.
It's not the first time that Draghi took the EU by surprise on his handling of the virus. In early March,he blocked a shipment of AstraZeneca Plc's vaccine to Australia after urging European partners to adopt a more resolute and pragmatic approach to speed up the continent's then-faltering vaccination campaign.
Weeks later, commission President Ursula von der Leyen publicly backed the approach, saying producers like AstraZeneca must meet commitments to the EU before being allowed to export any doses.
This week's EU summit could be Draghi's last appearance in the role, as Italy will hold its presidential elections in January 2022. Draghi is seen among the top candidates for the job in a race which has been dominating Italian political focus.
The new travel measures mark a significant shift in Draghi's management of the pandemic.
"Only a few days ago, many expected Draghi to end the state of emergency for good, sending an important message north of the Alps and pioneering the path back to normality," Galietti said.  
Instead, in a separate law approved Tuesday, the government extended emergency powers that allow legislation to move more quickly and boost Rome's power until March 31.