Italy's Right-Wing Leader Targets EU Cash for Euro Laggards
Italy's Right-Wing Leader Targets Germany in Euro Cash Demand
(Bloomberg) -- The leader of Italy's surging right-wing party wants the European Union to compensate members she says lost out by adopting the euro -- and she's taking a page from U.S. President Donald Trump in a campaign to put her country's interests first.
Giorgia Meloni, whose Brothers of Italy has become the second-biggest party in the center-right opposition bloc, told Bloomberg in an interview that "I don't want to leave the euro, I only think we have to face the problems the euro has."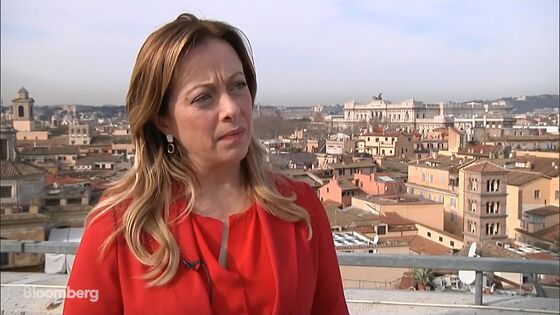 First and foremost among those problems is the disparity between winners and losers in the years since the single currency was introduced, according to Meloni, who also said she's ready to serve as the country's first female prime minister.
Comments from Italian eurosceptics, including some lawmakers from Matteo Salvini's League, have unsettled investors at a time when the center-right bloc is dominating opinion polls. While Meloni has steered Brothers of Italy away from outright rejection of the single currency, her views on payouts to some euro members could be nearly as controversial.
"The euro is a Deutsche Mark with a new name," Meloni, 43, said at her office in the lower house of parliament. "With the euro there are some nations that have won and some that have lost, and we need to help the ones that have lost."
Italy's economy has barely grown since the single currency was introduced some 20 years ago, while Germany has surged. As the euro zone economy has struggled, Germany has come under pressure to spend more, at the same time that Trump has targeted the country with a threat to impose tariffs on its crucial auto industry.
Meloni is increasingly a player who matters in Italian politics, after Salvini failed in a summertime bid to force general elections last year and was unable to wrest control of the leftist stronghold of Emilia-Romagna in regional elections in January.
Even with Salvini's missteps, the center-right alliance is riding high in national opinion polls, as Prime Minister Giuseppe Conte struggles to overcome incessant skirmishes between his main coalition partners, the center-left Democratic Party and the anti-establishment Five Star Movement.
Polls put Meloni's party, with roots stretching back to the post-fascist Italian Social Movement, at about 11% support, ahead of ex-premier Silvio Berlusconi's center-right Forza Italia at 7%. The League is at 31%.
Her tough stance on immigration has struck a cord with voters on the right, as she's has called for a "blockade" to stop migrants crossing the Mediterranean and come out against citizenship for children born in Italy to foreign parents. She's also blamed the struggles of the national soccer team on too many foreign players in the country's top league.
Meloni has now edged ahead of Salvini in terms of personal popularity, with 35% of voters saying they prefer her, compared with 40% for Conte and 32% for the League leader, according to an Ixe survey on Jan. 21.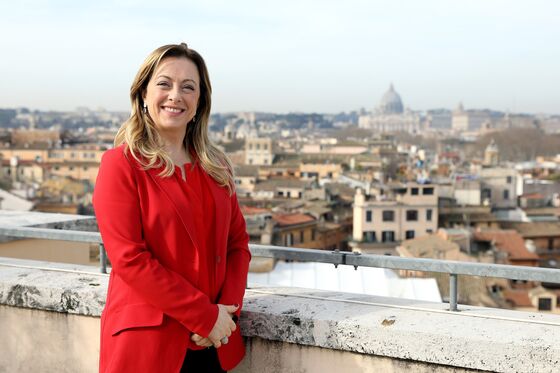 Walking the fine line between ripping into Brussels elites and promising to keep Italy in the euro might be helping Meloni build her brand.
If her rhetoric carries echoes Trump, it's not accidental. Speaking on the eve of a visit to Washington where she'll address the National Prayer Breakfast, Meloni paid tribute to the U.S. president's America First policies.
"What Trump is doing in the U.S. could work here too -- low taxes, money for investment and defending the Italian brand -- the most important and precious thing we have," Meloni said.
With her popularity rising, Meloni clearly has her sights set high. Asked if she could be the country's first female premier, Meloni said, "Italy is ready for that, more than it thinks, but I also think it depends on women. It's like they don't think they can reach really important goals, so if they believe more in themselves, I think it can happen."
Meloni has already served as a minister, when she was the country's youngest cabinet-level official in Berlusconi's fourth government.
Meloni founded Brothers of Italy in 2012 and has since worked to steer the party from fringe-movement status into the mainstream. Unlike Salvini, Meloni declined to join Conte's first government, which paired the League with Five Star in an unlikely populist coalition that lasted 15 months.
On the eve of her trip to Washington, Meloni is even hoping to get some face time with the U.S. president. "I'd like to talk to him and learn about how he did it," she said.
--With assistance from Flavia Rotondi.
To contact the reporters on this story: John Follain in Rome at jfollain2@bloomberg.net;Alessandro Speciale in Rome at aspeciale@bloomberg.net
To contact the editors responsible for this story: Ben Sills at bsills@bloomberg.net, Jerrold Colten