Italy's Populist Budget Has Leaders Worried at Brussels Summit
Italy's Populist Budget Has Leaders Worried at Brussels Summit
18 Oct 2018, 6:49 PM IST
(Bloomberg) -- European Union leaders voiced concerns over Italy's spending plans, putting pressure on the populist government in Rome to rethink its budget and avert a potential standoff with Brussels.
The premiers, speaking ahead of a summit in the Belgian capital, suggested they would broach the subject on the margins of a lunch discussion on the future of the euro area. With Italian bond yields close to a four-year high, the prospects for the country's public finances have become a prime focus in the bloc.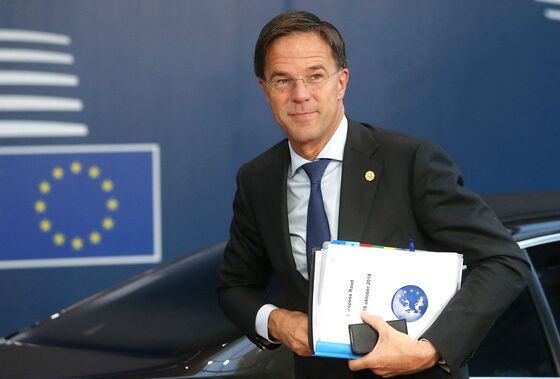 Prime Minister Mark Rutte said in a tweet that he expressed Dutch "concerns regarding Italy's budget plans for 2019" to his Italian counterpart Giuseppe Conte in a bilateral meeting ahead of the summit. Following that discussion, Conte said he wouldn't accept "prejudices" regarding the Italian budget.
Meanwhile, Austrian Chancellor Sebastian Kurz reminded Italy of its fiscal commitments, saying that he is a "strong advocate" of the EU's debt and deficit rules. "They have to apply to all members" he told reporters, when asked about Italy's budget. "I have been very critical in the past if exceptions were made for bigger countries."
'Very Impressed'
The summit comes just days after Italy submitted its long-anticipated budget plans to the European Commission, which will have to decide within a week if it will issue a warning that the draft is off track; it has two weeks to issue a negative opinion requesting revisions, which would be an unprecedented step.
But EU officials have said the bloc's executive has little room to maneuver, as the deviation in Italy's budget targets is too serious not to take further steps. At a meeting of the the commission's top cabinet officials in Brussels on Wednesday, there was broad support for taking such a step if Italy didn't change its mind, officials familiar with discussions said.
Conte, however, was steadfast in resisting any changes to the budget. "We have studied it very well so I would say there is not the margin to do so," he said, adding that German Chancellor Angela Merkel reacted positively to his country's spending plans. Merkel was "very impressed by the structural reforms," he said.
Still, it is unlikely that the commission will let Italy get away with a slap on the wrist. That's because many euro-area countries such as the Netherlands have insisted on the need to stick to EU fiscal rules, the credibility of which has already come into question in the past when countries like France, Spain and Portugal were given budgetary latitude.
--With assistance from Katharina Rosskopf, Lyubov Pronina, Nikos Chrysoloras, Ian Wishart, Jonathan Stearns, Tim Ross, Helene Fouquet, Patrick Donahue and Marine Strauss.
To contact the reporters on this story: Viktoria Dendrinou in Brussels at vdendrinou@bloomberg.net;John Follain in Rome at jfollain2@bloomberg.net
To contact the editors responsible for this story: Alan Crawford at acrawford6@bloomberg.net, Richard Bravo
©2018 Bloomberg L.P.
Get Your
Daily Newsletter
Get market moving news, top news & compelling perspectives
---