Israel's Bennett Tells UN Iran Has Crossed 'All Red Lines'
(Bloomberg) -- Israeli Prime Minister Naftali Bennett said Iran's nuclear program has crossed "all red lines," reaffirming his nation's longstanding vow that it won't let Iran acquire nuclear weapons.
"Over the past few years, Iran has made a major leap forward, in its nuclear R&D, in its production capacity, and in its enrichment," he said Monday addressing the United Nations General Assembly. "Iran's nuclear weapon program is at a critical point."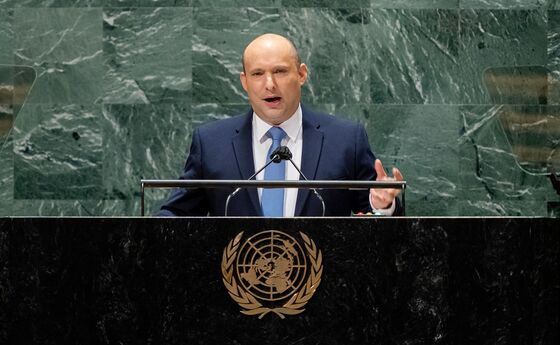 Bennett, speaking for the first time before the annual UN gathering in New York, said the world is choosing to ignore evidence of secret sites in Iran. He also accused Iran of wreaking chaos in the Middle East, from Yemen to Syria to Lebanon.
"Iran's nuclear program has hit a watershed moment, and so has our tolerance," Bennett said. "Iran seeks to dominate the region under a nuclear umbrella."
It's not the first time an Israeli leader has stood at the UN podium to warn the world about Iran's nuclear aspirations. Former Prime Minister Benjamin Netanyahu turned his denunciations of the Islamic Republic into a tradition at the UN, and in 2012 he famously held up a cartoon of a bomb with a lit fuse to warn time was short to avert a nuclear-armed Iran.
Now, the U.S. and Western powers are also warning Iran that time is running out to revive the 2015 nuclear accord, saying Iran's progress in enriching nuclear material is eroding the gains that would be provided by a return to the agreement, which restricted the nuclear program in exchange for the easing of economic sanctions.
The return of Iran and the U.S. to terms of the deal, which former President Donald Trump abandoned, has been a key issue discussed by world leaders on the sidelines of the UN gathering in New York that's concluding on Monday.
Iran's Foreign Minister Hossein Amirabdollahian told reporters Friday that his nation will return to talks on returning to the multinational accord "very soon." He called on President Joe Biden to ease damaging U.S. sanctions.