Investment Isn't Charity, Says Energy Minister Dharmendra Pradhan
India is undergoing a paradigm change in its energy strategy, said Dharmendra Pradhan.
India's minister for petroleum and natural gas said the nation's undergoing a paradigm change in its energy strategy, based on the principle that investments are made for profit and not charity.
Speaking on the sidelines of the Bloomberg New Energy Forum 2019, Dharmendra Pradhan said India needs to respect the energy investments it brings in by securing the interests of the companies. "Government of India's approach towards energy was who can give us more revenue and profit," he said. "But from the vision of PM Modi, we have shifted that strategy from more profit or revenue to more production."
"Production maximisation is the new strategy, the new mantra."
That being said, Pradhan isn't satisfied with the current level of energy investments, adding that India needs more.
Speaking about the future of India in the global energy industry, Pradhan said the country is going to be an energy "hotspot". "When we took responsibility in 2014, our balance sheet with the U.S. on energy front was zero. We weren't taking any energy from the U.S. In financial year 2018-19, it's $6 billion and this is just the beginning. A lot more will be spread in the near future."
Here are the key pointers:
The straight of Hormuz is emerging as a new conflict zone. It creates negative sentiment in oil price.
The transition point hotspot is India and investors and the country both are determined to find their own way.
India is focused to create its own renewable energy base—from solar to wind.
We have to find out a way to substitute crude oil (with an alternate energy source).
By the end of this financial year we will infuse hydrogen with the existing compressed natural gas network.
I'm not content with the kind of investments that are coming to India.
PM Modi's energy vision is—more production, not more more profit or revenue.
India will be the most consuming country in the world for the next few decades.
Liquefied natural gas is going to be more affordable forms of energy and India doesn't want to leave that market.
Watch the full conversation here: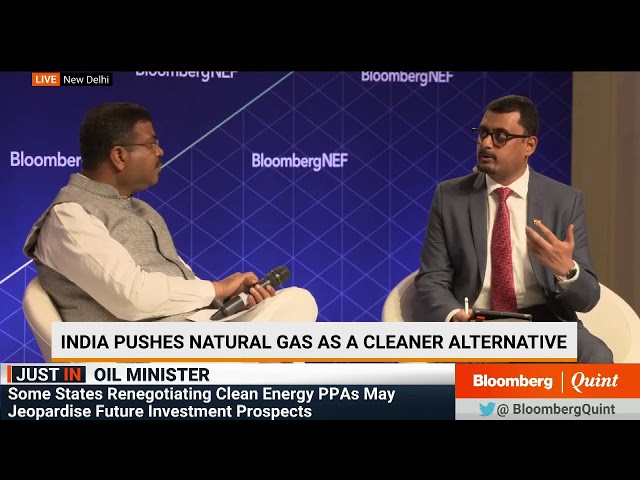 Get Your
Daily Newsletter
Get market moving news, top news & compelling perspectives
---