Indonesia Must Boost Virus Spending to $100 Billion, Group Says
(Bloomberg) -- Indonesia is running out of time to contain the raging coronavirus pandemic and the government should immediately ramp up stimulus by tens of billions of dollars to lessen the economic shock, according to the nation's top business lobby group.
President Joko Widodo should boost spending to at least 1,600 trillion rupiah ($102 billion) over the next six months to counter the economic hit from the virus, said Carmelita Hartoto, deputy chairman of the Indonesian Chamber of Commerce and Industry. About 600 trillion rupiah is needed to cover wages of millions of people out of jobs while another 400 trillion rupiah should be spent on social safety net programs and the health system, she said.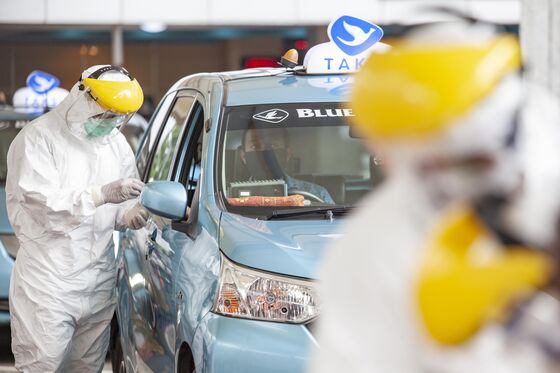 Widodo's government has in recent weeks announced a string of emergency measures, worth about $28 billion, aimed at supporting a health system already buckling and an economy now grinding to a halt. It has at the same time faced criticism over its failure to act sooner as Covid-19 cases and the death toll from the disease surge, and millions of Indonesians find themselves jobless with little access to financial assistance.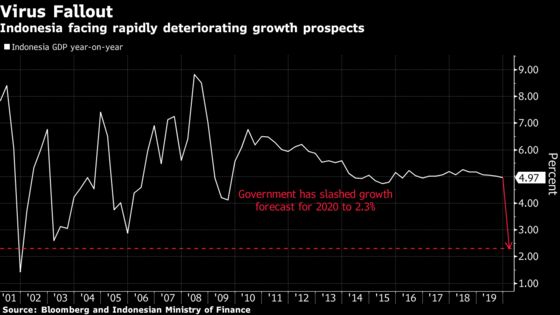 "The government spending and stimulus have been far too small," Hartoto said. "We don't have much time and we can't afford to get it wrong with this pandemic."
Southeast Asia's largest economy is projected to grow 2.3% this year with Finance Minister Sri Mulyani Indrawati warning of a more dire outcome of a contraction of 0.4% under a worst-case scenario. The government has suspended a cap on the budget deficit -- introduced in the wake of the Asian financial crisis two decades ago -- to give itself the leeway to boost spending.
The government estimates the budget deficit will reach 5.07% of gross domestic product this year, compared to an initial target of 1.76%. It's a figure that appears paltry compared to other economies in the region and elsewhere. The stimulus proposed by the chamber of commerce would take the fiscal response closer to 10% of GDP.
"We need it to be four times bigger," Hartoto said. "With 1,600 trillion rupiah, the government can still meet expectations in markets and among the people. In other words, this will reassure the public that we are serious about addressing the health issues."
The chamber, known as Kadin, wants 300 trillion rupiah to support the recovery of small and medium enterprises and 300 trillion rupiah for the industry, especially labor-intensive and strategic businesses.
Read more about Indonesia virus outbreak
Bank Indonesia Set for Direct Bond-Buying to Fund Virus Plan
The call for a bigger and faster fiscal response came after Jokowi, as the president is known, took the extraordinary step of banning travel ahead of the Muslim festival of Eid al-Fitr next month, amid fears the annual exodus could spread the virus. The president has rejected calls for a complete lockdown in Indonesia, citing the impact on jobs and businesses.
Infections in Indonesia have quadrupled this month alone with officials saying the pandemic may peak only toward end of May in a country of 270 million people. The virus has infected more than 7,000 people and claimed 616 lives, official data show.