Indonesia Bans Annual Holiday Exodus to Combat Virus Spread
(Bloomberg) -- Indonesia banned an annual ritual of citizens traveling in large numbers to their hometowns and villages ahead of the Muslim festival of Eid al-Fitr to prevent the spread of coronavirus in the world's largest Muslim-majority country.
President Joko Widodo, who announced the ban at a cabinet meeting in Jakarta on Tuesday, said the prohibition was based on an assessment that about 24% of people who usually undertake the holiday travel were planning trips irrespective of the virus outbreak. The government has begun distribution of food kits and rolled out other social assistance programs this week to help the jobless and poor staying back in cities, he said.
Infections in Indonesia have quadrupled this month alone with officials saying the pandemic may peak only toward end of May in a country of 270 million people. The virus has infected more than 7,000 people and claimed 616 lives, the second-highest fatalities in Asia, even with the enforcement of some social distancing rules for more than a month.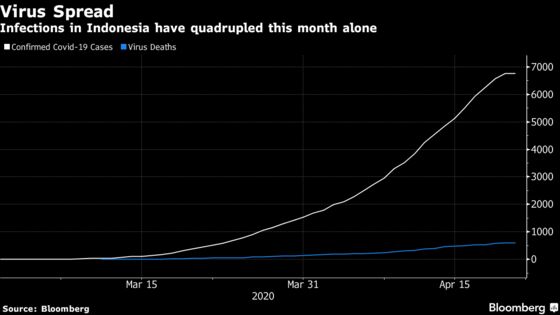 The lack of progress in containing the virus in Indonesia is in contrast to phased easing of lockdown measures being contemplated by other major countries to minimize the economic shock from the pandemic. Jokowi, as Widodo is commonly known, has rejected calls for a complete lockdown, citing the impact on jobs and businesses. But the president on Monday called for a review of the lenient social distancing rules and ordered an urgent expansion of testing and aggressive containment measures.
Healthcare experts had called for a ban on the exodus, known as mudik, as it could spread the virus to more areas from the Greater Jakarta region, the nation's epicenter of the outbreak. Roughly one out of every eight Indonesians head home ahead of Eid, the Muslim festival marking the end of Ramadan. An estimated 19.5 million people traveled to their hometowns from big cities like Jakarta during last year's Eid, official data show.
The ban will be effective from April 24 and violators will be penalized from May 7, Luhut Pandjaitan, the acting transport minister said. Airlines, buses and other means of transportations will not allowed to carry people to and from areas implementing stricter social distancing policy or those that have been identified as "red zones" of the outbreak, according transport ministry spokeswoman Aditya Wiharto. Toll roads will only be available for logistics transport, she said.
A ban on domestic flights for a week before and after Eid may force people to abandon travel plans, said Rusli Cahyadi, an analyst at Jakarta-based Indonesian Institute of Sciences.
"The largest portion of people going home will use airplanes and private cars, so the prohibition policy should target primarily these two modes of transportation," Cahyadi said. "Besides there must be massive awareness campaign about the perils of traveling and spreading infections. Government should also impose reasonable penalties on violators."
While the ban may hurt the economy in the short term as its weakens consumption, which makes up almost 60% of Indonesia's gross domestic product, it may help contain the virus faster and accelerate a recovery, according to Evan Hadiwidjaja, head of research at PT Sinarmas Sekuritas.
"If the outbreak is prolonged in Indonesia, it could lead to higher unemployment and damage the economy even further," Hadiwidjaja said. "With the fiscal space that we have, the ban looks to me a more viable alternative."
Jokowi's government has slashed its growth forecast for this year to 2.3%, less than half the pre-outbreak projection of 5.3%. It has warned it could even contract 0.4% under a worst-case scenario and unveiled stimulus packages worth $28 billion besides scrapping a budget deficit cap to cushion the blow of the pandemic.