India May Contain Virus Spread by February, Expert Panel Says
(Bloomberg) -- India has already seen a peak in the number of new coronavirus infections and may be able to contain the world's second-largest outbreak by February, according to a government panel of scientists that attributed a recent slowdown to a harsh national lockdown earlier this year.
In a presentation, the Covid-19 Supermodel Committee led by M. Vidyasagar said a peak in active cases came in late September. The scientists looked at a number of hypothetical scenarios where lockdowns had been avoided or delayed. They concluded that the restrictions imposed in March saved "a lot more misery and lives" and signaled that Covid-19 could be tamed in a few months.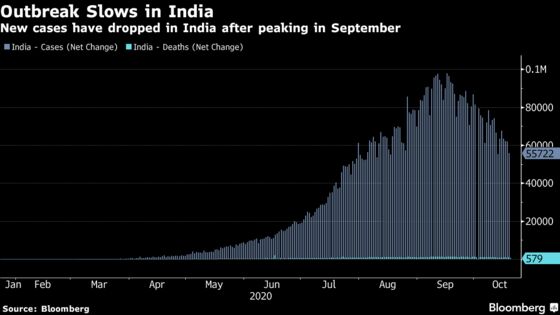 "The pandemic can be controlled by early next year with minimal active symptomatic infections by February-end," the committee said. "If the model is correct, we may have reached herd immunity" with 380 million people already infected.
India's lockdown at the end of March was the world's largest, causing the economy to contract 23.9% in the June quarter from a year ago as businesses and jobs were devastated. Once restrictions were eased, authorities struggled to get the pandemic under control, with the number of infections second only to the U.S.
The number of daily infections officially reported in the South Asian nation has dropped since September, with India adding 55,722 new cases on Monday, the lowest in almost a week. The nation, which has the second-highest number of infections globally, was recording daily cases of almost 100,000 a month ago. Monday's tally brings India's total infections to 7.55 million.
Despite the panel's optimistic outlook, many scientists remain skeptical that India will see an early respite -- pointing to a patchy testing system that may end up underestimating the true extent of its outbreak, particularly in its rural hinterland.
With a second wave of infections and lockdowns currently being witnessed across much of Europe, the government committee offered their own warning for India.
The "upcoming festival and winter seasons may increase the susceptibility to infection," they said.