Hungary, Poland Pressured to Lift EU Veto Threat Within Hours
(Bloomberg) -- Hungary and Poland must offer a clear signal that they'll lift their veto over the European Union's jointly financed stimulus plan by Tuesday or risk losing billions of euros in aid, officials warned.
A senior diplomat in Brussels said that in the absence of a breakthrough, the EU will turn to 'Plan B', launching the economic recovery fund while excluding the two holdouts. The diplomat, who asked not to be named, didn't elaborate on the details of the plan and said it's still unclear how long it will take.
There was no sign that Hungary and Poland, which have blocked the $2.2 trillion EU spending package, would cave. In an op-ed piece in Handelsblatt published Monday, Polish Prime Minister Mateusz Morawiecki wrote a veto was needed as a "safety valve" to keep the EU together.
The two nations object to tying disbursements -- including a 750 billion-euro ($908 billion) economic-recovery fund and the bloc's 2021-2027 budget -- to democratic standards. They argue that the so-called conditionality threatens their regimes and makes them targets for funding cuts.
"I talked with my Polish colleague ahead of the meeting and we agreed that we were going to stand together and won't allow anything to drive a wedge between us," Hungarian Foreign Minister Peter Szijjarto said after meeting with his EU counterparts in Brussels.
The EU needed to continue talks on the spending plan but underlined that the way to a deal is for all other nations to drop a demand to bind payouts to rule-of-law provisions, he said.
German Chancellor Angela Merkel, who holds the rotating presidency of the EU, has been unsuccessfully trying to broker a compromise before a summit of the bloc's leaders on Thursday. It's unclear how firm the latest ultimatum will be. But the stakes are high on both sides.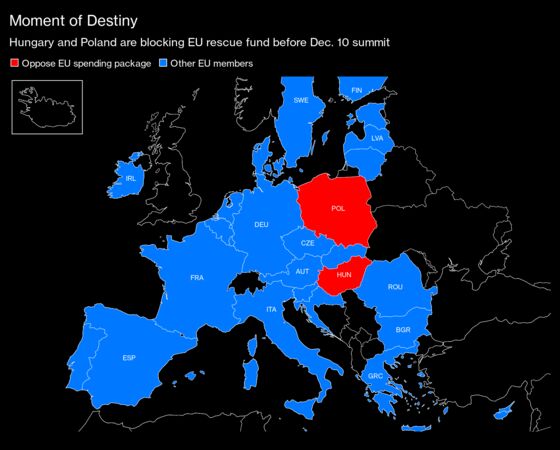 Failure to garner the required unanimous support for the deal would force the EU into a partial shutdown as of Jan. 1, as the bloc will be operating under emergency monthly budgets of limited firepower. The EU can still introduce rule-of-law strings by a weighted majority of its members, meaning that Hungary and Poland could lose access to even these limited payments, in addition to the recovery funds, and the leftovers from the bloc's current budget.
The virus recovery fund can still be launched without Hungarian and Polish support. Doing so, however, could take months.
Poland and Hungary risk losing out on a combined 180 billion euros in development funds, which have been a main driver of economic growth and rising living standards since they joined the EU in 2004.
A separate diplomat in Brussels said that many leaders are reluctant to engage in a prolonged discussion with Poland and Hungary at the summit, hence the eagerness for clarity before Thursday's meeting so the bloc can proceed with its plans without much debate. Two government officials in national capitals confirmed the plan is to move to 'Plan B' if there's no deal this week.
Morawiecki wrote in the German newspaper that some richer EU nations, which are net contributors to the bloc's finances and benefit most from the single market, "have no desire to pay into the common fund" and are hence seeking to produce a standoff where they won't need to funnel funds abroad.
Earlier, he has said that even if funds are cut, Poland's economy won't suffer due to state investment programs. His deputy, Jaroslaw Gowin, whose political faction is vital to the ruling Law & Justice Party's parliamentary majority, warned of trouble if the country is left out.
"Of course, we can use veto as the nuclear option, but Poland would also be hurt," Gowin told the Se.pl website. "It's noble to die for Poland but it's not wise."
Orban briefed parliamentary parties about his position in a non-public meeting, with no indication of changing his stance, according to opposition parties who called on him to relent.
The pro-EU and liberal-leaning mayors of Warsaw and Budapest also sent a letter to European Commission President Ursula von der Leyen on Monday, appealing for local authorities to have access to funding even if the national administrations reject the package.
"The Hungarian government's position doesn't represent the will of the Hungarian people, the Hungarian national interest, nor the Hungarian nation's values," Budapest Mayor Gergely Karacsony said.