Human Rights Watch Scolds Chile on Deportations of Venezuelans
(Bloomberg) -- Human Rights Watch is calling on Chile to stop "summary deportations" of Venezuelan citizens, saying those measures violate due process and international law.
In June, Chile expelled 53 Venezuelans, some of whom were separated from family, had appeals pending or were denied phone calls or access to lawyer, Human Rights Watch said in a statement on Wednesday. Citizens of several countries including Venezuela were deported without judicial review in April.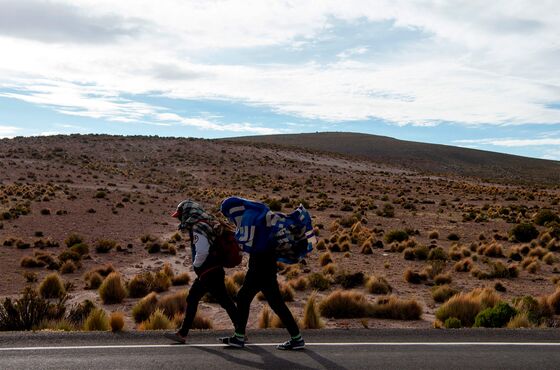 Over 5 million people have fled economic and social collapse in Venezuela, with many opting to migrate to neighboring countries in Latin America. Roughly 500,000 have settled in Chile, where they now represent the most populous migrant group. Still, government policies implemented since 2019 have made it more difficult for Venezuelans to obtain asylum and visas.
"Chilean courts have shown that many Venezuelans who fled a devastating crisis at home were deported without due process, violating basic international law standards," said Jose Miguel Vivanco, Americas director at Human Rights Watch. "It's inconsistent for the Chilean government to strongly condemn the abuses in Venezuela while ignoring Venezuelans' rights in the rush to deport them to a country where their lives may be at risk."
Human Rights Watch said it analyzed 21 judicial rulings protecting a total of 80 Venezuelans and more than 250 deportation orders. The organization also interviewed humanitarian and human rights representatives.
In early June, Interior Minister Rodrigo Delgado defended the deportations, saying that many of the migrants had committed crimes including robbery, and that some have ties to child trafficking. The president of the Supreme Court said last month in an interview with El Mercurio that the deportees have a right to justice and should be allowed to present their case.