Apple Daily to Shut Down at Midnight After Hong Kong Arrests
(Bloomberg) -- Hong Kong's pro-democracy Apple Daily newspaper, which cheered on the city's anti-China protest movement in 2019, is shutting down after authorities used a national security law to arrest its top editors and freeze company assets.
Apple Daily will stop operating at midnight and publish the last print edition Thursday due to concerns over manpower and the safety of employees, the Hong Kong newspaper said on its website. Earlier on Wednesday, the board of parent company Next Digital Ltd. owned by pro-democracy media tycoon Jimmy Lai announced the newspaper would close on June 26.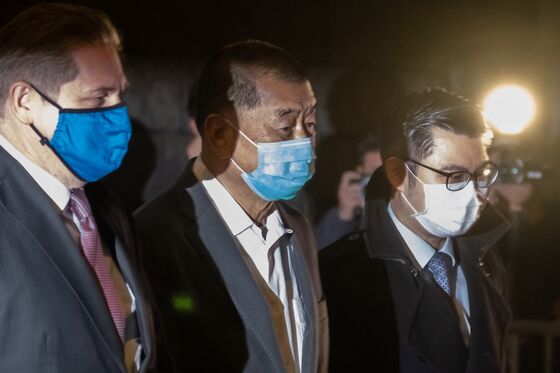 "The Company thanks our readers for their loyal support and our journalists, staff and advertisers for their commitment over the past 26 years," the board said. On Monday, the company said it would close the newspaper's operations by Saturday if Hong Kong authorities continued to block access to its bank accounts following the arrests of senior editors and executives.
The newspaper's demise is the biggest sign yet of China's clampdown on free speech since imposing a national security law on the former British colony last year that has been used to silence democracy activists. Authorities last week arrested Apple Daily's three top editors and two Next Digital executives, with some 500 police officers descending on the company's Hong Kong offices.
"The imminent shutdown of Apple Daily sends out a very clear signal to all media organizations," said Grace Leung, a media lecturer at Chinese University of Hong Kong. "It also alarms all journalists in this city -- that they will face a risk of arrest, especially if they touch on sensitive or critical political issues."
Earlier on Wednesday, police arrested a 55-year-old man for allegedly colluding with foreign forces to endanger national security. While the police statement didn't mention any names or publications, local media including the Oriental Daily reported that the man is an Apple Daily columnist who writes social commentary under the name Li Ping. A police representative told Bloomberg News earlier Wednesday that more arrests are possible.
After Wednesday's arrest, newsroom staff grew increasingly frightened because Li wasn't considered the most outspoken columnist, according to three Apple Daily reporters who asked not to be identified because of the sensitivity of the police operation. Some newspaper staff were being advised to leave the office after the arrest, the people said, with some newsroom managers evacuating reporters.
Senior managers who participated in the Wednesday meeting were angry the board didn't immediately shut down the paper's operations to minimize the growing risk to staff after all the arrests, according to two editorial employees familiar with the matter.
Over its 26 years in operation, the paper unearthed the hidden wealth of high-ranking Chinese Communist Party leaders, exposed the unethical practices of officials in Hong Kong and became one of the most prominent voices of the city's pro-democracy movement.
The paper was known for scoops and investigative coverage, but also for its racy coverage of entertainment, crime and celebrity gossip, including sensational paparazzi photos.
'A Paper They Love to Hate'
"To many Hong Kongers, Apple is a paper they love to hate," said Chris Yeung, chief writer for digital news outlet Citizen News and a former chairman of the Hong Kong Journalists Association.
"They may not feel happy with its style and approach in reporting," he added, but they appreciated the paper's "fearlessness in challenging the authorities for their wrongdoing, and persistence on freedom and democracy."
As of Wednesday, Apple Daily's financial and English language sections, as well as live broadcasts, have been discontinued. Next Digital's Next Magazine also announced it will cease operations. "Everyone at Next Digital magazine has worked incredibly hard and enjoyed the press freedom, we have no regrets," the magazine's publisher, Louise Wong, wrote in a Facebook post.
On Tuesday, Hong Kong Chief Executive Carrie Lam defended the arrests of the paper's senior editors and said the national security law China imposed a year ago should act as a deterrent to other media outlets.
"You can't say that just because the suspected organization is a newspaper organization and suspected people are executives from a newspaper organization ​that our actions undermine press freedom," Lam told reporters.
"The national security law in Hong Kong will have to be enforced seriously," she said. "There is also a preventative and deterrent effect. It has to have a deterrent effect if it is to achieve its objective."