China Hails Hong Kong Journalist Arrests, Warns Media Outlets
Hong Kong's national security police arrested five executives of the pro-democracy Apple Daily newspaper.
(Bloomberg) -- China took another step toward extinguishing any form of dissent in Hong Kong, hailing police in the city for arresting top editors of a pro-democracy newspaper and warning journalists not to write articles that challenge Beijing.
On Thursday morning, roughly 500 police officers descended on the headquarters of the popular Apple Daily newspaper for the second time in 12 months after accusing its leaders of violating a national security law imposed last year. They arrested three top editors and two senior executives of the tabloid owned by Next Digital Ltd founder and democracy activist Jimmy Lai, a fierce critic of Beijing who is currently serving more than year in prison for attending unauthorized protests.
"Freedom of the press is not a 'shield' for illegal activities," the Chinese government's Liaison Office said in a statement. "No matter what kind of professional status and background they have, no matter what kind of support they have behind them, anyone who violates the Hong Kong National Security Law and relevant laws will be severely punished by the law."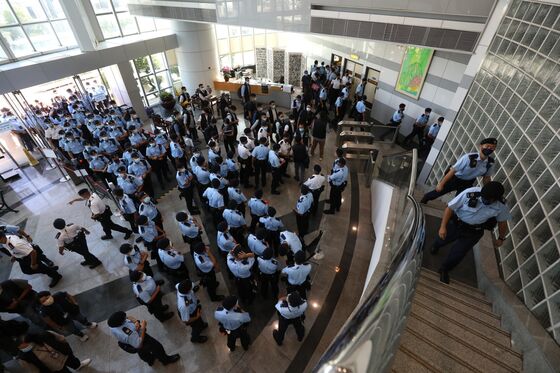 The unprecedented move to arrest senior editors at a major newspaper -- and warn other journalists to watch what they write -- has rattled a city that has seen Beijing swiftly erode basic freedoms in the former British colony since historic street protests in 2019. Police haven't disclosed details about the articles in question, leading to fears that Beijing will use the vaguely worded national security law to potentially throw journalists in jail for any critical reporting.
In the raid on Apple Daily, police barred journalists from accessing their desks and declared the right to seize computers and other devices in a search of the premises. The police officers present at Apple Daily Thursday were more than double the number that searched the newspaper's headquarters back in August, and this time they prevented reporters from live-streaming the sweep of their offices.
Mark Simon, a top adviser to Lai, said police were falsely labeling the paper's top three editors as company directors to mask the fact that authorities were now using the security law to arrest journalists.
"They're looking to cut off the head of the editorial department," Simon said in an interview. "The police saying these are company directors is a blatant attempt to not be accused of press suppression. But they are directly attacking editorial people. They are rounding up journalists. They are arresting journalists now."
Those arrested included Next Digital Chief Executive Officer and Apple Daily publisher Cheung Kim-hung and Chief Operating Officer Royston Chow, as well as the paper's Editor-in-Chief Ryan Law and deputy editors Chan Pui-man and Cheung Chi-wai.
Lai, who founded Next Digital, has been the most high-profile target of the government's push against democracy advocates in Hong Kong. He is currently serving more than a year in prison for attending unauthorized protests and faces additional charges under the security law. On Thursday morning, trading of Next Digital shares was halted, without any reason being given.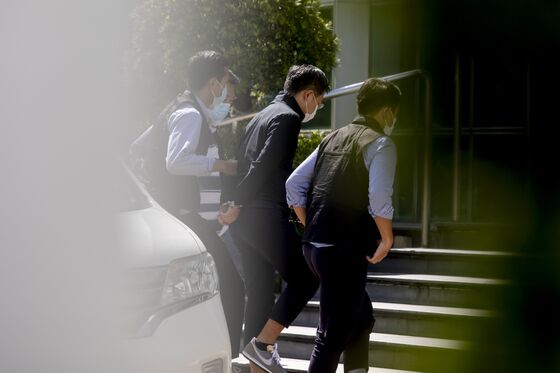 "The action taken isn't related to normal journalistic work," John Lee, Hong Kong's security secretary, told reporters on Thursday. "The action targeted the use of journalistic work as a tool to endanger national security. Normal journalists are different from these people. Please keep a distance from them."
In a press conference outside the newspaper's offices, Hong Kong Police Force National Security Department officer Li Kwai-wah said the police had frozen HK$18 million worth of assets belonging to three Apple Daily companies. The newspaper had published dozens of articles that gave foreign powers "ammunition" to sanction Hong Kong and China, Li said, adding the newspaper office was now a crime scene.
Hong Kong had long been known as a bastion of the free press, and many international news organizations set up regional headquarters in the city. But China's increasing grip over the city, cemented in its imposition of the national security law last year, has tarnished that reputation. The New York Times cited increased uncertainty following the security law when it announced last year it was moving its Hong Kong-based digital news operation to South Korea. While the law has been used to jail and prosecute dozens of pro-democracy activists, lawyers and politicians, Thursday's arrests mark the first time it has been used to arrest journalists.
"This is a serious blow to press freedom in Hong Kong and a direct attack on the journalistic work of Apple Daily," said Tom Kellogg, the executive director of the Georgetown Center for Asian Law. "Whereas prior attacks on Apple Daily have focused on Jimmy Lai's own advocacy, these arrests are -- for the first time -- focused on Apple Daily's journalistic output."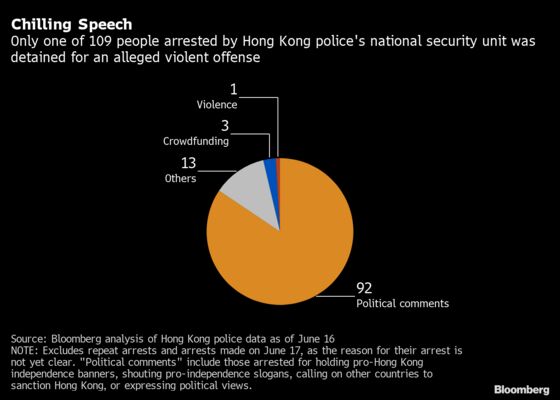 Lai is also facing charges under the national security offense of colluding with foreign forces to hurt China, based on tweets and interviews he gave to international media outlets. The city's Security Bureau has moved to freeze some of Lai's assets and sent letters to some of his bankers, threatening them with years in jail if they deal with any of his accounts in Hong Kong.
"Hong Kong has been left with little free speech under the national security law, which is really aimed at silencing all dissent," said Victoria Hui, an associate professor of political science at the University of Notre Dame. "Beijing has reined in Hong Kong and will continue to take whatever it takes to silence any dissenting voices."
In a letter to readers on Thursday afternoon, Apple Daily said police officers confiscated a "large number of items," including the computers of 38 journalists, over the course of a five-hour search of the company's offices.
The newspaper said it now "faces an unprecedented crackdown by the regime," but vowed its staff would be "standing firm" despite the growing pressure.
"Hong Kong's press freedom is now hanging by a thread," the letter said. "Though we are facing a sweeping clampdown on our publication, the staff of Apple Daily will hold fast to our duties faithfully and press on till the end to see the arrival of dawn."