Hedge or Be Damned Is the Election Mantra: Trading Brexit
Options traders are battening down the hatches for U.K. election day as the pound's spirited rally suggests victory for Prime Minister Boris Johnson is potentially all but priced in.
Sterling is holding near its eight-month high against the dollar in the spot market, reflecting bets that a Conservative Party government would secure a majority in today's vote to push through a deal to leave the European Union.
But signals from the derivatives market show investors are hedging for any upset -- a calculated move given Britain's notorious history with opinion polls and the tortuous road to Brexit.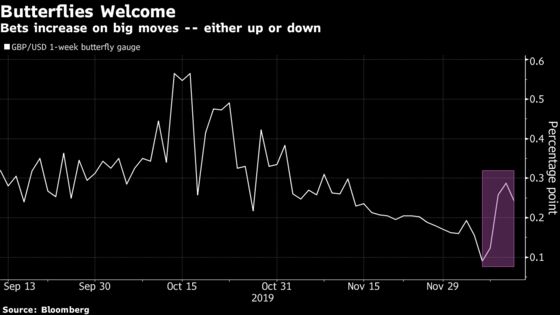 A key YouGov survey released Tuesday that polled more than 105,000 respondents raised the prospect that the Tories may win a slimmer majority than expected, with a hung Parliament within the margin of error. That threw a "cat among the pigeons," said Neil Wilson, chief analyst for Markets.com in London.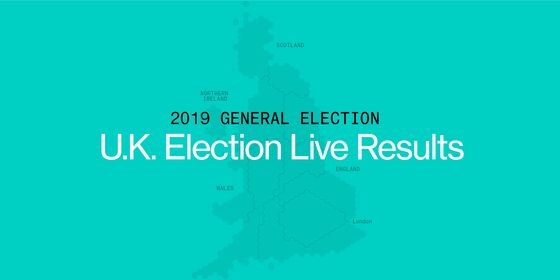 Caution is showing up in demand for derivatives. A gauge of out-of-the-money contracts compared with at-the-money options, known as a butterfly, shows the former got pricier just before election day. Those contracts could pay off if swings become more violent ahead.
"The scramble to cover downside risk via options shows investors who are still long the pound are leaving nothing to chance," according to Bloomberg strategist Ven Ram.
A snapshot of trader anxiety is showing up in one-week sterling volatility. Early on Wednesday, it made a run at a fresh three-year high reaching 19%, and above its level on the eve of the 2017 election.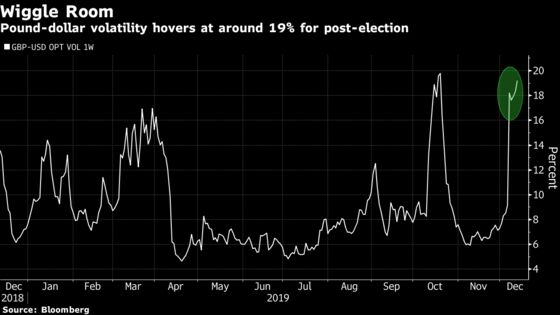 Taking a one-month perspective, the premium investors pay for protective puts over calls in currency options has moved close to its highest since April. That's reflected in the gauge known as 25-delta risk reversals.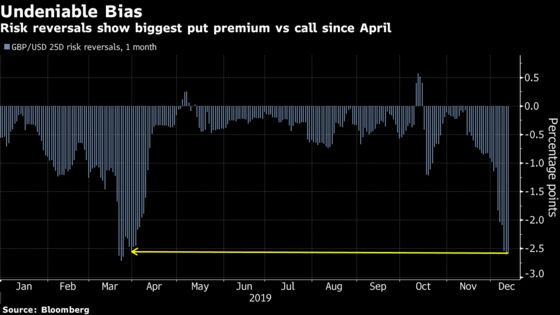 Traders have good reasons to buffer portfolios from potential volatility ahead as improving market sentiment lowers the bar for disappointment.
Take the cash equity market. More than 151 million pounds ($199 million) flowed into BlackRock Inc.'s iShares MSCI UK Small Cap UCITS ETF in the past three weeks, setting it on course for a record December.
Assets in the 343 million-pound product swelled by more than half this month. That underscores rising confidence that a Tory government would benefit U.K. assets through fiscal stimulus and a deal on Brexit -- and the risk markets are whipsawed by a fresh outbreak of political instability.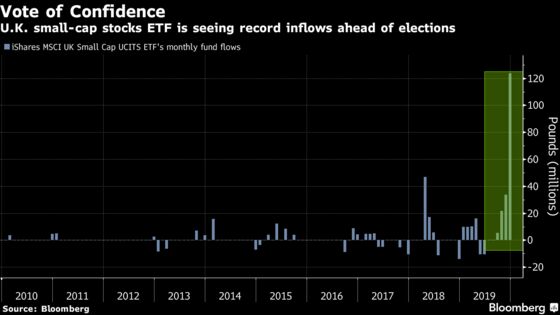 --With assistance from Ven Ram, Vassilis Karamanis and Ksenia Galouchko.
To contact the reporter on this story: Todd White in Madrid at twhite2@bloomberg.net
To contact the editors responsible for this story: Sam Potter at spotter33@bloomberg.net, Sid Verma, Yakob Peterseil