West African Bloc Refrains From Demanding Guinea Leader's Return
Guinea Suspended from West African Regional Bloc After Coup
(Bloomberg) -- West African leaders refrained from demanding that deposed Guinean President Alpha Conde be reinstated after this week's coup, and instead urged the junta to expedite a return to constitutional order.
The outcome of an Economic Community of West African States summit on Wednesday signaled a lack of regional support for Conde, 83, who returned to power in December after his controversial re-election. The bloc was critical of Conde's campaign last year to change the constitution in order to secure a third term in office, a process that triggered opposition protests in which several people died.
The bloc suspended Guinea's participation in its decision-making bodies and dispatched Ghanaian Foreign Minister Shirley Botchwey to meet with its military rulers on Thursday. It urged the Guinean authorities to free Conde, who's been held at a military barracks since being detained by forces led by Colonel Mamady Doumbouya on Sept. 5.
"The leaders are very worried about the socio-political situation in Guinea following the Sept. 5 coup and the arrest of President Alpha Conde," said Alpha Barry, the foreign minister of Ecowas member Burkina Faso. "They call for the immediate release of Conde and for the junta to restore constitutional order."
Guinea is the world's largest exporter of bauxite, a key raw material used in the production of aluminum. This week's coup has added to concerns about supply constraints that have pushed prices for the metal to the highest in 13 years.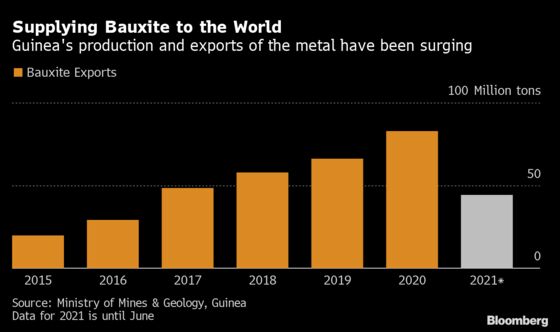 The coup leaders, known as the Comité National du Rassemblement et du Développement, were quick to say they would honor agreements with miners, including Rio Tinto Plc and United Co. Rusal, who operate in Guinea.
Despite those reassurances, the suspension of the constitution creates the risk to mining companies that the military rulers may repeat what previous regimes have done and review or adjust existing agreements, said Leonard Mbulle-Nziege, an analyst at Africa Risk Consulting in London. Mining generates about 90% of Guinea's export revenue and about a quarter of its gross domestic product.
"The risk of the CNRD reviewing existing agreements is likely to increase as the international community and its financing institutions respond to the coup," Mbulle-Nziege said. "The longer the CNRD's 'transition' to civilian rule -- the international community's likely requirement -- the higher the risk that donors will suspend funding to Guinea, increasing the pressure on the junta to raise funds at home."
Conde in 2010 became the first person to be democratically elected as head of state since Guinea's independence from France in 1958. He won two consecutive elections, before his administration altered the constitution to enable him to seek a third mandate.
Ironically, the longtime opposition leader's rise to power was seen putting an end to decades of authoritarian rule. Guinea's first two presidents, Sekou Toure and Lansana Conte, died in office after clinging to power for 26 and 24 years respectively. At Conte's death in 2008, military junta leader Dadis Camara ruled for a year until he was incapacitated by an assassination attempt.