Germany to Triple Speed of Emissions Cuts After Missed Targets
Germany Targets Tripling of Emissions Cuts in New Climate Push
(Bloomberg) -- Germany's new government pledged to slash harmful emissions and speed up expansion of renewables after two years of missed targets called into question the country's ability to meet its climate goals.
Germany has a "drastic deficit" when it comes to tackling global warming and will likely miss its targets again both this year and next as it strives for climate neutrality by 2045, Economy Minister Robert Habeck, who is a co-leader of the Greens, said Tuesday in Berlin.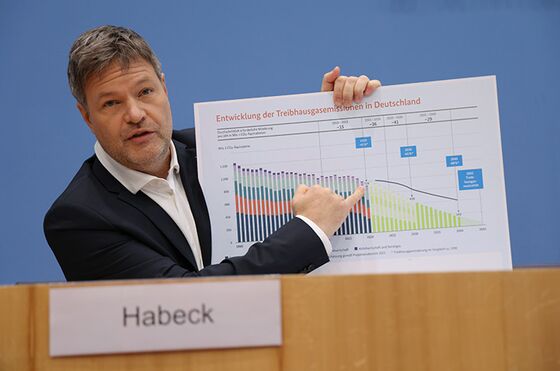 "We are making every effort to make up for the lag," Habeck said in a statement. "To do this, we have to triple the speed of our emissions reduction and do significantly more in less time."
Habeck was presenting his first broad assessment of Germany's program to tackle climate change since the Greens joined the new ruling coalition with Chancellor Olaf Scholz's center-left Social Democrats and the pro-business Free Democrats at the end of last year.
He conceded that Germany faces a "mammoth task" and said it will be some years before there is tangible success. The country's effort to cut emissions has been complicated by its decision to exit nuclear power by the end of this year, and there are fears in a nation historically sensitive to inflation that the green transition will stoke gains in consumer prices.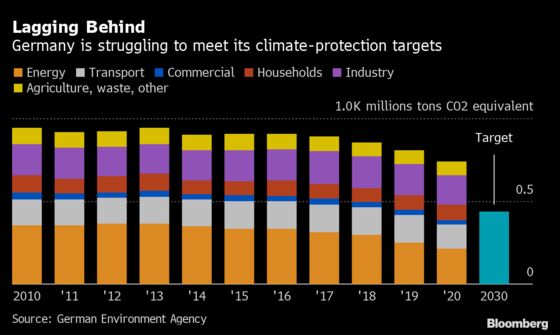 With nuclear off the table, Germany has little choice but to expand the use of gas-fired power plants to meet demand for its manufacturing sector and for an expansion of electric cars. In the short term, an ongoing energy crunch could boost demand for coal, which isn't due to be phased out until 2030 at the earliest.
Habeck called gas plants a necessary bridge technology, but said they could eventually be converted to run on hydrogen -- also a major area of investment in Germany.
The previous government under Angela Merkel last year pulled forward the country's transition to climate neutrality by five years to 2045, responding to a legal rebuke that its previous goals violated the rights of young people and children.
To accelerate emissions cuts, Germany plans to increase the share of renewable energy in its power mix to 80% by 2030. To underpin the expansion, the government will present two initial packages of climate-protection legislation -- one by the end of April and one in the summer, said Habeck, who is also the vice chancellor.
All the necessary measures should be in place by the end of this year and more projects are in the works, he added.
Habeck's Climate Plan:
Increase tenders to accelerate construction of renewable energy parks
Reserve 2% of land for wind energy and accelerate approval procedures
Have solar panels installed on all suitable roof areas
Make solar panels mandatory in new commercial and private builds
Make heat pumps and e-mobility more attractive for consumers
50% of heating systems to be fueled by carbon-neutral sources by 2030
Double the production of green hydrogen compared to previous plan
Foster Carbon Contracts for Difference to support industry's energy transition
Source: Ministry of Economy and Climate Protection 
Germany's greenhouse-gas emissions increased last year by around 33 million tons of CO2, or 4.5% compared with 2020, according to Agora Energiewende, a think tank.
The main drivers for the increase were the economic recovery after the initial impact of the pandemic, higher coal-fired power generation due to the sharp rise in gas prices, a decline in electricity production from renewable energies and cooler weather, the group said last week in a statement.
In order to cut greenhouse-gas emissions by 65% compared to 1990 by the end of this decade, energy consumption will need to fall by more than 25% and electricity production from renewable sources needs to roughly double, Soeren Radde, an analyst at Goldman Sachs, said in a note Monday.
The transformation of the economy will require public funding of 460 billion euros ($521 billion), or about 13% of gross domestic product, Radde estimated. The new government has set aside around 140 billion euros in reserves and off-budget vehicles to meet these demands, he added.
"The disbursement of these funds will provide a gauge of the traffic light coalition's ability to deliver on its ambitions over the next four years," Radde wrote.