Merkel's Party Starts the Process of Finding Yet Another Leader
(Bloomberg) -- Chancellor Angela Merkel's party is set to choose its third leader in little more than three years as Armin Laschet prepares to step down as chairman of the Christian Democratic Union.
The CDU will hold a party conference in December or January, at which the full party leadership will face re-election, General Secretary Paul Ziemiak told reporters in Berlin on Monday. A decision will be made on Nov. 2 whether all 400,000 party members will be asked to vote on the next chairman.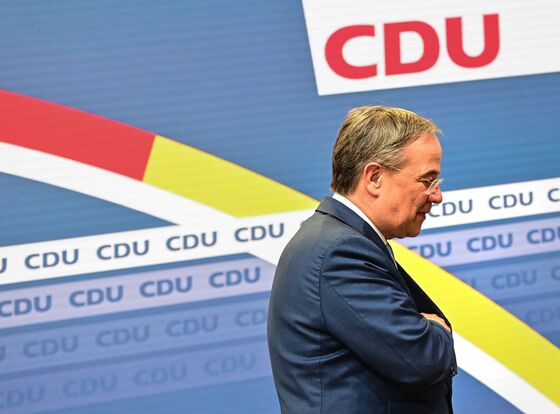 Under increasing pressure due to the historic defeat in Germany's Sept. 26 election, Laschet's fate was sealed after the Greens and the pro-business Free Democrats snubbed the conservatives to start three-way coalition discussions with the Social Democrats. That all but ended the bloc's chances of hanging on to power after 16 years under Merkel.
Laschet has been on the job less than a year. He was elected as CDU chief in January after former Merkel protege Annegret Kramp-Karrenbauer stepped down after a series of gaffes. 
Merkel gave up party leadership in late 2018 following a run of weak performances in state votes. The move was intended as an effort to help the CDU prepare for her departure from politics, but those intentions unraveled as the bloc slumped to its worst-ever showing in a national election.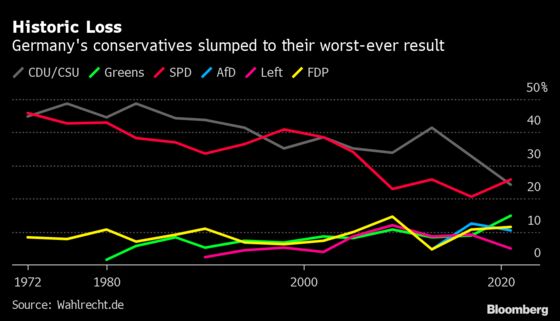 Laschet said he would stay on to "moderate" his succession and will be available to lead coalition talks if the SPD fails to overcome policy differences with the Greens and the liberals.
The contenders for the party leadership include former caucus leader Friedrich Merz and former environment minister Norbert Roettgen -- both men competed with Laschet in the last contest, coming second and third, respectively. 
Ralph Brinkhaus, the current caucus leader, could also be a contender, while the door could open for younger party members such as Health Minister Jens Spahn. 
In case of a membership vote, Merz is expected to have the best chances to gain the party leadership. The 65-year-old former BlackRock Inc. director belongs to the conservative, business-friendly wing of his party and is a long-time opponent of Merkel.