Germany's Scholz Calls for Spending Boost in Chancellor Bid
German Finance Minister Olaf Scholz stepped up his bid to return the Social Democrats to the chancellery.
German Finance Minister Olaf Scholz stepped up his bid to return the Social Democrats to the chancellery after Angela Merkel leaves this fall, presenting a fiscally expansive platform to finance a sweeping shift to cleaner energy and better digital infrastructure.
Scholz, the SPD's candidate for chancellor in Germany's Sept. 26 election, and his party are betting on a spending stance that contrasts with Merkel's conservatives. The Christian Democrat-led bloc wants to restore constitutional limits on borrowing that have been suspended to deal with the economic slump caused by Covid-19.
A former mayor of Hamburg, Scholz is running to take charge of Europe's biggest economy, steer it out of the pandemic slump and shape its role in a European Union dealing with challenges from an ascendant China to revitalizing relations with the U.S. His main pitch at the presentation of the SPD's program on Sunday was about securing Germany's economic future, and he drove home the message in a television interview Monday.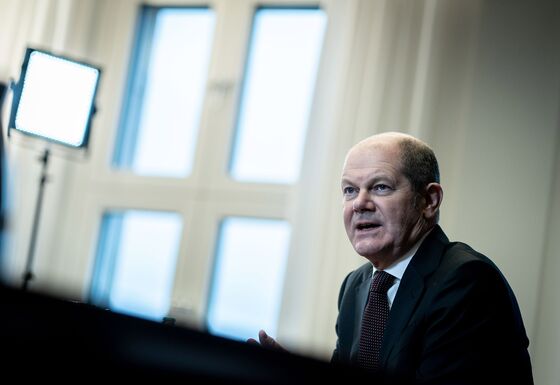 The country faces a challenge comparable with the industrial revolution at the end of the 19th century, and "we need a huge effort in Germany as we're much too sluggish," Scholz said on ZDF.
"We have to get to a point within 30 years where our economy is CO2 neutral," he said. "That means a huge expansion of renewable energy and our power networks, it means we have to develop the hydrogen industry, and we must act in areas like modern mobility, digital sovereignty and an up-to-date health care system."
With the SPD trailing Merkel's bloc and the Greens party, the 62-year-old faces a long-shot candidacy. Serving as Merkel's junior partner for much of her 16 years in power haven't helped his party, which also has to contend with the Greens' rise in the polls since the last election four years ago.
SPD co-leader Saskia Esken said Sunday an "austerity budget" won't help Germany overcome the pandemic or tackle the challenges of the future. Opening the spending taps shouldn't be limited to emergencies, she said.
Germany's economy grew 0.1% in the last three months of 2020 and is headed for a contraction in the first quarter due to virus-related curbs on activity that are likely to be extended at least through February. The slow and chaotic start to vaccinations across the euro area threatens to compound the challenge.
Olaf's Mission:
Manage Germany's transition to a digitalized and climate-neutral economy
Create a fairer tax system with a greater burden on top earners
Progressively replace fossil fuels with cleaner energy sources like wind and solar
Boost investment in Germany's power transmission networks and storage
Create a political and legal framework for companies to invest more easily
Regain Germany's status as "the world's chemist" to help tackle disease
Speed up the digitization of Germany's schools and universities
If voter polls are confirmed on election day, Germany is likely to get a conservative-led coalition with the Greens as partner. For Scholz to become chancellor, he would probably have to persuade the Greens and the Left party to join the SPD in an unlikely three-way coalition.
The SPD trails in third place on around 15% in recent polls, with the Greens at about 17% and Merkel's CDU/CSU bloc at 37%.
Read more: CDU/CSU Gains Most in German Election Polling Average
Traditionally one of Germany's two main political forces, the Social Democrats have been losing voters for years. They last won an election outright under former Chancellor Gerhard Schroeder in 2002 with around 40% of the vote. In the most recent election in 2017, they took only just over 20%, reluctantly becoming junior partners in coalition with Merkel for a third time.
While he's considered as a safe pair of hands as finance minister, Scholz has come under pressure with last year's collapse of Wirecard AG. A parliamentary inquiry in Berlin is looking into the government's apparent failure to pursue warnings about the electronic-payments company and Scholz will be called to testify.
Scholz has been critical recently of Germany's decision, pushed by Merkel, to cede responsibility for sourcing Covid-19 vaccines to the European Commission, saying more shots should have been secured earlier.
He's also seeking to exploit the fact that the CDU/CSU has yet to name its candidate to succeed Merkel. Either Armin Laschet, who won last month's CDU leadership election, or Bavarian Premier Markus Soeder, head of the CSU sister party, are likely to get the nomination.
Scholz regularly comes in third in popularity surveys of chancellor preference, behind Greens' co-leader Robert Habeck in second and either Laschet or Soeder first.
"We've started early because we know we're playing catchup," Scholz said Sunday. "The closer the election comes, the clearer it will be that the SPD has what it takes to get a mandate from the people."