Germany Set to Borrow 96 Billion Euros Next Year in Crisis Fight
Germany plans new borrowing of 96.2 billion euros to pull itself out of the coronavirus crisis.
(Bloomberg) -- Germany plans new borrowing of 96.2 billion euros ($114 billion) next year, as Europe's biggest economy spends freely to pull itself out of the coronavirus crisis.
Chancellor Angela Merkel's cabinet on Wednesday approved a federal budget that suspends constitutional debt restrictions for a second year. The spending plan, which requires parliamentary approval, takes advantage of Germany's balance sheet to help the country recover from one of its worst recessions in decades.
"We are acting decisively, even if it costs a lot of money," Finance Minister Olaf Scholz said Wednesday in Berlin. "So far, our budget policy has brought Germany through the crisis comparatively well -- we are continuing on this path."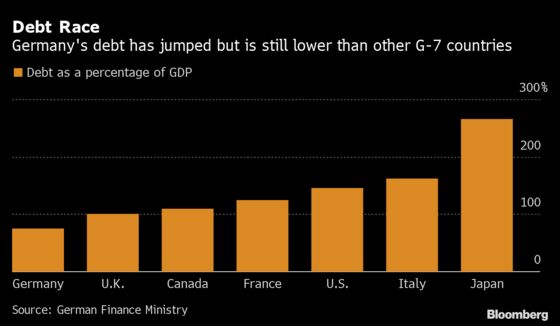 The borrowing, while heavy by German standards, is much lower than the record new debt of around 218 billion euros this year. Spending next year is projected to be 413.4 billion euros, with investments of 55.2 billion euros.
Germany in March suspended a long-standing policy of running balanced budgets to put together a massive stimulus program. Merkel and Scholz have resisted calls from some legislators in her conservative bloc to return to stricter fiscal discipline already next year.
The cabinet also approved a financing plan for the years 2022 through 2024, with deficits projected to shrink considerably as constitutional borrowing limits are restored.
Still, the impact of the crisis is evident. The accumulated decline in tax revenue between 2020 and 2023 amounts to 173.5 billion euros, compared to the government's previous projections, according to the Finance Ministry.
The government has said that additional measures will be needed to bridge the funding gaps, marking the start of a debate over whether higher taxes or spending cuts will be necessary.
"Ultimately, companies affected by the pandemic will only be able to recover and be successful in international competition if they are not confronted with significantly higher tax burdens than their competitors," said Eric Schweitzer, head of the DIHK business lobby.