Gaunt, Filthy Kids Roam Streets of Caracas in Packs
"Life in Caracas" is a series of short stories that seeks to capture the surreal quality of living in a land in total disarray.
(Bloomberg) -- Editors Note: There are few places as chaotic or dangerous as Venezuela. "Life in Caracas" is a series of short stories that seeks to capture the surreal quality of living in a land in total disarray.
Most weekend mornings, you can find Andrea and her cousins juggling on a street corner. She'll be throwing limes up in the air and catching them just in time to dash over to idling cars before the light turns green.
Early on this Saturday, only a handful of motorists rolled down their windows. Most shook their heads, mouthing, "No tengo, mi amor"—I can't spare anything, honey. She kept her collections in a pink-plastic purse: 24 bolivars, less than a penny, and a packet of strawberry-flavored wafers. By 11 a.m., that was all she'd had to eat.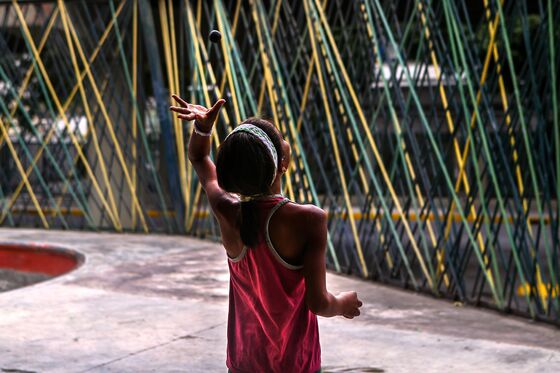 Andrea is 9. Her father is dead. Her mother is pregnant, jobless and many miles away in a small town south of Caracas called Yare. Andrea and her cousins—Disbeth, 12, Jocelyn, 11, and Andres and Jose, both 8—come in by bus and subway on Fridays, sleeping for two or three nights on the streets of one of the world's most treacherous cities. Their weekend jobs are to beg for food for themselves, abating the hunger that dogs them during the week, and for money to bring back to their struggling families. Sometimes Andrea manages to collect as much as 50 bolivars.
Street children have long been a cause for concern in Venezuela. Their numbers have ebbed and flowed with the economy, but it has never before been like this—never before with so many young kids, on their own, all over the city.
They are seemingly everywhere, weighing vegetables at market stands, carrying crates of sodas into diners, cleaning parked cars, begging outside grocery stores, waved away from bars and restaurants where security guards don't want them bothering the clientele. Many toil as "cloreros," hawking diluted bleach, or cloro, poured into water jugs.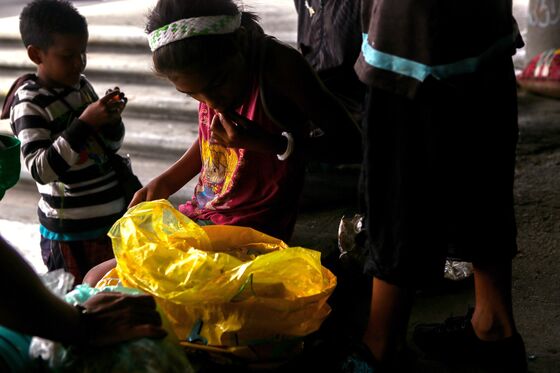 Sometimes barefoot, often emaciated, many roam in groups for protection, inviting sideways glances and purse clutching. Mostly, though, they're treated with compassion, as nearly all Caraquenos can see themselves reflected in their misery.
That Saturday, their stomachs growling, the band from Yare cut the line outside a Catholic church serving a special holiday lunch to the needy. They each got a toy, Andrea carefully placing a doll in a checkered dress on her lap. Afterward they bathed at a square near a shopping mall, scooping up dirty water from a pool and pouring it over their heads, giggling as they chased each other around in their underwear.
While their clothes dried, they spent time underneath a bridge covered in graffiti, playing with knick-knacks they'd found: an old keyboard and a bag of tennis-shoe laces. They ignored the trash and feces. At one point, they fought over a plastic bag of the food they'd accumulated: a container of chocolate icing from a bakery and a couple of slices of stale bread. They dipped their hands into the icing and licked their fingers.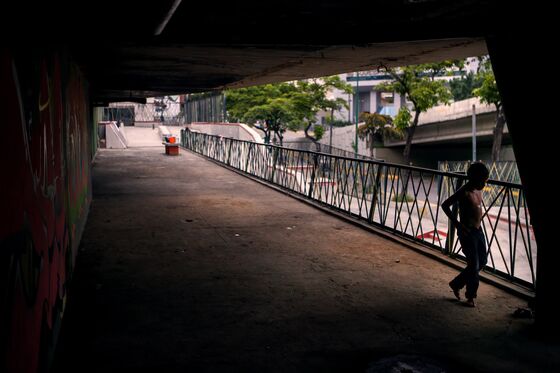 Later on, they'll walk to a residential neighborhood to find a quiet place to sleep. If she gets cold, she hugs herself "like this," Andrea said as she demonstrated, crossing her arms over her bony shoulders. She favored her right wrist, which she injured a few months ago.
Unlike some of her cousins, Andrea goes to school when she's home during the week. Her favorite class is Spanish, her least favorite is math. She has her future planned.
"I want to be a lawyer," she said. "That way I can help my cousins when they're taken to prison."
To contact the editor responsible for this story: David Papadopoulos at papadopoulos@bloomberg.net, Anne Reifenberg