Taliban Seize Three Airport Gates: Afghanistan Update
(Bloomberg) -- The Taliban have taken over control of three gates at Kabul's airport from U.S. forces and will be in charge of the rest soon, an official from the group said. 
"The whole airport is slowly coming under the control of the Taliban," Enhamullah Samangani, a member of the group's Cultural Commission, said by telephone. The group is "looking forward to operating the airport after they all leave by Tuesday," he said.
The U.S. Embassy in Afghanistan told citizens to leave the vicinity of the airport following a "specific, credible threat" of another terrorist attack. U.S. President Joe Biden warned on Saturday that a further attack there is "highly likely" based on an assessment by his military commanders. A suicide bomber on Thursday killed at least 88 people, including 13 U.S. service members in the area.
Key stories and developments:
All items are in Eastern Time:
Last French Evacuation Plane to Arrive on Sunday in Paris (5.00 a.m.)
The last French plane to evacuate citizens as well as at-risk Afghans from Kabul will land in Paris around 16:30CET, the French Prime Minister's office said in a statement. Aboard the Airbus A400M is France's ambassador to Kabul David Martinon, who has organized the evacuation of French personnel as well as Afghans who worked for France since May.
France has evacuated 2,834 people from Afghanistan, including more than 2,600 Afghans, since Aug. 17, through airlift rotations via its military base in the UAE. Paris is in discussions with the Taliban and Qatar to keep evacuation operations after the U.S. troops leave Afghanistan, President Emmanuel Macron said on Saturday during a press conference in Baghdad.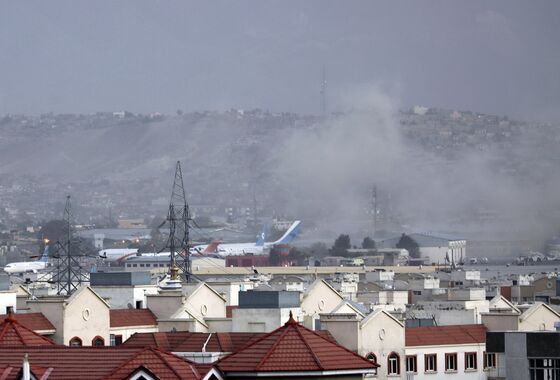 Flight Carrying Last U.K. Military Forces Lands at Air Force Base (4:17 a.m.)
The last flight from Kabul carrying U.K. military and diplomatic personnel landed Sunday at the RAF Brize Norton air-force base in Oxfordshire. 
The evacuation ended the U.K.'s two-decade military campaign in Afghanistan after more than 1,000 troops, diplomats and officials were dispatched to the country to rescue British citizens after the Taliban takeover.
 Prime Minister Boris Johnson said in a video statement on Twitter it was "the culmination of a mission unlike anything we've seen in our lifetimes" and that the U.K. "would not have wished to leave in this way."
Majority of Germans Want Minister to Resign Over Afghanistan (4:38 a.m.)
German Foreign Minister Heiko Maas is under pressure from the fallout in Afghanistan. A Civey poll for Handelsblatt found that 60% of Germans want Maas to resign.
Voters are upset that he failed to heed warnings and move quicker to evacuate locals who worked for Germany during the U.S.-led NATO operation.
Germany, U.K., Netherlands Seek Evacuation Alternatives (3:16 a.m.)
German Chancellor Angela Merkel agreed with British Prime Minister Boris Johnson and Dutch Prime Minister Mark Rutte to continue seeking the evacuation of at-risk people from Afghanistan after the end of international military flights, according to a statement from her spokesman Steffen Seibert.
The three leaders also discussed possible political and diplomatic options to get embassy personnel out of the country. They agreed that humanitarian aid and support for refugees in the region will continue to be a priority, according to the statement.
Taliban Take Control of Three Airport Gates (1 a.m.)
The Taliban have taken control of three gates at Kabul's airport from the U.S. forces, according to Enhamullah Samangani, a member of Taliban's Cultural Commission.
"The whole airport is slowly coming under the control of the Taliban," he said by phone. "We will be taking control of the whole airport in a few days" and "are looking forward to operating the airport after they all leave by Tuesday."
U.S. Tells Americans to Leave Kabul Airport Area (9:05 p.m.)
U.S. citizens were told to leave the vicinity of Kabul airport immediately following a "specific, credible threat," the U.S. Embassy in Afghanistan said in a statement.
Americans were also told not to travel to the airport and avoid all gates at this time.
Pace of U.S. Evacuations Appears to Have Slowed (8:45 p.m.)
The White House said 2,000 people were taken out of Kabul from 3 a.m. to 3 p.m. Eastern time on Saturday, appearing to have slowed from the 6,800 people evacuated in the previous 24 hours. 
White House Deputy Press Secretary Karine Jean-Pierre said a total of 113,500 were airlifted out of Kabul since Aug. 14.  
France, U.K. to Seek Kabul 'Safe Zone' (6:00 p.m.) 
French President Emmanuel Macron called for the creation of a "safe zone" under United Nations control in Kabul to allow continued humanitarian operations and help outside countries maintain pressure on the Taliban.
Macron plans to propose a resolution along with the U.K. at an emergency session of the UN Security Council on Monday, Le Journal du Dimanche newspaper quoted the president as saying in an interview.
Biden Says Another Kabul Attack 'Highly Likely' (2:50 p.m.)
President Joe Biden said U.S. military commanders told him another terrorist attack on Kabul airport is "highly likely in the next 24-36 hours." 
Biden said the situation on the ground remains "extremely dangerous" and he directed commanders to "take every possible measure to prioritize force protection" as the Aug. 31 withdrawal deadline approaches. The president said he and his national security team on Saturday also discussed how to help people leave Afghanistan after U.S. forces are gone. 
A U.S. air strike against the group known as ISIS-K, the Islamic State offshoot that claimed responsibility for a suicide bombing Thursday around Kabul airport, "was not the last," Biden said in a statement. "We will continue to hunt down any person involved in that heinous attack and make them pay."
U.S. Military Names Kabul Bombing Casualties (1:15 p.m.)
The Defense Department released the names of 13 service members who died in the terrorist bombing near Kabul airport on Thursday. They include 11 Marines, a hospitalman and an Army staff sergeant.
All but two were between the ages of 20 and 23. The other two victims were 25 and 31.
With assistance from Bloomberg