French Government Signals Flexibility on Pensions Amid Protests
The French government signaled a willingness to roll back some aspects of its plan to revamp the nation's pension system, calling on organized labor to return to the negotiating table after a key union vowed to join a protest set for next week.
Finance Minister Bruno Le Maire and other officials said there's room to reconsider measures such as an increase in the retirement age, but emphasized that any alternatives needed to guarantee the financial security of the pension system.
The retirement age and "the means of ensuring financial stability, that's negotiable," Le Maire said, speaking on France 2 television, "There could be better solutions. It's up to social partners to bring us the proof."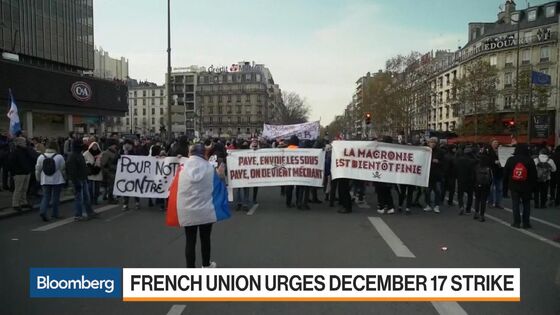 One of France's more moderate unions, the CFDT, came out against the government's plan on Wednesday. The union, which said a "red line" had been crossed over the increase in the retirement age, urged workers to join another day of protests on Dec. 17.
Union-led disruptions have hampered public transportation, rail and airline traffic and fuel deliveries throughout France since last week, as workers protest changes to one of Europe's most complex and generous pension programs.
On Wednesday, Prime Minister Edouard Philippe unveiled the government's proposals for a new pension system to take effect in 2025. Under the plan, the age for full pension eligibility would be pushed back two years, to 64, starting in 2027. Philippe planned to ask unions to resume talks as soon as Thursday, Agence France-Presse reported.
CFDT union leader Laurent Berger told BFM TV on Thursday that he'd be willing to return to negotiations with the government providing "all solutions" are being discussed, and that the government drop its plan to raise the retirement age.
Beyond the dispute with unions, the government's position appears to be gaining favor among French citizens more broadly. While a majority still say that they support the strikes and are concerned by the reform plans, those figures are declining.
Some 59% say they support the strikes, down from 69% a week earlier, according to a Dec. 11 poll by Harris Interactive for RTL and AEF Info. The same poll found that 63% of people are concerned about pension reform plans, down from 70% on Dec. 3. A separate poll, by Elabe for BFM TV, found that half of French people support the government's pension-reform plans and showed a four-point drop in approval of the protests to 54%.
French President Emmanuel Macron declined to discuss the pension proposals when he arrived at a meeting of European leaders Thursday in Brussels. "There is a government working in Paris," he told reporters.
The government aims to present a pension reform law in January and to have the country's parliament vote on it the following month, spokeswoman Sibeth Ndiaye said on France Inter radio.
--With assistance from Helene Fouquet.
To contact the reporters on this story: Alan Katz in Paris at akatz5@bloomberg.net;Geraldine Amiel in Paris at gamiel@bloomberg.net
To contact the editors responsible for this story: Alan Katz at akatz5@bloomberg.net, Frank Connelly, James Regan