France Probes Orpea as 'Gravediggers' Book Sparks Outrage
France to Investigate Orpea After Book Alleges Mistreatment
(Bloomberg) -- The French government is starting a series of probes into Orpea SA, after a book alleging mistreatment of elderly residents at its nursing homes created an uproar.
In "The Gravediggers," author Victor Castanet describes the daily life of residents at one of Orpea's most exclusive retirement homes -- overlooking the Seine river in the chic Paris suburb of Neuilly -- where patients pay up to 12,000 euros ($13,500) a month. Through interviews with staff, he paints a picture of a residence with an "awful smell of piss" and the rationing of meals and diapers even for the sick, with profit-obsessed managers showing little regard for patient welfare.
The book, which trounced the shares of Orpea and dominated prime-time talk shows in France, has forced the government to act. The stakes are high with President Emmanuel Macron facing re-election in April and having to pay attention to the growing demographic of the elderly as France -- like the rest of Europe -- ages.
"We're going to question the entire group," Brigitte Bourguignon, the junior minister charged with elderly policy, said on France Inter radio Tuesday, ahead of a meeting with the company's management. She characterized her reaction to the book as "disgust."
Orpea, which initially called the allegations false, outrageous and prejudicial, is now trying to restore shattered confidence. It ousted its chief executive officer on Sunday and on Tuesday said it is hiring Grant Thornton and Alvarez & Marsal to carry out an independent study of the allegations.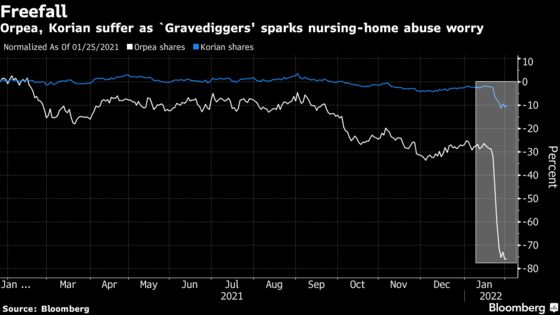 The new CEO Philippe Charrier, who welcomed the probes and promised greater transparency, still pushed back against some of the claims in the book, Agence France-Presse reported.
"What we have read absolutely doesn't correspond with the reality of life in our institutions," he was quoted as saying. "We already know that many of the accusations are unfounded. I have formal, documentary proof of it."
The book sparked outrage as soon as excerpts were published in daily Le Monde on Jan. 24, sending shares of Orpea and rival Korian SA into a tailspin.  
While occasional stories of elder-abuse at nursing homes have made headlines in the past, the depth and breadth of the mistreatments listed in the book have become hard to ignore.
"The accusations are numerous" and mistreatment "unfortunately seems inherent to the sector, public and private alike," Portzamparc analysts including Gaetan Calabro wrote in a note on Tuesday. "They lift the veil on a failing system of controls."
The problems raised in the book point to a broader issue that states across Europe will need to contend with as they increasingly rely on private nursing homes for their aging populations in spite of the region's tax-funded healthcare systems.
Bourguignon said France's regional health agencies will carry out inspections at all of Orpea's retirement homes, and that investigations will be both administrative and financial. 
Orpea Reputational Risk in Focus as Stock Craters: Street Wrap
The first results of the probes are set to be released in about three weeks. The government will review its processes for certifying, controlling and potentially imposing fines at care homes, government spokesman Gabriel Attal said in France Info radio Tuesday. 
France's retirement home operators had already come under scrutiny at the start of the pandemic for the high rates of mortality at some institutions. 
Orpea rival Korian also has been put on the defensive. Chief Executive Officer Sophie Boissard said Tuesday on France Info that the company never rationed supplies like adult diapers or put profit ahead of resident care. 
Answering questions about the issue in Parliament on Tuesday, Prime Minister Jean Castex agreed that "better checks and more frequent controls are needed," saying his government is "up to the task." He added, however, that "there are many nursing homes in France that treat their residents in a marvelous way. One cannot put them all in the same basket."
Orpea shares closed 3.4% higher in Paris. The stock has lost more than half its value since the allegations emerged on Jan. 24. Korian has lost 26% in the same period, even as the stock rebounded today, closing 5.6% higher.
Founded in 1989, Orpea went public in 2002. The Canada Pension Plan Investment Board is one of its top shareholders, with a 14.5% stake. A spokesman for CPP declined to comment on Orpea when contacted by Bloomberg News.
Orpea manages 1,156 sites in 23 countries, including France, Italy, the Netherlands, Germany, Luxembourg and Russia. It has more than 116,500 beds and a presence in China and Latin America, according to its website.
The steps Orpea has taken to deal with the issues identified in "The Gravediggers" are "notable but they are insufficient to reassure," the Portzamparc analysts wrote, downgrading the stock.