Ex-Pakistan Premier Sharif Convicted on Corruption Charges
Court also orders the seizure of the family's London apartments that were at the heart of the case.
(Bloomberg) -- Former Pakistani Prime Minister Nawaz Sharif will return to the country after he was convicted on charges of corruption in a judgment that will likely dent the former ruling party's prospects ahead of national elections this month.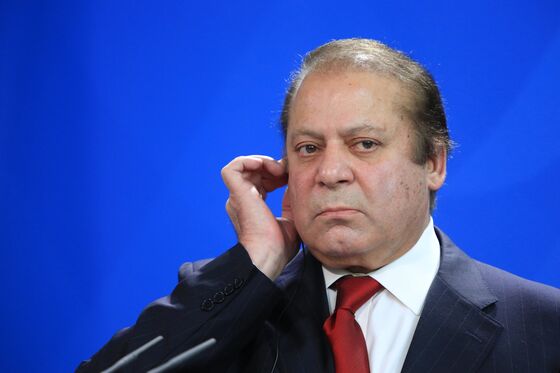 An anti-corruption court on Friday handed down a 10-year jail sentence and an 8 million pound ($10.6 million) fine against Sharif, 68. His daughter Maryam and her husband Muhammad Safdar also received a 7-year and 1-year sentence respectively. Sharif and his children have been in the U.K. since June attending to his ailing wife who is receiving cancer treatment. Sharif told reporters in London he would return to Pakistan without specifying an exact date. People familiar with the matter, who asked not to be identified discussing Sharif's travel plans, said he will return before Wednesday.
The court also ordered the seizure of the family's London apartments that were at the heart of the case. Sharif will appeal the ruling, said Munawar Duggal, his lawyer. "Sharif and others can challenge it in the high court and for that they have to be present in the court," he told reporters in Islamabad, the capital. An appeal has to be filed within 10 days.
The verdict is the conclusion of a two-year corruption scandal that engulfed Pakistani politics following the 2016 leak of the so-called Panama Papers, which showed Sharif's family used offshore accounts to buy high-end London apartments. The former premier was disqualified from the top job by the Supreme Court last July, his third ousting since the 1990s. This year the court also barred him from politics. It came after an anti-corruption campaign led by former cricket star and opposition leader Imran Khan, who stands to benefit from Sharif's conviction. Sharif and his family have repeatedly denied any wrongdoing.  
Despite the corruption allegations, Sharif continued to hold rallies across the country and his image is front and center of his party's campaign posters ahead of the July 25 vote. He has criticized the judiciary's handling of his case and has said the nation's powerful military -- which removed Sharif in a bloodless coup in 1999 -- has conspired to manipulate the vote against him. The six-man Supreme Court-mandated investigative team that brought about Sharif's latest downfall included two active members of the military's intelligence arms.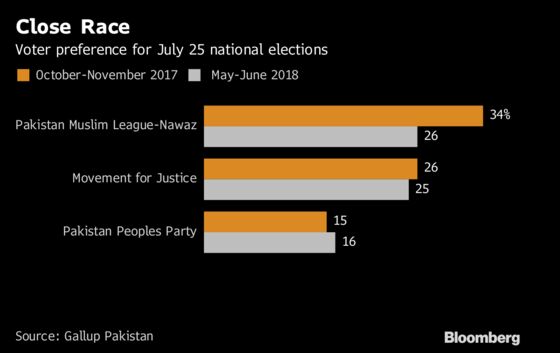 "Using the pretext of Panama papers in which I was not named, a 'case' was concocted," Sharif wrote in his party's election manifesto published this week. "Will the destiny of Pakistan be decided by a small coterie, a secretive cabal or a conspiratorial clique or the ordinary men and women of Pakistan by exercising their power of the ballot?"
Maryam Sharif tweeted that the conviction was a small price to pay for fighting "hidden forces." At a press briefing in Lahore, Shehbaz Sharif -- the younger brother of Nawaz and president of the party -- called the court's decision undemocratic.
Following the ruling, a jubilant and emotional Khan addressed a political rally in the northern Swat valley. "I am thankful to Allah because after 22 years of struggle I see a powerful person being punished today," he said. "You should thank God because the looted money belongs to you."
Sharif, who hails from a prominent industrialist family, became involved in politics in the late 1970s under the hard-line military dictatorship of General Zia ul-Haq. Like many Pakistani leaders he has rotated in and out of power and favor of the so-called military establishment and under the cloud of multiple jailings, exile and graft charges. He has continued to dominate the Pakistan Muslim League-Nawaz and has created a political dynasty that many speculated would have been passed down to Maryam. That is now in question.
"The major challenge will be how to maintain unity within the party," Zahid Hussain, a political commentator, said before the judgment.
Pakistan's experience with democracy has been shaky since its partition from India. Its founder, Muhammad Ali Jinnah, died a year after independence in 1947 and civilian administrations have been toppled by multiple military putsches. The army has held power for almost half of the country's existence and continues to be the most dominate force in Pakistan.
Nonetheless, this year's general election will be the second time the nation has seen a transfer of power between civilian administrations. However, a sitting prime minister has never managed to complete a five-year term.
--With assistance from Ismail Dilawar and Faseeh Mangi.
To contact the reporters on this story: Kamran Haider in Islamabad at khaider2@bloomberg.net;Khalid Qayum in Islamabad at kqayum@bloomberg.net;Chris Kay in Karachi at ckay5@bloomberg.net
To contact the editors responsible for this story: Arijit Ghosh at aghosh@bloomberg.net;Chris Kay at ckay5@bloomberg.net