Firefighters Douse South Africa Parliament Blaze as Suspect Held
(Bloomberg) -- Firefighters took more than nine hours to extinguish a blaze at South Africa's parliamentary precinct in Cape Town that broke out early Sunday and caused extensive damage to the legislative buildings. 
Flames and thick smoke poured from roofs at the properties for much of the day and the surrounding streets were sealed off to traffic. The complex was unoccupied because parliament has been in recess since Dec. 10. There were no reports of injuries.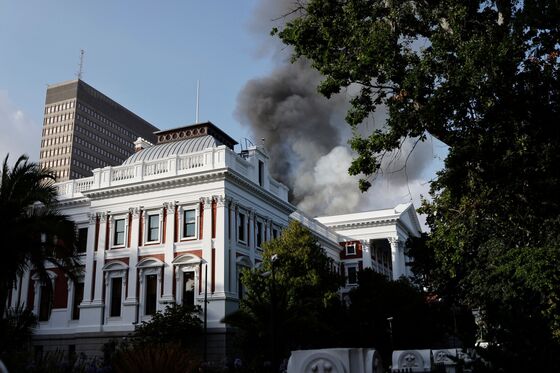 President Cyril Ramaphosa described the fire as "a terrible setback" for the nation and said it appeared that the legislature's sprinkler system didn't work as it was supposed to.
"I believe somebody is being held right now and they are being questioned," he told reporters after visiting the scene. The cause will be investigated, he said.
The fire department dispatched a dozen vehicles and about 70 personnel to fight the inferno, the first arriving just 6 minutes after the alarm was raised, according to the city. The Old Assembly Chamber, one of the oldest buildings in parliament, and a number of offices were gutted, while the National Assembly, the main debating chamber, was badly damaged.
"The real praise and applause belongs to the fire officials and crews of the city of Cape Town, who have done a great job," Ramaphosa said in a statement. "While they have worked to stop parliament from being razed to ashes, it is very clear that this fire has devastated the parliamentary precinct and its contents and assets, including parliament's historical treasures of heritage."
The construction of the original parliamentary building in Cape Town's city center was completed in 1884, and it was extended in the 1920s and 1980s, with the newest addition housing the National Assembly. 
The legislature has almost 4,000 artworks and other items of value in its collections, some dating as far back as far as the 17th century, according to its website. It also has a library containing tens of thousands of reference books, magazines and official documents. 
The full extent of the damage is still being assessed, according to Parliamentary Speaker Nosiviwe Mapisa-Nqakula. The legislature's annual opening ceremony will go ahead on Feb. 10 as planned, although an alternative venue may have to be found, she said. 
Some parliamentary proceedings have been conducted online since the onset of coronavirus pandemic in 2020.