Faulty Virus Tests Cloud China's European Outreach Over Covid-19
Faulty Virus Tests Cloud China's European Outreach Over Covid-19
(Bloomberg) -- As the coronavirus landed in Italy and began to sweep across the continent, European leaders turned to China for testing kits to quickly identify infection hot spots.
Some are already regretting it.
The 1.2 million Chinese antibody tests that the Slovak government bought from local middlemen for 15 million euros ($16 million) are inaccurate and unable to detect Covid-19 in its early stages, according to Prime Minister Igor Matovic, who only took office last month. "We have a ton and no use for them," he said. They should "just be thrown straight into the Danube."
Matovic may have an ax to grind as the testing kits were purchased by the previous government, of which he has been a fierce critic for many things, including its record on fighting corruption. Still, similar difficulties have cropped up from Madrid to Istanbul -- complicating countries' efforts to get a handle on the virus and re-open their economies, which are headed for recessions that could eclipse the fallout from the 2008 financial meltdown.
The issues aren't just a problem for Europe. They risk derailing China's own efforts to fill the void left as President Donald Trump steers the U.S. away from its traditional leadership role in times of global crisis. Beijing hopes to win favor through mass deliveries of medical aid to European nations -- part of wider geopolitical ambitions in the region that go back years.
Regarding the virus-testing kits, China said Slovakia used them incorrectly, and cautioned against politicizing instances where equipment isn't up to scratch -- issues it said it experienced when receiving help from abroad during the initial emergence of the virus months ago in Wuhan.
"Problems should be properly solved based on facts, not political interpretations," Foreign Ministry spokeswoman Hua Chunying said. "In fact, when we first began fighting Covid-19 at home, some of the assistance China received was defective, but we chose to believe and respect the kind intentions of these countries."
Whatever the intention, complaints in Spanish media increased as it transpired last week that 50,000 quick-testing kits from China were faulty and had to be returned. Deaths in Spain have begun to match those in nearby Italy -- currently the virus's epicenter in Europe.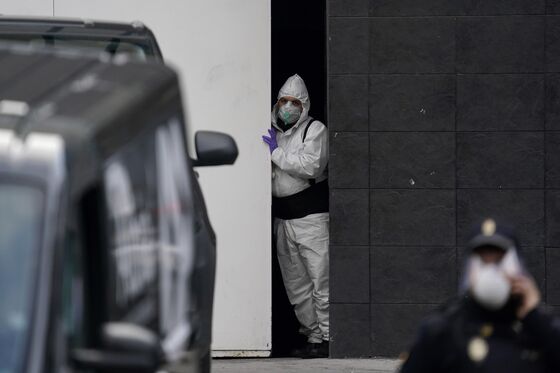 In fact, the sort of rapid coronavirus tests the countries bought are still unproven. If they can be shown to work, they offer the potential to vastly accelerate testing and get a better picture of how widely the disease has spread in society. But companies have only recently developed them and some experts warn governments to hold off on buying big supplies until it's clearer which, if any, of the diagnostic tools work best.
Criticism of China from other countries has been muted, likely reflecting its growing economic and strategic heft. Under the banner of a trade and infrastructure initiative known as Belt and Road, Beijing has moved to increasingly knit the fortunes of other countries to itself. Indeed President Xi Jinping has described China's mass deployment of medical assistance to countries including Italy, Greece and France as an effort to further a "Health Silk Road."
In the Czech Republic, health-care authorities and some government members said the 300,000 quick tests purchased by the state only worked if patients had been infected for at least five days, while about a third were defective. President Milos Zeman, however, avoided mentioning the problems.
"I'd like to thank the Chinese People's Republic for being the only country that helped us in supplying the material," he said March 19. In doing so, he failed to acknowledge aid also being provided by the European Union.
In Turkey, which imported its first batch of "several thousand" kits in early March, officials determined an accuracy rate of less than 35%, according to a senior official with direct knowledge of the matter. Their use was immediately suspended and new tests sourced from a different Chinese supplier. They arrived last week and had an accuracy rate of about 90%, according to the Turkish official.
China is trumpeting a victory over the virus to mount a major diplomatic offensive with Western nations to varying degrees immobilized and distracted, according to Tim Huxley, executive director for Asia at the International Institute for Strategic Studies. Still, "their dissimulation over Covid numbers at home, the fact that much of the world continues to see China as the source of Covid, and tactical errors like providing shoddy test kits to some European countries means that their net diplomatic benefits may be limited," he said.
China said it's working to rectify the problems. From Wednesday, exporters of coronavirus test kits, medical masks, protective clothing, ventilators and infrared thermometers must show they're certified in China and promise their products also meet the quality standards of the importing nation or region, according to a Ministry of Commerce statement.
The customs administration will only allow these goods to be exported if they're approved by China's regulators, the ministry said. The agency pledged Monday to improve supervision and crackdown on fake and poor quality medical exports.
China isn't the only country to see some of its virus assistance backfire in Europe.
President Vladimir Putin dispatched protective masks, ventilators, testing equipment and even doctors to Italy this month, with deliveries carrying stickers saying "From Russia with Love." A few days later, however, Italy's La Stampa newspaper cited senior political sources as saying that about four-fifths of supplies were "useless" for the country.
Many interpreted Russia's actions as an opportunist bid to win friends in Italy as the EU's own virus response foundered. Similar accusations have been leveled against China.
Chinese telecommunications giant Huawei last week halted donations of face masks to countries including Italy, Ireland, Poland and the Netherlands following comments from EU foreign-policy chief Josep Borrell, who referred to a "global battle of narratives."
"China is aggressively pushing the message that, unlike the U.S., it's a responsible and reliable partner," he wrote in a blog post. That, he said, meant a "politics of generosity" battle was unfolding.