Far-Right Radical Zemmour Is a Real Contender in French Election
(Bloomberg) -- Far-right candidate Eric Zemmour is within striking distance of the French presidential election runoff for the first time, according to the latest poll. 
After an initial burst of enthusiasm, Zemmour's campaign had faced headwinds around the turn of the year, but he has been gaining ground in recent polls. 
A daily Ifop-Fiducial survey on Thursday showed him up 0.5 points at 16%. His nationalist rival Marine Le Pen was at 16.5%, unchanged from the previous day, while Valerie Pecresse of the more mainstream Republicans was also unchanged at 15%. A second poll from Odoxa also showed Zemmour ahead of Pecresse and narrowing the gap on Le Pen.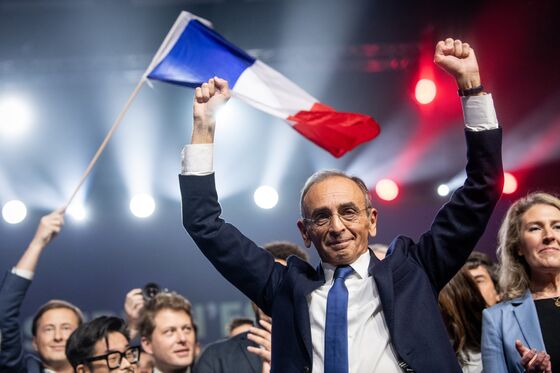 Incumbent Emmanuel Macron is the clear favorite to win and would get about a quarter of the votes cast in the first round on April 10. All polls have shown that Macron would beat any of his main rivals in the second round two weeks later. 
Pecresse was chosen in December to breath new life into the Republicans. But, squeezed between the moderates and the hardliners in party, her campaign has failed to take off. Le Pen, meanwhile, has seen aides defect to Zemmour and said her rival risks dividing the "national camp." He support been unchanged or rising. 
French voters have been toying with Le Pen's nationalist pitch for years and she won 34% of the vote in the 2017 election. Zemmour offers a more hardline version of her appeal to the disenchanted working class in France. He's been convicted for inciting racial hatred three times.