Ex-President on Trial for Murder of Iconic Burkinabe Leader
(Bloomberg) -- Burkina Faso's exiled former president stands trial from Monday for the murder of Thomas Sankara, the iconic African leader killed in a military coup three decades ago.
Blaise Compaore, who ruled the West African nation for 27 years until he was removed in a popular uprising in 2014, will be tried in absentia at a military tribunal in the capital, Ouagadougou, alongside 13 other defendants. The trial, which comes 34 years after Sankara's death, is the first concrete attempt to seek justice for the assassination of the radical leader.
"We've been waiting for this day for a very long time," his widow, Mariam Sankara, told a Bloomberg reporter in court. "I hope we will finally know the truth."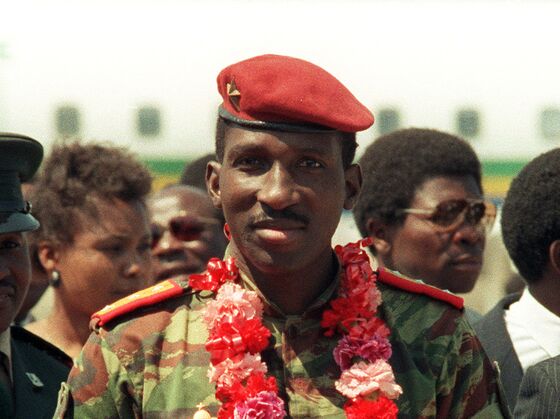 An army captain who took power in a 1983 coup, Sankara set an ambitious social and economic program that sought to fight corruption, improve health and education, and promote women's rights, inspiring leaders across the continent. Critics have argued that Sankara's National Council of the Revolution imprisoned labor-union and student leaders, and forced political opponents into exile during his four years in power.
Monday's trial was adjourned to Oct. 25 after lawyers representing 12 out of the 14 defendants asked for additional time to prepare. 
Compaore, who has denied involvement in the murder, won't attend the trial after his legal team described the process as politically motivated. His former security chief, Hyacinthe Kafando, wasn't in attendance either. 
Compaore blocked attempts to investigate the 1987 assassination, introducing legislation in 2012 that protected him from prosecution. After his ouster, the country's transitional government opened a probe into the murder, and the law he'd introduced was reversed. The deposed leader, who now lives in exile in neighboring Ivory Coast, was then served a warrant of arrest. 
General Gilbert Diendere, Compaore's right-hand man, is among the defendants who appeared Monday to face charges of complicity in murder, threatening state security and complicity in hiding bodies. Diendere is already serving a 20-year prison sentence for leading a military junta that briefly seized power in 2015.