Europe Seeks to Abolish Tariffs in $597 Billion Medical Trade
Europe Seeks to Abolish Tariffs in $597 Billion Medical Trade
The European Union is seeking to permanently eliminate tariffs on medical goods needed to respond to the Covid-19 health crisis, which could cover a range of products valued at about $597 billion per year.
EU Trade Commissioner Phil Hogan on Thursday proposed launching a "comprehensive negotiation" with nations to cut tariffs and unburden global supply chains for key medical goods.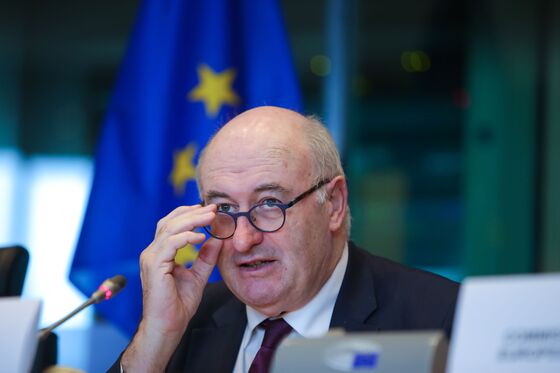 If successful, the initiative would represent the most significant effort to liberalize trade in medical goods at a moment when countries are hoarding critical health supplies. This year more than 70 countries have implemented barriers to trade in face masks, sanitizer, ventilators and other exports as the coronavirus pandemic whittled down national stockpiles of life-saving equipment.
In a teleconference with trade ministers from the 27-nation bloc, Hogan suggested "calling for an international undertaking to suspend tariffs on the Covid-19 related products and facilitate access of medicines to their countries."
In recent weeks President Donald Trump banned exports of some personal protective equipment, cut a deal with 3M Co. to ship an additional 166.5 million respirators from China and threatened to force General Motors Co. to produce hospital ventilators at its factories in the U.S.
"We are seeing the disruption of supply chains as countries seem to strive for self-sufficiency in medical equipment," said EU Director-General for trade Sabine Weyand during a recent webinar. "That is very negative and would increase the cost of the economic recovery for everyone."
The average WTO tariff level on critical medical goods is 4.8% but some countries impose much higher tariffs for certain goods -- such as Ecuador's 55% duty on face masks.
This year, the EU suspended its internal tariffs and value-added taxes on Covid-19 related equipment as a short-term emergency measure during the health crisis, Weyand said. Hogan's initiative seeks to make the EU's measures permanent.
The initiative already has support from Sweden, whose Foreign Minister, Anna Hallberg, this month launched a trade for health initiative that would abolish customs duties on Covid-19 related protective equipment.
If Hogan's proposal is adopted by EU member states, the commission could then launch a negotiation at the WTO to eliminate medical tariffs among its 164 members, Weyand said.
Such a move would both reduce global barriers to trade in critical goods and help reinforce the WTO's credibility as a forum for coordinating the economic response to the pandemic, she said.
Broad adoption of such an agreement would require buy-in from the China, Germany and the U.S., which collectively export 40% of personal protective products to the rest of the world.