Euro Member Estonia Moves to 'Smooth' Inflation Spike on Its Own
(Bloomberg) -- One of the euro area's smallest economies, Estonia, is taking matters into its own hands to ease inflation and prevent the economy from overheating as the power to cool the economy via interest rates lies with the European Central Bank.
While ECB President Christine Lagarde has thus far insisted inflation is transitory, consumer prices in Estonia spiked to almost 9% from a year earlier in November, and economic growth may hit 9.5% this year. By comparison, inflation is a record 4.9% across the single currency area.
Facing a spike in energy prices and other costs, the government has already frozen excise taxes, given subsidies to lower-income families and slashed utility bills to the tune of almost 180 million euros ($204 million), Finance Minister Keit Pentus-Rosimannus said. It's ready to react further if needed, she added.
"If we have a single interest-rate policy across the euro area, then the role of national fiscal policy is to smooth over the differences," she said in emailed answers to questions from Bloomberg on Friday. "This means that government budgets do not all need to have the same deficits."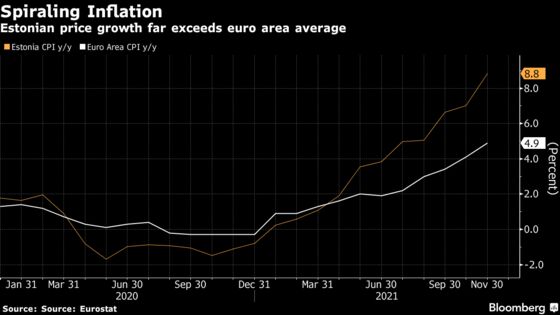 The government has agreed to trim the budget deficit to 2.6% of gross domestic product next year, from a European Commission projection of 3.1% in 2021 -- and an initial 6.7% when it was approved a year ago. A jump in expected 2022 revenue, by 17% versus a 3% rise in planned spending, should be directed toward reducing the shortfall, within reason, Pentus-Rosimannus said.
"In addition to spreading out investments, it is important to maintain conservative state spending," she said. "This certainly does not mean we should overdo it in immediately reducing the budget deficit because we should not leave behind the more economically vulnerable members of society."
Estonian central bank Governor Madis Muller, who's a colleague of Lagarde's on the ECB Governing Council, acknowledged the risk of a monetary mismatch on Friday, saying that favorable euro-area borrowing conditions "will give additional momentum to the Estonian economy, perhaps even more than necessary."
"On the other hand, it is very rare for the euro area's monetary policy to be ideal for any given euro area member, which does not mean that participation in the monetary union is not in everyone's common interest," he wrote in a blog post. "Estonian borrowers should keep in mind that negative Euribor interest rates will not last forever."
Another issue now hitting Estonia's economy is unemployment, which fell to 5.7% in the third quarter, a level last seen before the pandemic.
That has prompted businesses to push for looser immigration rules for non-EU citizens. The issue has been a political hot potato, and has helped lit the popularity of the far-right Ekre party. While the non-EU migrant quota for work permits remains low, the government is planning to extend the duration of the permits.
"The labor shortage is one of the biggest bottlenecks for many sectors, particularly for skilled labor," Pentus-Rosimannus in a face-to-face interview last week. "We hear from all the sectors that this is the number one issue for companies."