Mattis Warns About Islamic State  After Trump Pulls Troops: Syria Update
NATO Says Islamic State Detainees Must Not Flee: Syria Update
(Bloomberg) -- Syria said forces loyal to President Bashar al-Assad deployed northward on Sunday in response to Turkish troop movements. President Donald Trump said the U.S. is ready to impose sanctions if Turkey does anything off-limits in its cross-border operation in northeastern Syria.
The Turkish army captured Tal Abyad, a strategic town, while reaching its target of penetrating as deep as 30-35 kilometers (19-22 miles) into Syria. European Union leaders will discuss sanctions against Ankara in protest against President Recep Tayyip Erdogan's offensive.
Here's a rundown of major events since Friday evening local time.
Trump says U.S. Treasury is ready to go with sanctions
Merkel calls for an immediate end to the military operation
Turkish president says Turkey has the right to go after groups it considers to be terrorists
Turkish army penetrated 30-35 kilometers into Syria, reaching a target set by Erdogan
Graham Speaks With Trump, Applauds Sanctions Effort (2:10 a.m.)
Republican U.S. Senator Lindsey Graham of South Carolina tweeted late Sunday in Washington that he applauded the president's decision to work with Congress to stop Turkey's aggression through "crippling" economic sanctions. "This decision by President Trump will be a game changer -- in all the wrong ways -- for Turkey," Graham tweeted after speaking with the president. Graham and Democrat Chris Van Hollen of Maryland have a proposal that would impose sanctions unless the Trump administration certifies every 90 days that Turkey isn't "operating unilaterally" in Syria.
Syria Deploys Troops to North Amid Turkish Offensive (9:15 p.m.)
Assad-aligned troops were deployed to northern Syria to confront Turkish "aggression," Syria's state-run media agency Sana reported. In Brussels, EU governments pledged to coordinate on imposing an arms embargo on Turkey and are discussing other possible sanctions, according to a draft seen by Bloomberg before EU foreign ministers meet Monday in Brussels. France and Germany called for an immediate halt to Turkey's offensive, with President Emmanuel Macron and Chancellor Angela Merkel meeting Sunday evening to coordinate.
Trump Says Treasury Ready to Go With Sanctions (6:48 p.m.)
President Donald Trump said the U.S. Treasury "is ready to go" if additional sanctions are needed on Turkey, without providing a specific time frame. Merkel called for an immediate end to Turkey's military operation during a phone call with Erdogan.
Turkey Has Taken Control of Tal Abyad (4:26 p.m.)
Turkey's army captured the town center of Tal Abyad, according to state-run Anadolu Agency. The development inflicts another major blow to U.S.-backed YPG forces less than a week after Turkey launched a cross-border offensive.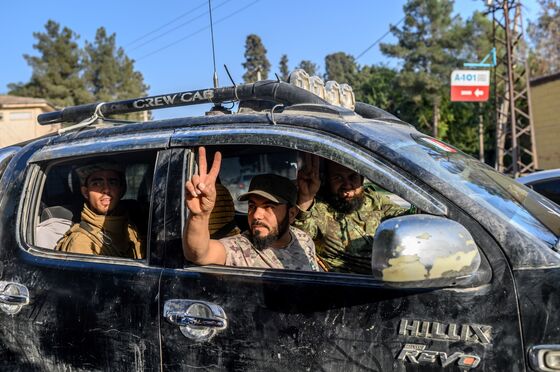 U.S. Troops Are Withdrawing From a Base as Turkish Forces Advance (3:44 p.m.)
A U.S. official says a "small group" of American troops are withdrawing from a base in northern Syria as Turkish forces advance, AP reports. Sunday's pullout from the base at the town of Ein Issa is the second retreat for U.S. troops since a fast-moving Turkish offensive against Syrian Kurdish fighters, according to the report.
Turkish army reaches 30-35 kilometers depth targeted by Erdogan (3:41 p.m.)
Turkey's Defense Ministry said Turkish army penetrated as deep as 30-35 kilometers and has taken the strategic east-west M-4 highway that runs until the Iraqi border. That means Turkey has reached the depth mandated by Erdogan to form a safe zone in northeast Syria.
Turkey Hasn't Faced Serious Resistance From YPG, Erdogan Says (3:11 p.m.)
Turkey will not allow establishment of terrorist state in north of Syria, President Recep Tayyip Erdogan said in a speech. "We will go 30-35 km into Syria as announced before. 68 miles secured during the operation so far".
"I talked with Chancellor Merkel and asked her whether Germany sides with Turkey or terrorists" Erdogan said in response to Germany's decision that halted weapon exports to Turkey.
Erdogan and Johnson Discussed Syria Operation by Phone (8:40 a.m.)
Turkish President Recep Tayyip Erdogan spoke to U.K. Prime Minister Boris Johnson to explain the operation's reasons, according to the state-run Anadolu Agency. The operation will continue until YPG and ISIS threats are over, Erdogan told Johnson.
Trump Says Turkish Action Independent of U.S. (3:44 a.m.)
U.S. President Donald Trump said Turkey would have gone into Syria regardless of the U.S. actions. If Turkey is "really out of line, I will do something," Trump said in an interview with Fox News.
Mattis Warns ISIS Will Resurge (1:46 a.m.)
Former U.S. Secretary of Defense James Mattis, who left the job last year when Donald Trump suddenly withdrew most U.S. forces from Syria, said Islamic State isn't snuffed out, as the president thinks.
"We may want a war over; we may even declare it over," Mattis said in an interview on NBC's "Meet the Press" to be broadcast on Sunday. "You can pull your troops out -- as President Obama learned the hard way, out of Iraq -- but the 'enemy gets the vote,' we say in the military."
European Union Mulls Arms Embargo (6:07 p.m.)
European Union leaders may settle on an arms embargo on Turkey over its incursion into Syria as soon as next week, four officials familiar with the discussions said. Germany and France said Saturday they stopped shipments of military equipment to their NATO ally.
Turkey Slams Arab League Statement on 'Invasion' (5:48 p.m)
"I strongly condemn the Arab League for mischaracterizing Turkey's counter-terrorism operation in northeastern Syria as an 'invasion' in a statement issued earlier today," Erdogan's spokesman said on his twitter account.
Syrian Democratic Forces Estimates Casualties at Over 200 (5:43 p.m.)
The Kurdish-dominated SDF said more than 200 people have been killed or wounded since the incursion began.
Arab League Mulls Further Measures Against Turkey (3:21 p.m.)
The Arab League called on the United Nations Security Council to take steps to end Turkey's incursion, and said it's considering unspecified economic, political and tourism actions against Turkey.
Arab League Condemns 'Invasion' (1:59 p.m.)
Foreign minister attending an emergency Arab League summit in Cairo condemned the incursion, with Secretary-General Ahmed Aboul Gheit asking: "If this isn't an invasion and aggression, what can we call it?" Foreign ministers attending the meeting warned the conflict poses a threat to regional security and peace.
The conflict could "open the door to the Islamic State and other terrorist groups to regain lost territories," Egyptian Foreign Minister Sameh Shoukry said. "We have the historic responsibility to stand by the Syrian people to end this blatant aggression against them."
Fighters Capture Syrian Border Town (12:33 p.m.)
Turkish Defense Ministry says on Twitter that Turkish-backed forces captured the key northern Syrian border town of Ra al-Ain, previously controlled by the Kurdish militant group YPG.
Macron and Trump Discuss Incursion (12:24 p.m.)
French President Emmanuel Macron told U.S. President Donald Trump on Friday evening that the Turkish offensive in northern Syria should end as soon as possible, according to a statement from the Elysee Palace in Paris.
Turkey-Backed Syrian Rebels Reach M-4 Highway (10:27 a.m.)
Fighters reach M-4 highway, which is about 30 kilometers (19 miles) south of Turkey's border, according Hurriyet newspaper.
Turkey Says 415 Kurdish YPG Militants Killed (9:07 a.m.)
Turkey's Defense Ministry said 415 YPG fighters have been killed in northeastern Syria since the operation began, a claim that was impossible to verify independently. The Syrian Observatory for Human Rights, a U.K.-based gruop that monitors the war through activists on the ground, put the death toll from the incursion so far at 94, including 20 civilians.
U.S. Lawmakers Propose More Turkey Sanctions, Pressuring Trump (4:43 a.m.)
The House Foreign Affairs Committee presented a bipartisan bill to sanction Turkey for invading Syrian territory controlled by the Kurds, as U.S. lawmakers respond to President Donald Trump's decision to withdraw troops from the region.
Turkey Says It Will Heavily Respond to U.S. Sanctions (12:02 a.m.)
Turkey's Foreign Ministry spokesman Hami Aksoy responded to a question over the threat of possible U.S. sanctions over its cross-border operation, by saying in a statement: "No one should doubt that we will heavily respond any step in full reciprocity."
Turkey Says It Didn't Hit U.S. Observation Point in Syria (11:53 p.m.)
Turkey's Defense Ministry said its troops in the border town of Suruc responded to fire from "terrorists' positions of the attack" across the border.
"Turkey did not open fire at the U.S. observation post in any way. All precautions were taken prior to opening fire in order to prevent any harm to the U.S. base," the ministry said. "As a precaution, we ceased fire upon receiving information from the U.S. We firmly reject the claim that U.S. or Coalition forces were fired upon."
Pentagon says Turks Fired on U.S. Troops (8 p.m.)
American troops near the Syrian city of Kobani were fired upon by Turkish artillery, the U.S. Defense Department said on Friday night. "All U.S. troops are accounted for with no injuries," the Pentagon said in a statement, which added that the episode occurred "in an area known by the Turks to have U.S. forces present."
The Defense Department added in the statement that an explosion occurred just outside "the Security Mechanism Zone." No further details were provided in the statement, but it concluded with "the U.S. demands that Turkey avoid actions that could result in immediate defensive action."
Kobani was the setting for an extended battle that led to the defeat of Islamic State militants by Kurdish forces backed by American air power.
U.S., Turkey Cite Explosion Near U.S. Base (12:18 a.m)
U.S. and Turkish officials said an explosion took place in the vicinity of a U.S. base in northern Syria, but downplayed the significance of the incident. A U.S. official said no Americans were hurt in the explosion and the source of the blast isn't known.
Separately, the Turkish Defense Ministry said there was a mortar attack on a border station south of the town of Suruc, about 1 kilometer (0.6 mile) from a U.S. observation post. Turkish forces responded to the attack before halting their fire.
"Every precaution was taken ahead of the firing so that the U.S. observation point would not be damaged," according to the Turkish statement. "When the U.S. relayed the issue to our side, the firing was halted as a precaution."
Syrian-Kurd General Calls for U.S. No-Fly Zone (11:00 p.m.)
The head of the Kurdish-led Syrian Democratic Forces called for a U.S.-enforced no-fly zone over northern Syria and reiterated warnings that his fighters may be forced to abandon prisons they've been guarding with Islamic State prisoners.
The SDF can't fight Islamic State and Turkey at the same time, General Mazloum Kobani Abdi said on a conference call Friday with the Washington Institute for Near East Policy.
Mazloum also said the conflict is dragging in Iranian forces, who started attacking Kurdish positions in Deir ez-Zor. "The Iranians have dispatched more forces to our southern border," he said. "They want to seize the opportunity to advance in our areas from the south when we are fighting the Turks from the north."
Shelling by Syrian Kurd Militants Kill 8 in Turkey (8:32 p.m.)

Syrian Kurdish militants shelled an area on the Turkish side of border, killing 8 civilians in their deadliest attack since Turkey's military operation began two days ago.
State-run Anadolu agency said 35 others were wounded in the attack targeting the town of Nusaybin.
Netherlands To Call On EU to Suspend Arms Exports to Turkey (7:14 p.m.)
Dutch Foreign Affairs Minister Stef Blok will call on EU counterparts next week to jointly impose sanctions, including suspending arms exports to Turkey, Deputy Prime Minister Hugo de Jonge said.
Still, the EU expects Turkey to abide by a 2016 agreement under which Ankara stemmed a flood of refugees into the bloc via Greece.
Turkey Detains 121 People Over Social Media Posts on Incursion (3:39 p.m.)
Turkey's Interior Minister Suleyman Soylu said that 121 people have been detained on suspicion of making "terrorist" propoganda in the wake of incursion.
Turkey Says Troops Come Under Fire From Inside Church (3:13 p.m.)
Turkey's Defense Ministry said its troops have come under fire from a church in the border town of Tal Abyad but that the army was paying utmost attention to not harm religious sites as it slows down the operation. Syria is home to a tiny Assyrian Christian minority.
Turkey Claims 342 Kurdish YPG Militants Killed (1:11 p.m.)
Turkey's Defense Minister Hulusi Akar said 342 YPG fighters have been killed since the operation began, a claim that was impossible to verify independently. At least two Turkish soldiers were also killed.
Mortar attacks by the YPG from areas under its control in Syria have killed nine civilians in southeast Turkey, including a 9-month-old baby of a Syrian refugee family, state-run TRT television said.
NATO's Stoltenberg Says Captured IS Militants Must Not Escape (12:15 p.m.)
"Captured Daesh terrorists must not be allowed to escape," NATO Secretary-General Jens Stoltenberg said in Istanbul on Friday, using an alternative name for Islamic State. "I expect Turkey to act with restraint" in its cross-border operation, he said.
Turkish Foreign Minister Mevlut Cavusoglu, who was speaking at a joint press conference with Stoltenberg, said it was out of question for Turkey to release Islamic State detainees inside the buffer zone that Turkish troops will create.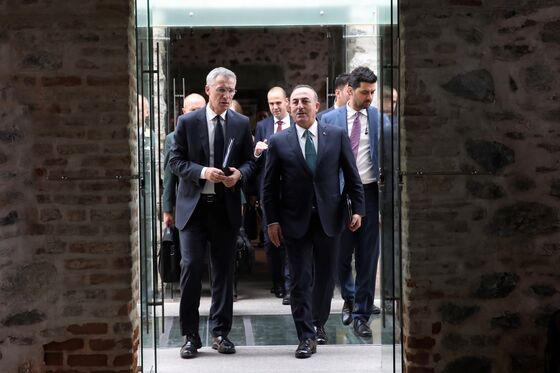 European Council's Tusk Rejects Refugee 'Blackmail' (12:11 p.m.)
European Council President Donald Tusk reiterated the EU's opposition to the Turkish incursion, and said Erdogan's threat to release refugees into the continent was "blackmail" and "totally out of place."
"Turkey must understand that our main concern is that their actions may lead to another humanitarian catastrophe, which would be unacceptable," Tusk told reporters in Nicosia, Cyprus. "Nor will we ever accept that refugees are weaponized and used to blackmail us."
Stress Points in Turkey's Relationship with Europe (10:40 a.m.)
The EU has frozen negotiations on Turkey's longstanding bid to join the bloc -- a reaction partly to Erdogan's crackdown on domestic opponents -- and has stepped up criticism of Turkish energy exploration in disputed waters around Cyprus.
At the same time, the EU is counting on the Turkish government to uphold a March 2016 agreement that stemmed a flood of Mideast refugees into the bloc via Greece. The EU pledged 6 billion euros to help Turkey handle refugees as part of the accord.
The EU has repeatedly called on Turkey to halt its military offensive in Syria, citing the risks of greater instability in the region.
"The Turkish operation into northeast Syria could open a new, dramatic, chapter in the already very dark history of the Syrian war," EU foreign-policy chief Federica Mogherini told the European Parliament on Wednesday in Brussels.
EU foreign ministers will discuss the situation at an Oct. 14 meeting in Luxembourg.
EU to Discuss Sanctions, NATO Membership (10:05 a.m.)
Sanctions against Turkey will be debated next week at the European Union leaders' meeting, France's EU affairs minister Amelie de Montchalin said. The leaders will gather in Brussels on Oct. 17.
"You can imagine that we are not going to stick to words around the table," she said, adding that "all the talks" will take place next week when asked whether Turkey's NATO membership should be suspended. She spoke on France Inter radio.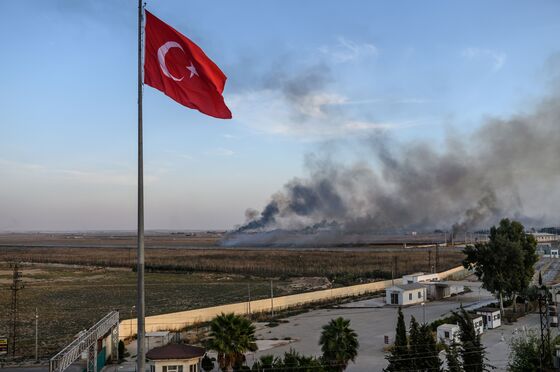 Trump Floats Mediator Role in Kurdish Conflict (11:07 p.m.)
President Trump said the U.S. has three options in dealing with Turkey's incursion into northern Syria: send the American military back in, unleash punishing sanctions on Turkey or mediate between the two sides.
UN Security Council Holds Closed Hearing (9:52 p.m.)
The United Nations Security Council held an emergency closed-door session on Turkey's incursion into Syria. Afterward, a group of European ambassadors called upon Turkey to "cease the unilateral military action," adding that "renewed armed hostilities in the northeast will further undermine the stability of the whole region."
"It is unlikely that a so-called 'safe zone' in north-east Syria, as envisaged by Turkey, would satisfy international criteria for refugee return," the diplomats from the U.K., Belgium, France, Germany and Poland said.
Kelly Craft, the U.S. ambassador to the UN, refrained from criticizing Turkey's incursion even as she made it clear the U.S. doesn't endorse it either.
"Failure to play by the rules, to protect vulnerable populations, failure to guarantee that ISIS cannot exploit these actions to reconstitute, will have consequences," Craft said.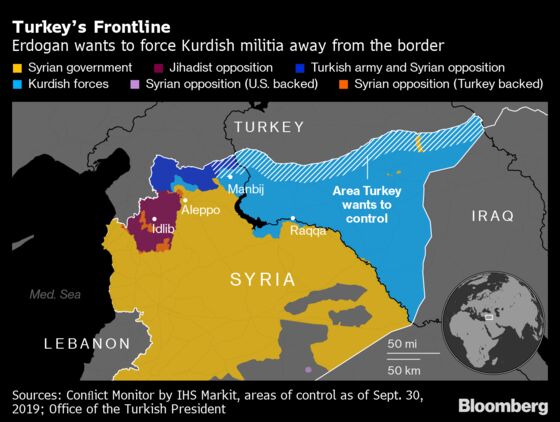 --With assistance from Taylan Bilgic, Glen Carey, Tony Capaccio, Bill Faries, Larry Liebert, Daniel Flatley, Zaid Sabah, Nikos Chrysoloras, Melissa Pozsgay and Kerim Karakaya.
To contact the reporters on this story: Selcan Hacaoglu in Ankara at shacaoglu@bloomberg.net;Onur Ant in Istanbul at oant@bloomberg.net
To contact the editors responsible for this story: Alaa Shahine at asalha@bloomberg.net, ;Onur Ant at oant@bloomberg.net, Steve Geimann