EU Must Make Strong Signal of Deterrence to Russia, Estonia Says
EU Must Make Strong Signal of Deterrence to Russia, Estonia Says
(Bloomberg) -- The European Union shouldn't wait for Russia to make a move on Ukraine and must be united in sending a strong message of deterrence, Estonia's prime minister said. 
EU leaders meeting in Brussels for a two-day summit are discussing a potential response to a Russian military buildup on Ukraine's borders, which Kyiv and Washington have warned could be a precursor to an invasion.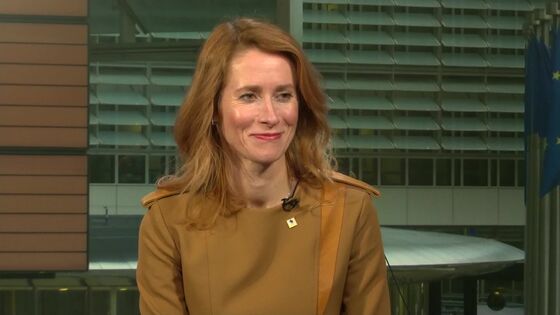 Some larger members of the bloc, including Germany and France, are resisting detailing painful economic measures that they'll unleash if Russian aggression escalates.
Other member states, however, argue that publicly floating sanctions would better deter Russian President Vladimir Putin. Prime Minister Kaja Kallas of Estonia, a former Soviet Republic that joined the EU and NATO after the collapse of the Iron Curtain, said both alliances shouldn't take any chances.
"Are they bluffing or are they really planning a move?" she said in a Bloomberg Television interview on Wednesday. "In any case we shouldn't wait for a move, but send a clear signal of deterrence that says: 'Don't think about this because we will react.'"
Following a 2014 revolution that overthrew a Kremlin-backed government, Ukraine is trying to deepen its integration with the EU and NATO. Russia argues that NATO's expansion into the former eastern bloc is an act of aggression, but Kallas said no country outside the two alliances can dictate who can or can't be a member.
Kallas also said that the pending approval of the Nord Stream 2 pipeline, which is intended increase the flow of natural gas to the EU and bypass Ukraine, would give Russia a "strong" geopolitical tool to use against the bloc.
"When we see that we are vulnerable because we don't have enough energy, and who decides whether we have enough energy and at what price this is, and this is in the hands of our adversary, I don't think it's a wise move," she said.
Kallas also called for EU leaders to agree on a common approach toward vaccination certificates within the bloc to prevent members taking an individual, ad-hoc approach toward closing their borders in the passport-free Schengen travel zone.
"Crossing the borders, these certificates are the ones that are used," she said. "We should have common approach how we deal with this within the European Union," Kallas said.