Erdogan Rules as Turkey's Mayor, But He May Be Losing the Cities
If the Erdogan era ends, it's likely to be Turkey's cities that deliver the knockout blow.
24 Jun 2018, 4:15 PM IST
(Bloomberg) -- If the Erdogan era ends, it's likely to be Turkey's cities that deliver the knockout blow.
More diverse and less devout than President Recep Tayyip Erdogan's base in the hinterlands, Turkey's three biggest cities -- Istanbul, Ankara and Izmir -- rejected the 2017 referendum that created the powerful post of president that's up for grabs in Sunday's vote.
Erdogan is the frontrunner, but polls suggest it'll be close. And with some 74 percent of Turks living in urban areas, up from 65 percent in 2001 (the year before Erdogan's AK Party came to power), signs that big-city voters are moving against him represent urgent warnings for the man who's led Turkey for longer than anyone else.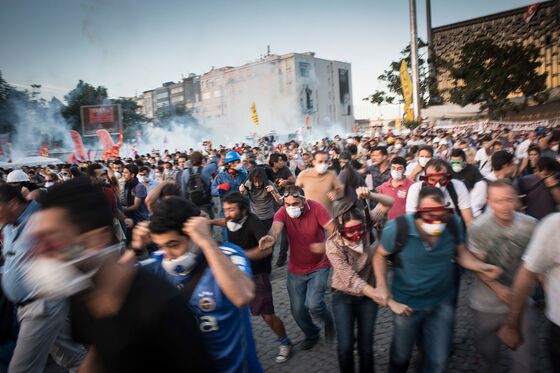 It's a stark and surprising turn. Before he was national leader Erdogan was in charge of the country's biggest metropolis, Istanbul. Since his election as prime minister in 2003, he has governed as a kind of national mayor, ordering a park to be redeveloped here, a new road built there. And it's the big cities that have driven Turkey's economic boom, acquiring the trophies of his rule, from new airports to glittering office towers.
On the eve of a knife-edge and potentially historic election, Bloomberg reporters took the pulse of voters in the streets and squares of Turkey's four biggest cities.
A working-class district of worn-out apartment blocks separated by tiny parks, Gungoren has a population of about 300,000 and represents the kind of district Erdogan needs to hold. It delivered a solid 54 percent vote for him in both the 2015 election and 2017's referendum but doubts are creeping in.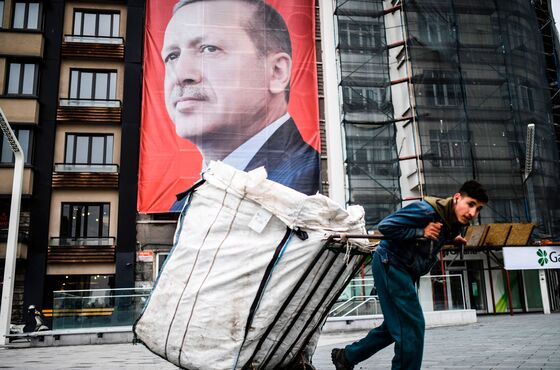 One supporter, Benhur, an elderly accountant with a commanding presence who declines to give his surname, says nothing has changed. "Who doesn't own a 2,000-lira ($425) phone?" he asks. "The same people say they're poor. No one knows how to be grateful. Everyone owns a car, everyone has internet. What else can one ask for?"
Benhur takes his leave and walks away along Soganli Street, which looks deserted under the summer sun. It used to be jammed with stores selling everything from tires to kebabs; several are now shuttered and up for rent.
Once Benhur's gone, some of the men who were listening around him seem emboldened to talk. They're also mostly pro-Erdogan -- but apprehension is on display too.
Nuri Uzun, 56, says the working classes are "under too much pressure." Yet, he'll vote for Erdogan, as will tailor Huseyin Balci and his extended family of 14. Then, unprompted, he brings up corruption allegations swirling around AKP municipal leaders. Erdogan "doesn't know anything about these," he insists.
Tahir Haciahmetoglu voted "Yes" in Erdogan's referendum but doesn't plan to cast a ballot this weekend. "They've sold our ports, they're selling our factories, our mines," he says angrily, when asked about the economy. Then he stops, joking that if he says any more, he'll be tempted to start smoking again.
A few miles away in Yesildirek, a dense market neighbourhood downhill from Istanbul's great mosques, Orhan Kilinc and Mecit Koca are near-neighbors selling kids' clothes. Koca hasn't decided who to vote for, but thinks Erdogan will probably win. He's not delighted by Turkey's economic prospects. "Look at livestock, we import," he says. "Look at textiles, we import. Look at autos, we import. As a merchant, a business owner, I want us to produce things ourselves."
Kilinc supports the AK Party. He thinks the opposition is capable of running Turkey, but says: "I don't want a change of government because it'll bring uncertainty, unemployment."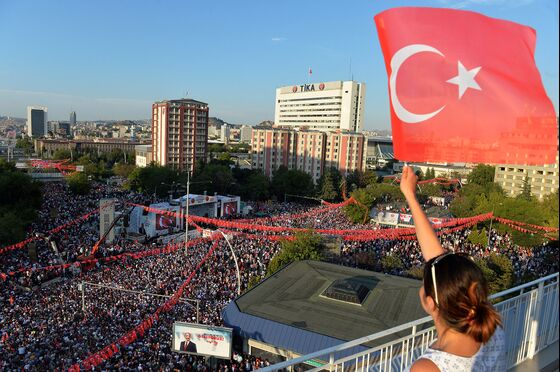 Ankara was a backwater when Mustafa Kemal Ataturk made it Turkey's capital almost a century ago. It's now a city of 4.5 million, spreading over the Anatolian plain. Pockets of the city have a strong republican tradition, hostile to Erdogan; but votes from the suburbs have kept the mayorship in the hands of Islamist parties for 24 years.
Guven Park, a few minutes' walk from parliament, is a central meeting place. Ismail Gogebakan is selling national lottery tickets there, and says he's been doing it for 30 years. It's rarely been less profitable, he complains -- and inflation means that his meager earnings don't go far. "Go look at what you got in the shops for 40 liras five years ago, and what you get now."
Told that Turkey was among the world's fastest-growing economies last year, he explodes: "What do I get out of it? As a country, we're spending money we don't earn. We're living on debt." Everyone's sweeping Turkey's economic problems under the carpet, he says, "and the government's taking the lead."
Herding passengers onto his minibus at nearby stop, Suleyman Tombuloglu agrees that times are hard and inflation is a problem. He blames the war in neighboring Syria. Without that, "We'd eat bread for 50 kurus, not 1 lira," he said.
But he's still backing Erdogan. "It's not the economy, or anything else," he says. "He stood up to world leaders. I supported him for that, and I still do."
The Ottoman Empire's first capital, this northwestern city is known as "Green Bursa" for its preponderance of plane trees. It's industrial and prosperous, a textile center that also hosts Renault and Fiat car plants, and famous for buttery kebabs with yogurt and tomato sauce.
Meryem Tiga, a 48-year-old textile entrepreneur, says she's voting against Erdogan's AK Party for the first time. They were fresh faces when they came to power, "and they did well." But lately, she says she's uncomfortable with Erdogan's "one-man rule, his divisiveness. And the market is headed in a bad direction."
"There's no industry, manufacturing is finished," Tiga says. There's no doubt that Erdogan has impressive "leadership qualities," she says -- but she thinks Muharrem Ince, the main opposition candidate, has them too.
Alihan Karatas, a 22-year-old student, is torn between the governing AK Party and the nationalist Iyi Party. He's impressed with the latter's promises to focus on young people. Karatas thinks the AK Party has "made mistakes" -- it let in too many Syrian refugees.
A stronghold of the main opposition CHP, Izmir hosted a massive rally for Ince on Thursday night (Party officials put the attendance at 2 million.)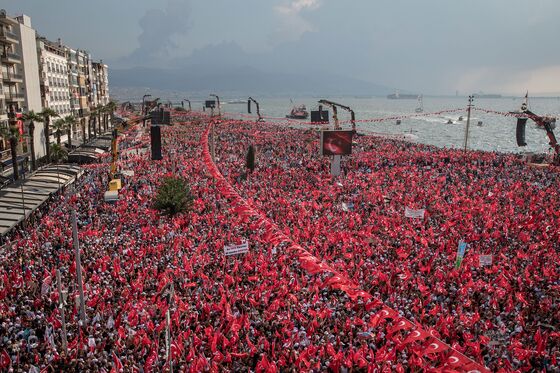 It's an easygoing city on the Aegean, with a palm tree-lined seafront promenade. Inland districts like Bornova are bustling and filled with students. Burak Cakir, 21, works there as a barista. He's taking a break in the café's backyard, screened off so passers-by can't see the waiters smoking.
Cakir's not impressed by all the Erdogan rhetoric about a prosperous Turkey. "When the president talks about how we all now have fridges at home, it doesn't mean anything to me. I don't live in Africa."
A high-school dropout, he's gloomy about his job prospects and the country's future, and is pinning what little hope he has on Ince. "He said there'll be a spring in Turkey. That's what I want, peace of mind."
--With assistance from Onur Ant and Tugce Ozsoy.
To contact the reporters on this story: Taylan Bilgic in Istanbul at tbilgic2@bloomberg.net;Firat Kozok in Ankara at fkozok@bloomberg.net;Cagan Koc in Bursa at ckoc2@bloomberg.net
To contact the editors responsible for this story: Benjamin Harvey at bharvey11@bloomberg.net, Ben Holland, James Hertling
Get Your
Daily Newsletter
Get market moving news, top news & compelling perspectives
---