Erdogan Defectors Found New Party Under Former Premier Davutoglu
Erdogan Defectors Found New Party Under Former Premier Davutoglu
(Bloomberg) -- Turkey's former Prime Minister Ahmet Davutoglu will formally announce the creation of his own political party on Friday, a sign that the rebellion within President Recep Tayyip Erdogan's movement is gaining pace.
A delegation of several members of the ruling AK Party visited Davutoglu's team to try to dissuade the onetime Erdogan ally from his decision, according to people familiar with the matter, who requested anonymity discussing private considerations and meetings. The AKP declined to comment on the visit.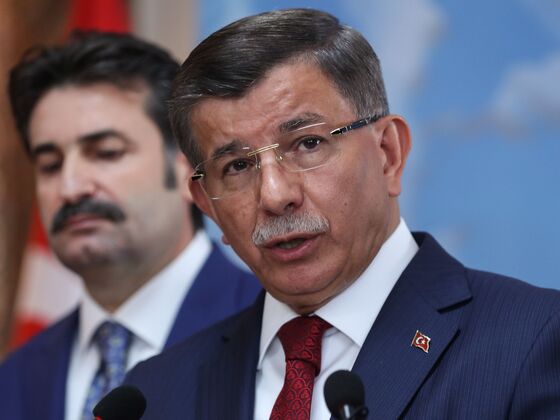 Following a rebuff, Erdogan stepped up his attacks on leading rebels last week, accusing Davutoglu of defrauding a state-owned bank. The former premier, who was handpicked for his cabinet role by Erdogan himself, denied the allegations.
The Turkish president's mounting criticism of defectors shows he's worried they might bite into his electoral base. Erdogan's AKP lost major cities including Istanbul and the capital, Ankara, to an energized opposition in this year's municipal elections, showing signs of fatigue after nearly two decades in power.
Davutoglu's political party will likely be called Gelecek, Turkish for "future," the people said.
To contact the reporters on this story: Cagan Koc in Istanbul at ckoc2@bloomberg.net;Firat Kozok in Ankara at fkozok@bloomberg.net;Inci Ozbek in Istanbul at iozbek2@bloomberg.net
To contact the editors responsible for this story: Onur Ant at oant@bloomberg.net, ;Paul Abelsky at pabelsky@bloomberg.net, ;Benjamin Harvey at bharvey11@bloomberg.net, Amy Teibel