Duterte Longtime Aide Drops Out of Philippine Presidential Race
Duterte Longtime Aide Drops Out of Philippine Presidential Race
(Bloomberg) -- A longtime aide of Philippine President Rodrigo Duterte has dropped out of the presidential race, raising questions on who Duterte will back as a candidate. 
Christopher "Bong" Go said he is withdrawing from the presidential race "for the sake of unity of our supporters and leaders." He added that his candidacy isn't supported by his family.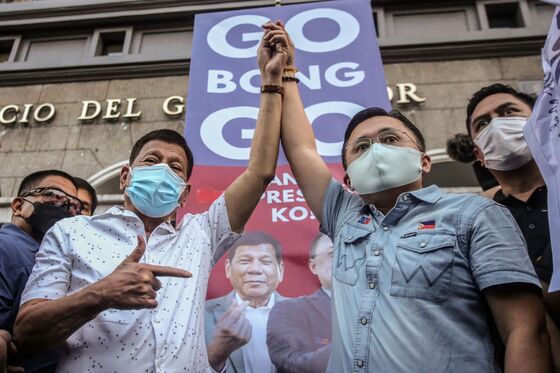 "I don't want to put President Duterte in a tougher spot. I love him more than a father," the senator said in a video posted on state-run PTV's Facebook page. 
Go is also a key Duterte ally and has been backed by the leader for the top post. Go's withdrawal now opens Duterte's support to other presidential contenders, which include former Senator Ferdinand "Bongbong" Marcos Jr., boxer-turned-Senator Manny Pacquiao, and Manila Mayor Isko Moreno.
Go's presidential run had initially split the administration's support between him and Marcos, who's running with Davao Mayor Sara Duterte. as his vice-presidential candidate. Marcos has recently been criticized by the president as a "weak leader," and has pending disqualification cases.
Marcos holds a huge lead in the presidential race based on a commissioned Social Weather Stations survey last month, with almost half of respondents choosing him as their preferred next leader. Vice President Leni Robredo, the opposition leader, was a distant second, followed closely by Moreno.