Democrats Plan to Use GOP's Own Tactics Against Trump If They Win House
(Bloomberg) -- Democrats are ready to harness a powerful set of subpoena powers established by Republicans to dig into the activities of President Donald Trump, his family and his administration if they win control of the House in the November elections.
In 2015, Republicans changed the House's rules to give more committee chairmen unilateral powers to subpoena witnesses and compel document production from Democratic President Barack Obama's administration.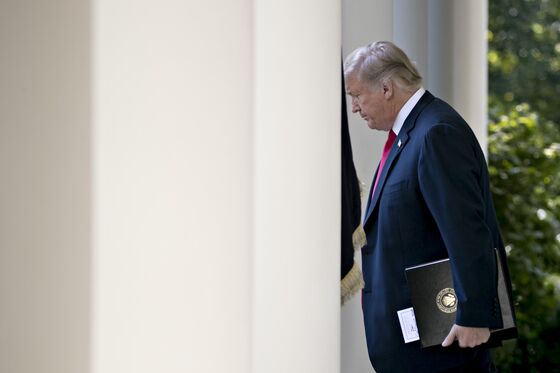 Democrats complained at the time, but now they plan to take advantage of those changes.
"I believe Democrats have learned a valuable lesson in how powerful unilaterally issued subpoenas could be," said Representative Gerry Connolly of Virginia, the top Democrat on the Oversight Subcommittee on Government Operations. "And I believe having learned that lesson, we are now prepared to deploy it."
Early moves are expected to target Trump's tax returns and family bank records; additional witnesses in the Russia probe; the administration's hurricane responses, and spending and travel practices of agency heads. Allegations in a New York Times article on Tuesday that Trump and his family committed fraud when building their business empire have further fueled Democratic demands that Trump hand over his tax returns.
Democrats would also reopen an investigation into sexual misconduct allegations against Brett Kavanaugh, even if Trump's Supreme Court nominee has been confirmed, said House Judiciary Committee Democrat Ted Lieu of California.
"We will conduct the interviews the FBI did not," the former military prosecutor wrote on Twitter, panning a supplemental background report on the allegations delivered Thursday to senators as "incomplete and designed to reach a preordained result."
If the Democrats win the House, as polls suggest is increasingly likely, the result would be a proliferation of investigations into Trump and his administration, powered by a near-constant parade of hearings and subpoenas.
It would be a dramatic turnaround for a White House that has been largely protected by congressional Republicans from intense scrutiny. The powerful House Oversight Committee, under Chairman Trey Gowdy of South Carolina, a former prosecutor, didn't issue a single subpoena for the first 15 months of his tenure, until doing so last month for the first time.
Democrats can learn from what Republicans did to the Obama administration after they retook the House in 2010 and opened up a slew of inquiries. They doubled the number of committee chairmen with unilateral subpoena power to 14 in 2015, and two years later allowed committee staff to haul private citizens and government officials to Capitol Hill to be questioned under oath, sometimes without any lawmakers present.
If Democrats take control of the chamber, the lawmakers who would get the chairmen's gavels in committees are already charting an aggressive strategy of investigations, hearings and subpoenas.
"The waste, fraud and abuse is plain to see," Representative Elijah Cummings of Maryland, the Democrat most likely lead the Oversight committee, said in an interview.
A report by Jerrold Nadler of New York, the Judiciary Committee's top Democrat, added: "The silence speaks to an administration run amok and a Republican majority willing to turn a blind eye to misconduct."
Democrats on the Judiciary Committee -- who would lead impeachment proceedings, should it come to that -- have outlined an array of topics they would pursue in dozens of letters sent to the administration, resolutions of inquiry, and public reports.
Among them: concerns about nepotism and conflicts of interest involving senior administration members, including Trump and his relatives; whether the Justice Department has given priority to the prosecution of immigration offenses over other criminal cases; and examinations of the president's physical and mental fitness.
Oversight panel Democrats have their own list, starting with about 150 subpoena requests that Republicans have ignored. Their top concerns include the response to Hurricane Maria, which devastated Puerto Rico last year; perceived ethics violations by cabinet members; and loans made to the Trump presidential campaign.
The House Financial Services Committee would be led by Maxine Waters of California if Democrats take charge. Waters -- savaged by Trump on Twitter as an "extraordinarily low IQ person" -- has pushed for investigations into financial ties between Trump and his family with Deutsche Bank AG and Russia, as well as tougher scrutiny of the administration's efforts to dismantle many financial regulations.
Most Democrats say it's too soon even to talk about impeachment before Special Counsel Robert Mueller completes his Russia investigation and reports findings to Congress. But Republicans contend that Democrats want to use congressional committees as a partisan weapon to harass and immobilize the Trump administration.
"It would fit with their style to want to find everything they can bang on the president for," said Representative Michael Conaway of Texas, who led the House Intelligence Committee's investigation into Russian election interference. Democrats strongly criticized that probe, which resulted in conflicting partisan findings, and have signaled that they will resurrect the inquiry.
An invigorated Democratic majority would operate in stark contrast to the slower pace of oversight under GOP control of the House after Trump entered the White House in 2017. Gowdy, in issuing his first subpoena last month targeting a Department of Homeland Security lawyer in an inquiry into alleged senior-level misconduct at the Transportation Security Administration, offered a rationale for his failure to use that powerful tool until then.
"With most government officials, subpoenas do not even have to be threatened, much less executed; therefore your uncooperative posture is a telling and unacceptable outlier," Gowdy wrote in a letter.
By contrast, when Republican Darrell Issa of California became the Oversight chairman in 2011 during Obama's presidency, he signed 15 subpoenas during his first six months leading the committee, and by his own count more than 100 subpoenas during his four years as chairman.
And when Gowdy led the House hearings into the 2012 attack in Benghazi, Libya, that killed four Americans and occurred when Hillary Clinton was Obama's secretary of state, he issued 14 subpoenas.
Under Trump, Republicans have largely ignored many Democratic requests for documents or witnesses. Nadler has estimated that less than a third of their more than 100 letters to the administration regarding the president and federal agencies obtained responses.
Representative Adam Schiff of California, who would become Intelligence chairman if Democrats take the House, has made clear that he would revive the probe. He has called for interviews -- or re-interviews -- with 30 "key witnesses," including former Trump Chief of Staff Reince Priebus; presidential adviser Kellyanne Conway; and senior Trump adviser Stephen Miller, and to also force Donald Trump Jr. to provide more information.
"I would expect them to investigate every member of his family," Conaway said. "They'll reopen Russia. They'll create new Russia investigations. It would be pure partisan."
To contact the reporter on this story: Billy House in Washington at bhouse5@bloomberg.net
To contact the editors responsible for this story: Kevin Whitelaw at kwhitelaw@bloomberg.net, Larry Liebert