Chile's Boric Picks Central Bank Head Marcel as Finance Boss
Chile's President-elect Gabriel Boric picked current central bank head Mario Marcel as finance minister, redoubling efforts to assure investors that his leftist government will follow a fiscally responsible path.
Boric announced the appointment of Marcel, along with the rest of his cabinet, at an event in Santiago on Friday ahead of the start of the new government on March 11. Marcel, 62, has been central bank president since 2016 and a board member since 2015.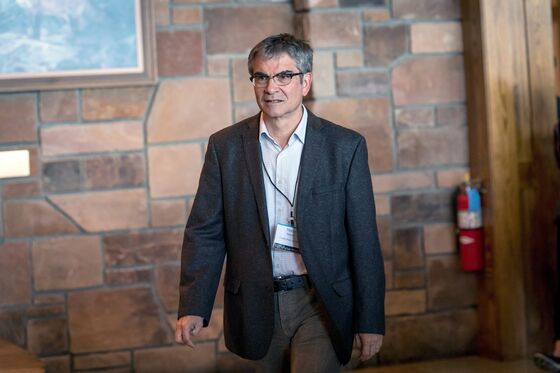 Marcel's appointment will help reassure markets that Boric won't expand the debt burden as his leftist coalition looks to push through ambitious campaign pledges to improve public services and reduce inequality. It is part of a more moderate tone that he has taken since winning the Dec. 19 election, and which has made the peso the world's best performing major currency this year.
"Our mandate is for change," Boric said after naming the cabinet, while stressing that only "through dialog we will make Chile a more just country."
Optimism that Marcel will keep a rein on fiscal spending sent swap yields lower after the cabinet announcement. Five-year swaps decreased 20 basis points on Friday, while the two-year dropped 16 basis points.
The incoming president is taking the reigns of a nation that faces a sharp slowdown in activity this year and soaring inflation following an unsustainable consumer spending boom in 2021. 
Marcel is a critic of the early pension withdrawals that fueled the consumption boom, and has defended the bank's autonomy as Chile drafts a new constitution. He holds a master's degree in economics from University of Cambridge.
Read More: Chile's Activity Still Rising Through November
Marcel enjoys political credibility and has been recognized for his "outstanding" economic management during the pandemic, Samuel Carrasco, a senior economist at Credicorp Capital, wrote in a Jan. 19 research note.
"Marcel has strong political and technical skills to properly lead both the economic program and the tax reform," Carrasco wrote. "He is well recognized in the market given his technical approach, strong commitment to fiscal discipline, expertise on pension reforms and solid labor market experience."
There was no immediate announcement on Friday about who the new central bank chief will be. The bank's underlying law states that if the office of president falls vacant, the vice president takes over until a new one is appointed. That's Joaquin Vial, one of the more hawkish policy makers.
A 35-year old former student protest leader and current lower house deputy, Boric beat right-wing adversary Jose Antonio Kast in last month's runoff. Today's announcement fulfills campaign pledges for greater diversity in government.
The new cabinet includes 14 women and 10 men, with eight independents, including Marcel, and 3 ministers from the Communist Party, including the Labor Minister Jeannette Jara. 
The defense minister is Maya Fernandez, the granddaughter of former President Salvador Allende, who was overthrown by the military dictatorship of Augusto Pinochet in 1973.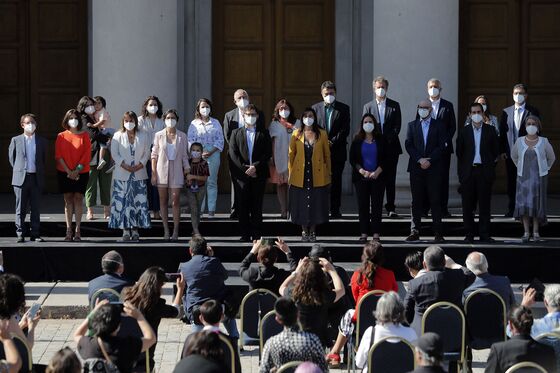 Gross domestic product grew about 12% in 2021, a record for the South American nation, driven by temporary fiscal stimulus and about $50 billion of pension withdrawals. Still, the central bank has forecast expansion will slow to near 2% this year.
Policy makers are set to hike interest rates again next week, extending increases so far totaling 350 basis points since July. Inflation ended last year at 7.2%, well above the 3% target and the highest rate since 2008.
Marcel commanded the bank's response to shocks from a period of social unrest starting in 2019 and the coronavirus pandemic months later. During that time, policy makers cut the interest rate to a record low, established credit line facilities and intervened in the currency market to prop up the peso.
In October, outgoing president Sebastian Pinera nominated Marcel for another term as bank head in a move that was praised by investors. Before joining the monetary authority, Marcel held government posts including budget director, and was also head of the World Bank's Governance Global Practice. 
Other Boric Cabinet Nominations

Jeannette Jara
Labor Minister
Oversees both labor and pension policies
Nicolas Grau
Economy Minister
Helps to lure foreign direct investment
Izkia Siches
Interior Minister
Responsible for national security policies
Marcela Hernando
Mining Minister
Oversees the mining sector
Claudio Huepe
Energy Minister
Oversees energy policies
Giorgio Jackson
Ministry General Secretariat of Presidency
Chief adviser and liaison with congress
Aside from the new government, Chile is also rewriting its constitution. The nation's Constitutional Assembly must finish work on the document by July, and the new charter will be put to a referendum later in the year.