Chile President-Elect Boric Seeks to Reassure Investors After Selloff
Chile President-Elect Boric Seeks to Reassure Investors After Selloff
(Bloomberg) -- Gabriel Boric, Chile's leftist president-elect, sought to reassure nervous investors that he would maintain fiscal discipline and the country's international relations once in office.
After meeting with outgoing President Sebastian Pinera on Monday in the first step of transition, he faced reporters and was asked about the drop in local assets after his victory.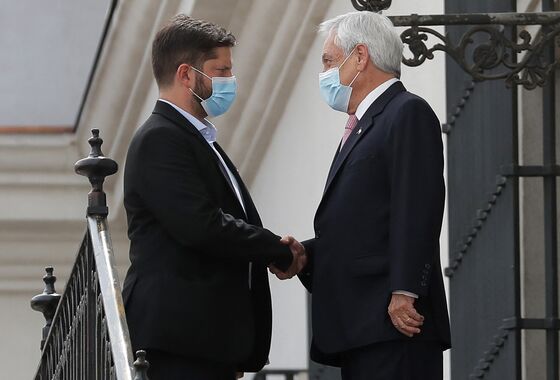 He said his team was closely watching the markets and that Chile would maintain its commitment to fiscal prudence. "Permanent expenditures should be matched by permanent income, and we will advance on reforms step by step so that it doesn't get out of hand," he said.
Local assets tumbled after his blowout victory in Sunday's presidential election, with the peso closing at record low on Monday, and the main stock gauge falling more than 6%. While asserting that he takes the issue seriously, Boric also expressed a sense of independence when he added that "democratic decisions by the Chilean people should not be subject to other pressures."
He also told reporters that there would be continuity of current international relations and pandemic policies. Chile's current Covid-related policies are proving successful, with high booster rates and strict masking required.
Boric said his team and Pinera's would work to find common ground despite strong political differences. He takes office on March 11.
The market is especially interested in who the next finance minister will be and he was asked about that as well. Boric said that decision would come within a month.
"It is important to grant certainties as soon as possible," he said.
Read More: Boric's Victory May Add to Chile's Economic Risks Ahead