Chile's Capital Moves to Full Lockdown With Hospitals Overwhelmed
(Bloomberg) -- Chile announced a full lockdown in the capital city of Santiago and surrounding municipalities as the number of available hospital beds hits dangerously low levels and new cases remain high.
Santiago's Metropolitan Region will go into full lockdown starting on June 12 at 5:00 a.m. local time, Health Ministry officials said on Thursday.
The Health Ministry reported that the 7-day average of new cases remain above 7,000 per day, and that there are only 30 intensive care beds available in Santiago, a region with a population of about 8 million inhabitants.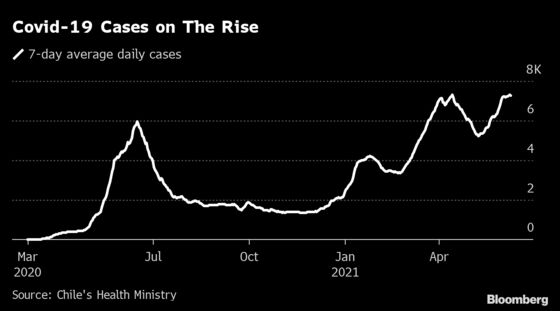 "We've seen the number of cases stabilize in the country, but we're particularly concerned about the Metropolitan Region," undersecretary Paula Daza said. "We're also very concerned about the availability of hospital beds in Santiago as winter gets close."
Chile is tightening restrictions even as it moved forward with one of the most advanced vaccination programs in the world. Mobility levels remain high, with many people flouting restrictions, and some even meeting in clandestine parties. The country has delivered two vaccine doses to over half its target population.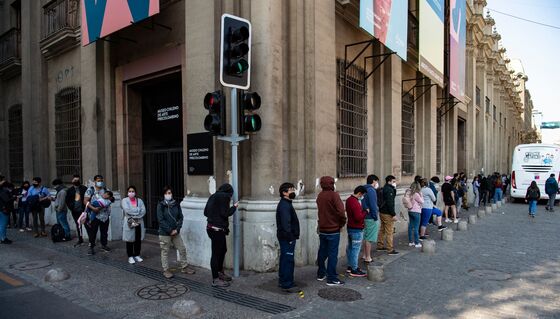 Government officials have attributed the jump to virus spread among the unvaccinated. More than 80% of those hospitalized with coronavirus have not received both doses.
Chile's benchmark S&P IPSA index fell 0.1% in afternoon trading after the announcement, after rising as much as 0.8% earlier.
The country has already secured roughly 40 million shots for its population of 18 million, in a vaccination campaign that's been praised by organizations such as the World Bank and the WHO.
So far, Chile has received over 17 million doses from Sinovac Biotech Ltd., 4.6 million from Pfizer-BioNTech, 700,000 from AstraZeneca, and 300,000 from CanSino Biologics Inc. The government today also approved emergency use of Johnson & Johnson's single-use Janssen vaccine.