Trump Losing Independent Support, Poll Shows: Campaign Update
(Bloomberg) -- Joe Biden now leads Donald Trump 44% to 38% nationally as the president has lost support from independent voters, according to a USA Today/Suffolk University poll released Monday.
Trump's standing among independents has fallen from 45% to 27% since the same poll was conducted in December. But the poll also shows that Biden hasn't won over all those independent voters, a third of whom are undecided or looking for a third-party alternative.
Young voters were especially unimpressed with their choices. One in four respondents age 18 to 35 said they were undecided or still looking for another candidate, the poll showed. The number of undecided voters has grown across multiple polls over the past few weeks, as Trump's approval rating has taken a hit from the coronavirus crisis and both men have had to suspend in-person campaigning.
The USA Today/Suffolk poll differs from other national surveys because it gives respondents the option of a third-party candidate. Without that option, Biden led Trump 50% to 40%.
The poll of 1,000 registered voters was conducted April 21-25 and had a margin of error of 3 percentage points.
Jesse Ventura Mulls Third-Party White House Run (11:47 a.m.)
Jesse Ventura once mused about being President Donald Trump's running mate. Now he's considering running against him.
The former pro wrestler, actor and Minnesota governor tweeted Monday that he is looking into a White House bid with the Green Party, one of the better organized alternative U.S. parties. "OK, I've decided I'm going to test the waters," he wrote. "IF I were going to run for president, the GREEN party would be my first choice. I've endorsed the party and I'm testing the waters."
He added that he has not filed any official paperwork and had only authorized a letter of interest be sent on his behalf to the Green Party.
Ventura also flirted with running for president in 2016 and said in 2018 that he was considering a run in this year.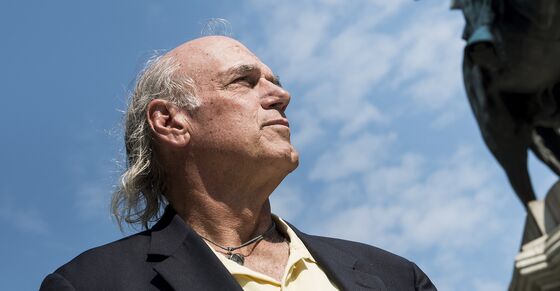 In 2015, he said during a radio interview with Trump associate Roger Stone that he would consider registering as a Republican to be Trump's running mate and hoped the businessman would win the election. "I shocked my staff today. I came in and said, 'You know what, as far as the Republicans are concerned, I said I hope Trump wins,'" Ventura said in an episode of his online TV show "Off the Grid." -- Ryan Teague Beckwith
Trump-Backed Protests Are Unpopular in Ohio (10:53 a.m.)
President Donald Trump's encouragement of coronavirus lockdown protests hasn't proved popular in the key battleground state of Ohio.
Hundreds of protesters gathered in Columbus last week chanting "Open Ohio" and "Tyrant DeWine" as part of a recent wave of national protests of lockdown orders. Trump has encouraged the protests on Twitter.
But a recent Baldwin Wallace University poll showed only 25% of Ohio voters agreed with the protests, while only 21% approved of Trump's calls for people to protest lockdown orders. Republican Governor Mike DeWine's lockdown order, meanwhile, had 90% supported it, while only 9% opposed it.
Overall, Ohioans were far more approving of DeWine's handling of the coronavirus than Trump's, with 85% saying they approved, compared with just 50% who approved of Trump's handling of the pandemic.
The survey of 797 registered voters in Ohio was conducted April 20-25, starting the same day as the protests began in Columbus. It has a margin of error of 3.7 percentage points. -- Ryan Teague Beckwith
Ohio will hold an absentee-only primary on Tuesday. Both Guam and Kansas have in-person voting scheduled for May 2.