Silicon Valley CEOs Appear to Have Chosen Their 2020 Candidate
(Bloomberg) -- The technology industry is looking for something different in a president in 2020. And it appears Pete Buttigieg is their candidate.
While Joe Biden and Senator Elizabeth Warren are topping national polls in the contest for the Democratic Party's nomination, California's deep-pocketed Silicon Valley is donating to the 37-year-old mayor of South Bend, Indiana over the former vice president by a 5-to-1 margin.
"Pete is a clean slate for the party in ways Biden can't be," said Cyrus Radfar, a 35-year-old technology entrepreneur and Democratic donor. "There's new life and new energy that Pete brings, especially as the base of the Democratic Party is getting younger. I think he's going to be on the national stage for a long time."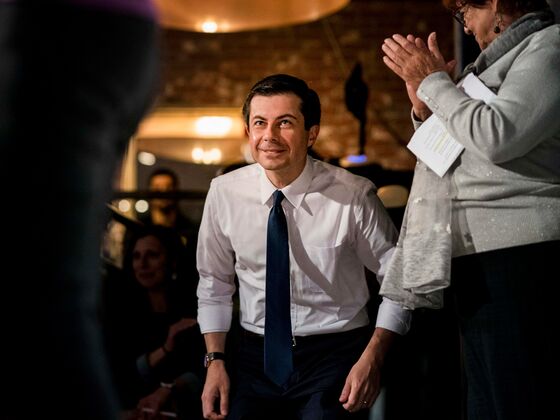 Buttigieg has staged a fundraising blitz in posh Northern California communities, holding events hosted by technology executives such as Netflix Inc. Chief Executive Officer Reed Hastings, Nest Labs home-automation company co-founder Matt Rogers, and Chelsea Kohler, director of product communications at Uber Technologies Inc., among others.
Were he to win, Buttigieg would not only be the youngest president, but also the first openly gay one. While he is successfully raising money, Buttigieg has struggled until recently to enter the top tier of candidates nationally.
But there are signs that he could be a moderate voter's alternative to Biden. While raising money in California, Buttigieg is campaigning heavily in Iowa, and it appears both efforts are paying off. A USA Today/Suffolk University poll of likely Iowa caucus goers put Buttigieg just behind Biden and Warren for the first time. Biden had 18% support, Warren 17% and Buttigieg 13%.
Millennial voters in the tech industry say they appreciate that Buttigieg's liberal policies seem grounded in reality and recognize "a cutthroat world," as Elizabeth Moran, 28, put it at a debate watch party in Silicon Valley's Sunnyvale. Moran, who works at Poshmark, a social commerce platform, said she likes Buttigieg's grasp of economics.
"Well-educated recognizes well-educated," Moran said, adding that Buttigieg could have come to Silicon Valley after graduating from Harvard as many Ivy League graduates do.
In other words, in their eyes, Buttigieg is like them.
"There's a big move on the Democratic side to more heavily regulate tech, and that hasn't been part of Buttigieg's message," said Raphael Sonenshein, executive director of the Pat Brown Institute for Public Affairs at California State University, Los Angeles. "His message is consistent with innovation and forward-looking technology. He has not given the impression that he would threaten their interests."
While he hasn't said much about competition and antitrust, Buttigieg has focused on improving regulations as opposed to breaking up big tech.
"We're going to need to empower the FTC to be able to intervene, including blocking or reversing mergers, in cases where there's anti-competitive behavior by tech companies," he said in a CNN town hall in April, referring to the Federal Trade Commission.
Buttigieg was his high school's valedictorian and went on to Harvard, where he befriended two roommates of future Facebook Inc. CEO Mark Zuckerberg, and was one of the first 300 users on the social media platform. He was a Rhodes Scholar at Oxford, joined McKinsey & Co. as a consultant, and volunteered for Barack Obama's tech-savvy 2008 presidential campaign before joining the U.S. Navy Reserve and serving in Afghanistan.
His relationship with Zuckerberg persisted. Zuckerberg, 35, visited South Bend in 2017 while doing research for his philanthropic organization, the Chan Zuckerberg Initiative, and got a personal tour from Buttigieg. That relationship lasted into this year, when Zuckerberg and his wife, Priscilla Chan, recommended two people that Buttigieg ultimately hired for his campaign. Ben LaBolt, a spokesman for Zuckerberg and Chan, said the couple hasn't yet decided whom to support for president.
California voters have an unusually large influence in choosing the party's nominee this cycle. The state primary next year is in March instead of its previous June slot and its donors contributed 1 of every 5 dollars raised by the party's presidential candidates in the first six months of this year, data from the Center for Responsive Politics show.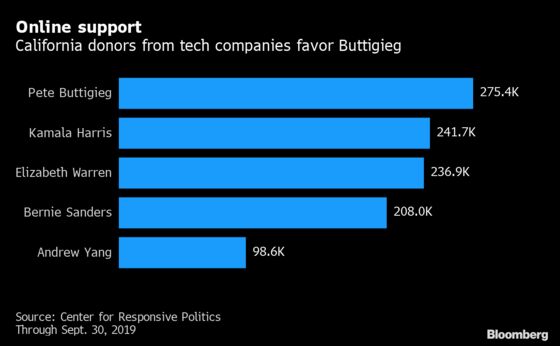 Buttigieg is second only to home-state senator Kamala Harris in the percentage of his campaign money that comes from California. Harris got 45% of her donations from Californians, Buttigieg got 22%.
Harris, who was the state's attorney general, raised $1 million from California lawyers, more than twice as much as any other candidate. She was also the top recipient of donations from employees of the entertainment industry. But California employees of tech companies, including giants like Facebook, Amazon.com Inc. and Microsoft Corp., backed Buttigieg more than any other candidate.
Silicon Valley bundlers -- fundraisers who gather money from numerous employees of a firm -- have raised concerns about both Warren and Senator Bernie Sanders, who are relying primarily on small-dollar contributions from online donors.
Warren is particularly thorny for the tech industry. She has vowed that she will not meet with big donors who want to "buy access" -- and perhaps more troubling for them, has promised to break up big technology companies. Some technology workers are contributing to Warren and Sanders, but few are writing the $2,800 checks that Buttigieg and Biden are relying on, likely because they've been quieter on the question of how to handle big tech.
Buttigieg is positioning himself as a younger alternative to 76-year-old Biden. Like Biden, he has not embraced the progressive wing's Medicare for All, instead proposing government-run health care "to those who want it," without eliminating private insurance.
In other areas, he hasn't taken many unique stances, but his Midwestern and military background seeps into some plans. An issue page on his campaign website is simply called "Unleash rural opportunity," and he has proposed eliminating some student debt in exchange for national service.
Paul Holland, a California venture capitalist and fundraiser for Hillary Clinton's 2016 campaign, said he believes a moderate has the best chance of winning. In his circles, Biden hasn't attracted the same kind of enthusiastic support that other candidates have.
"It's Mayor Pete and Cory Booker who are getting most of the attention," he said.
Buttigieg himself drew the contrast between his candidacy and Biden's during a Marin County event.
"Every time we've won in our party it's been with a candidate with new ideas, who hasn't been on the scene for too long," Buttigieg said. "That's what works. Also, Americans are most likely to support the opposite of what's in the Oval Office."
Among Buttigieg's donors are Ron Conway, an investor who has guided San Francisco mayors to back tech-friendly policies; Scott Belsky, the chief product officer and executive vice president at Adobe Inc.; Tony Xu, CEO of Doordash Inc.; David Marcus, the head of Facebook's Libra cryptocurrency project and Wendy Schmidt, wife of former Google CEO Eric Schmidt.
Buttigieg's fundraising has been prodigious, but he's still behind in national polls. He stands at just 5% in the RealClearPolitics national average, compared with 26% for Biden. And that raises pragmatic questions about who can win the Democratic nomination.
"Even with his flaws, Biden is the guy who's probably going to satisfy the moderates," Holland said.
To contact the reporters on this story: Bill Allison in Washington DC at ballison14@bloomberg.net;Jeffrey Taylor in San Francisco at jtaylor184@bloomberg.net;Sophie Alexander in San Francisco at salexander82@bloomberg.net
To contact the editors responsible for this story: Wendy Benjaminson at wbenjaminson@bloomberg.net, Peter Eichenbaum