Brexit Fan Crispin Odey Raises Just One Cheer for Big Day
After more than three years of false starts, dead ends and recriminations, the U.K. is finally set to leave the European Union on Friday night. Few of Brexit's biggest backers plan to party.
"It's a gentle thank you, not exuberance," hedge fund manager Crispin Odey said. "The trouble is we have got some really hard negotiations this year. I think you really want to celebrate in a year's time when you know the terms upon which we have left."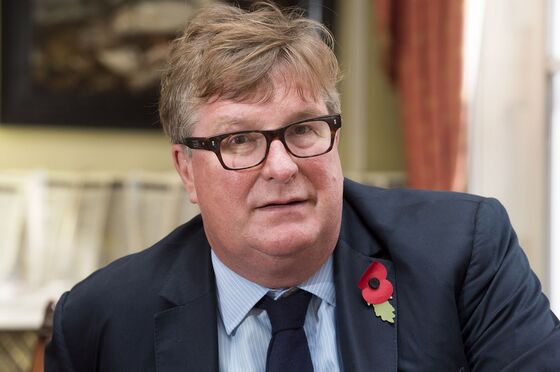 The U.K. and the EU are already at odds, even before trade talks have formally started. Negotiations on issues from fishing rights to financial services are expected to be fraught. European Commission President Ursula von der Leyen warned this month that the U.K.'s access to the single market depends on how far the country agrees to abide by the bloc's rules. U.K. Prime Minister Boris Johnson sees Brexit as an opportunity to break away from EU regulations.
The difficulties ahead might explain why festivities will be muted for some well-known Brexit supporters. Peter Hargreaves -- the finance tycoon who gave more than $4 million to the Leave campaign -- is hoping to be asleep well before the 11 p.m. departure. Investor Jeremy Hosking is away on business. Even Tim Martin, the founder of pub chain JD Wetherspoon Plc, isn't planning an especially boozy night this Friday.
"I tend to 'celebrate' most nights of the week with a couple of pints of Abbot Ale, followed by one or two glasses of merlot," Martin said by text on Tuesday. He said he'll "follow Kipling's mantra of treating triumph and disaster the same -- I'll stick to my normal routine."
Despite the low-key festivities, the period since the vote has proved profitable for many of the country's richest backers of Brexit.
Martin's stake in his pub chain was worth about 250 million pounds ($325 million) when the referendum was held in June 2016. That's since doubled. Odey's main hedge fund rallied 11.4% in December on Johnson's election victory (although that wasn't enough to stop it slumping to its fourth annual loss in the past five years).
Britain's two richest people, both prominent Brexiteers, have done even better. Industrialist Jim Ratcliffe has gained $10 billion to take his net worth to almost $19 billion, while James Dyson's engineering fortune has grown $8 billion to about $14 billion, according to calculations by the Bloomberg Billionaires Index.
Not that these gains reflect returns reaped from Britain, or its decision to leave. It's more a sign of widening wealth inequality and how far the business empires of billionaires now extend beyond national boundaries and concerns, even those as all-consuming as Brexit.
Ratcliffe controls Ineos, a chemicals company whose production network involves 183 sites in 26 countries with revenue of about $60 billion, according to its website. Vacuum-cleaner maker Dyson Ltd. said last year it was moving its headquarters to Singapore, having already shifted the majority of its production to the Southeast Asian city-state.
"Commerce in general has become more international and less tied to single sovereign state," said Chris Kalin, chairman of Henley & Partners Group, which helps the rich to relocate. "The management of wealth portfolios is no different."
While some in the City of London are celebrating Brexit, the financial hub's prospects after Brexit are uncertain.
Most economists have forecast Brexit will harm Britain's growth. Sterling has dropped 13% against the dollar since the referendum, while three years of political turmoil crimped business investment and buoyed demand for the safety of sovereign debt.
The cautious mood contrasts with the December general election, when financiers united in relief at the resounding defeat of the Labour party.
Some campaigners fear Britain's exit will reverberate beyond its borders, harming developing countries. The Global Alliance for Tax Justice organized a walking tour of the City of London this month where speakers warned a U.K. financial sector freed from European regulations might facilitate abusive international tax practices.
Despite the potential upheaval, the divorce deal itself still hasn't impressed some of Brexit's most ardent backers.
"I haven't really got what I wanted," said Hargreaves, who has seen his fortune grow by $500 million to $4.2 billion since the vote even as he's pledged 100 million pounds to a new charitable foundation. "I wanted a complete exit."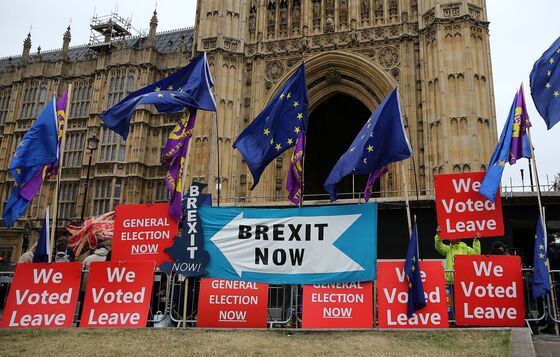 That's not to say the occasion will pass unmarked. Venture capitalist Jon Moynihan is planning a party for senior Brexiteers in Chelsea, according to Politico. City tycoon, Peter Cruddas, a prominent Brexit supporter and founder of U.K.-based spread-better CMC Markets Plc, plans to attend the 300-person Vote Leave party, he said. While Wetherspoons boss Martin isn't planning to cut loose, he's named as a speaker at an evening event in Parliament Square organized by campaign group Leave Means Leave.
And his company is certainly hoping customers will celebrate -- or commiserate -- over a few drinks. The pub chain is marking Brexit by starting a 'Let's Stay Friends' promotion on Friday, which reduces the price of drinks including beer from Germany, vodka from France and whiskey from Ireland.
--With assistance from Viren Vaghela and Thomas Buckley.
To contact the reporters on this story: Tom Metcalf in London at tmetcalf7@bloomberg.net;Nishant Kumar in London at nkumar173@bloomberg.net;Ben Stupples in London at bstupples@bloomberg.net
To contact the editors responsible for this story: Pierre Paulden at ppaulden@bloomberg.net, ;Shelley Robinson at ssmith118@bloomberg.net, Marion Dakers